A Parent's Quick Guide When and How to Burp Your Baby

Plus, what to do and when to worry about paglulungad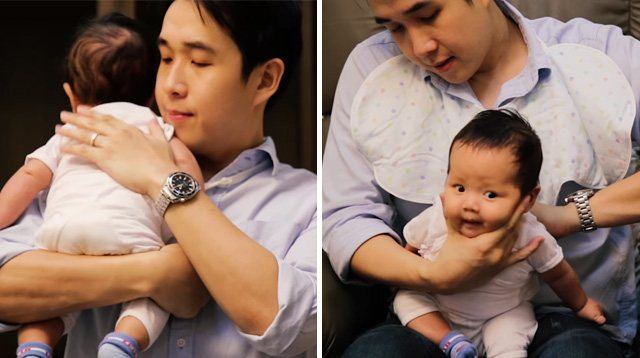 Adults, of course, don't need help burping, but babies, especially young infants, need help from mom or dad. It's one of the many things a new parent needs to learn how to do. Here is a quick guide to baby's burping: 

Why you need to burp your baby
When feeding, a baby tends to swallow air along with their milk. The trapped air can cause a feeling of fullness and discomfort which then leads to fussiness, gassiness, and spitting up (paglulungad). If it happens in between feedings, it can make it hard for the baby to finish eating. 

"Remember that an infant's stomach is only the size of a golf ball at birth, and so it is not so large as to easily have air and food at the same time," Dr. Rosemary Shy, an assistant professor of pediatrics at the Children's Hospital of Michigan, told Babble. 

As your baby grows older and starts eating solid food, your help with burping will become less of a necessity, said Dr. Erika Landau, a pediatrician and author of The Essential Guide to Baby's First Year, told Parents.

What other parents are reading

When to burp your baby
It's better to burp your baby frequently than wait for her to show signs of discomfort, adviced HealthyChildren, the parenting health resource site of the American Academy of Pediatrics (AAP). If she's fussy during a feeding, stop the session to burp her first. 

For bottle-fed infants, aim to burp every 2 to 3 ounces (60-90 ml), says the AAP. If your baby is breastfed, burp when you switch breasts. "[Swallowing air] happens more often with bottle-fed babies, who tend to eat faster," says Dr. Landau. "But breastfed babies swallow some air as well, especially if the mother has a lot of milk or has a fast letdown, or if the baby is very hungry and wants to eat fast."

How to burp your baby
There are several ways to burp a baby. Below are some you can try to see which one is the most comfortable and effective for your little one:

Method 1: On your shoulder


1. Carry your baby facing you. Lean forward and move the baby's lower body close to your chest.
2. Gently move his upper body to your shoulder as you stand straight. Make sure you support the nape and back. 
3. Tap the baby's back for comfort. 

ADVERTISEMENT - CONTINUE READING BELOW

What other parents are reading

Method 2: Sitting on your lap


1. Place the baby on your lap. Support his neck and head with one hand. 
2. Gently move him so that he is leaning forward.
3. Tap his back. 

Method 3: On your arm


1. While the baby is sitting on your lap, gently lower his upper body to your arm, face down. Support the crotch area.
2. Find a comfortable position so that the baby's body is close to your arm and you are supporting his weight by keeping him close to your body. 
3. Tap his back. You may also choose to stand up.

Watch how to do all three techniques in the video below:



CONTINUE READING BELOW

Recommended Videos

What other parents are reading

What to do about spit up or paglulungad
Spitting up a mouthful or two of milk is normal for infants. It happens when the baby has eaten more than her stomach can hold. It can also occur during burping when the gas bubble pushes up small amounts of milk, explained registered nurse Mary Margaret Gottesman to Babble.  "Also, the muscle at the entrance of the stomach that holds the feeding in the stomach is weaker than it will be in later life, making it easier for infants to regurgitate portions of their feedings."

To avoid spit ups, don't lay the baby down just yet after feeding sessions. Hold her upright for 20 to 30 minutes first, said the AAP. Avoid feeding your baby lying down, and jostling her after feeding. If your baby is bottle-fed check that the hole in the nipple is the right size. If inverted, a few drops should come out then stop. Burp regularly as well. 

"Although it may be a bit messy, [spitting up] is usually no cause for concern. It almost never involves choking, coughing, discomfort, or danger to your child, even if it occurs while she's sleeping," said the AAP. 

What other parents are reading

If your baby still won't burp and when to worry
If you've tried burping your little one for a while using different positions to no avail, don't worry too much. "If a decent attempt at burping has been made, especially for breastfeeding babies, parents do not need to obsess," said Gottesman. Added Dr. Shy, "Most infants tell you that they need to burp, and mothers usually learn to recognize these signs very quickly. A small frown, wiggling, faster eating are a few common ones."

However, you know your baby best. If you're worried about your baby's spit up, burping or think it could be that she's vomiting, don't hesitate to consult with a pediatrician. 

ADVERTISEMENT - CONTINUE READING BELOW

What other parents are reading

Celebrate your pregnancy milestones!


Enter your details below and receive weekly email guides on your baby's weight and height in cute illustration of Filipino fruits. PLUS get helpful tips from experts, freebies and more!

You're almost there! Check your inbox.


We sent a verification email. Can't find it? Check your spam, junk, and promotions folder.
Trending in Summit Network