How to Pick the Right Books for Your Child: An Expert's Guide

This age-by-age guide reading list is perfect a mom-to-be, aunt or ninang!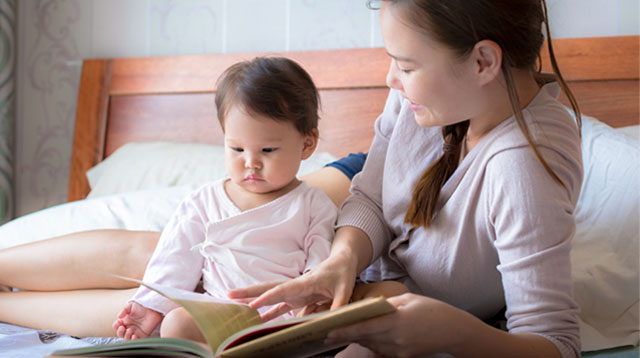 Have you visited the bookstore and and got frustrated that you don't have any idea what children's book to get?

First, it's important to understand where children are in their language and brain development. Although we can read almost anything to them, there are books that can support their development more than others. 

Second, know that books, like any other product, have their target markets. They were written, formatted, and designed to appeal to particular age groups. Now, this is more prescriptive than anything else, which means it doesn't stop kids from picking up books "outside" of the prescription.

Third, what we have listed below are elements in books to look out for. It aims to equip you with knowledge when choosing. The sample titles listed should only give you an idea of what the books of that sort may look like. Pick English, Filipino, and bilingual books because being bilingual has its many benefits. Let's get started!



What other parents are reading
Baby (0-1 year)
Choose books with simple, large, and high contrast pictures (e.g. black and white).
It makes it easier for babies to focus. Experts recommend books with faces and/or objects that are individually named. In one study at the University of Florida, babies who were read to using this type of books were seen to have improved attention and the ability to distinguish between different characters. When you pick up a book like this, read slowly as you point to and label the picture. This will help your baby focus on the shapes and squiggles (a.k.a. words) on the page. 
Try: Hello Baby Animals (Php119) and Brown Bear Brown Bear, What Do You See? (Php379), available at National Book Store
What other parents are reading
Babies love hearing your voice.
Reading books with sing-song or rhyming text work wonders! As babies are getting ready to make their first sounds, changing your voice when you read or sing will model to them the range of sounds that can be possibly made. You can read with your normal voice, make a smaller or bigger voice, change the volume from normal to a whisper. 
ADVERTISEMENT - CONTINUE READING BELOW
Try: Dumaan si Butiki (Php199), available at Pumplepie Books & Happiness
When your baby starts to grab, it's time to get cloth or vinyl books.
You want books they can put in their mouths or even get in the bath with them! Get board books to stand the test of their stronger grips. Choose touch-and-feel books that house different materials and textures, all shown in a context: the light and fluffy feel of a duck's feathers, the smooth shiny scales of a fish, or the rough and hard touch of an elephant's hide.
Try: That's Not My Goat (Php325), available at National Book Store
What other parents are reading
Toddlers (1 year-3 years)
Kids are getting familiar with language concepts.
Everything has a name, words carry meaning, stories have a structure. Choose books with a patterned structure and/or rhymes. Predictability in books is key. It gives a sense of certainty of what will happen next in a story. That's why we can expect children to request to read the same books over and over again. When they do, allow them to fill in the words that they remember or predict what happens next. These are the basic reading skills that they will need all throughout their reading lives. 
Try: Dr. Seuss Cooking With the Cat (Php329), available at National Book Store
Engage them in more frequent question-answer exchanges.
A good balance of fiction (stories) and non-fiction books (dinosaurs, vehicles, food, nature) will serve their growing curiosity well. Make stories more interactive by incorporating some actions to show movement or things. You can also pause and ask them: what sound does this animal make? Or who comes along next?
Try: Tap the Magic Tree (Php2,204) and Press Here (Php1,360), available at Lazada
What other parents are reading
Introduce the creative use of language.
Use their names when telling a story. This puts them right in the action of their favorite book!  Pick ones with topics with which they can have an immediate association like books about the Philippines.
Try: What Kids Should Know About Filipino Food (Php149), Malong the Magic Cloth (Php165), and Bahay Kubo (Php99), available at Pumplepie Books & Happiness
Allow them to hold the book you're reading.
ADVERTISEMENT - CONTINUE READING BELOW
And cue them when to turn the page. Towards the end of this stage, the act of reading and writing becomes more apparent to them and they pretend to do it! When you read the words, track the words you read and label the pictures you see. It teaches them basic concepts of print and is crucial when they start learning how to read on their own.
What other parents are reading
Preschoolers (4-6 years)
Kids can listen to longer read-aloud sessions and retell stories they know.
Their growing curiosity and practice with print allow them to match some spoken with written words and make predictions based on book covers and pictures. Eventually, they can identify basic story details (who are the characters? Where are they? What are they trying to do?) and arrange story events in sequence.
Local picture books are a gem for preschoolers!
There are so many to choose from with a wide range of topics. Encourage them to read the pictures as you read to them the words, ask them questions about the pictures, point to keywords and curious things in the story.Pick books with characters who have the same age as your child. Books with characters with quirky personalities will also be very appealing.
ADVERTISEMENT - CONTINUE READING BELOW
Try:
Alexander and the Terrible, Horrible, No Good, Very Bad Day (Php1,892), available at Lazada
My First 100 Words Philippine Pictionary (Php100), available at Pumplepie Books & Happiness
A for Adobo (Php275), available at Pumplepie Books & Happiness
500 Words and Pictures My First Bilingual Visual Dictionary (Php295), available at Pumplepie Books & Happiness
What other parents are reading
Choose stories or poems with clever wordplays.
Riddles can be both fun and challenging. Get books with cultural elements to expand awareness and support growing vocabulary. Myths, legends, and folktales paint a world that engages their imagination. 
Try: The Girl Who Fell from the Sky and Other Classic Philippine Legends (Php175) and Bugtong Bugtong (Php150), available at Pumplepie Books & Happiness
Choose books that are fun, interesting, and prepare them for the big school
Try: Ang Alamat ng Ibong Adarna: Aklat ng Bilang (Php295) and Ang Halimaw ng mga Kulay (Php399), available at Pumplepie Books & Happiness
Remember, reading any book is better than not reading any at all!
ADVERTISEMENT - CONTINUE READING BELOW
Born to a family of teachers, Anna Manuel is a reading advocate and a children's book author with a degree in Language Education, with a minor in Special Education, and a Master's in Reading Education. She is the master storyteller behind Melbourne-based Heads and Tales, which offers storytelling sessions, family literacy workshops, performances, and more. Her work and latest book, Leo's Pet Bug, focuses on empathy, which she believes keeps us connected and thriving.
What other parents are reading

Trending in Summit Network