The Pressures of First-Time Parenthood: A Dad's Perspective

It all boils down to two things: Just do the best you can, and keep your baby happy.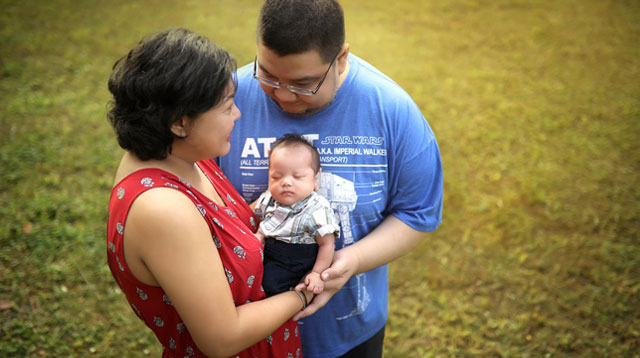 I'm a first-time dad at 44 years old. My wife of five years and I have a 5-month-old son, and right now, he's the center of our universe. 

I'm the geeky type of dad. Those child development psych courses I took back in college? I've reviewed them all over again. I'm the type who downloads baby books and baby apps. My favorite reads include Dr. Siegel's "The Whole-Brain Child," Dr. Van de Rijt and Dr. Plooij's "The Wonder Weeks," and Dr. Harvey Karp's "The Happiest Baby on the Block." 

I'm the type of dad who eagerly keeps track of our little one's motor functions, the way he communicates, and his other developmental milestones. In fact, I have a logbook that keeps track of his day-to-day progress since we brought him home from the hospital: How long has he breastfed, how many diaper changes has he had, how much formula has he consumed, and so on.

And my son is developing quite all right. He loves hanging out prone on his tummy. He just learned to roll back to supine position. He's delightfully chatty, and aside from the odd insect bite here and there, he seems to be a healthy baby boy.

Doting parents that we are, we amassed a lot of toys, and our baby will play with them when they're there. But soon we realized he doesn't need expensive branded stuff. What gets him responding was face-to-face time with either mommy or daddy, and there's singing or storytime involved. 

Just the other day, I was singing to my baby boy The Real Thing's "You To Me Are Everything," a classic Sesame Street song, "The Alligator King," and my remix of "The Alphabet Song"/"Baa Baa Black Sheep"/"Twinkle Twinkle Little Star."

ADVERTISEMENT - CONTINUE READING BELOW




Now I know I'm not a great singer, but somehow my 5-month old lights up whenever we do some singing. At least that's what I'd like to think. The adoring look when we play, the way he tracks you when you move across the room to make milk or get his toy, and the way he coos and gurgles when you have a pretend conversation with him, it's obvious. I may not be the greatest dad in the world, but I'm his most favorite person in the whole world.

When our baby is happy, I'm happy. It's as simple as that. I don't ever want to disappoint him or see him cry.  

When I'm around, and I hear him cry from the other room, I pick him up and comfort him right away. Since we live in a semi-rural community in a small town just outside Tagaytay, we've been "advised" just to let the baby be and cry ("Baka ma-spoil," is what they say). At this tender young age, I don't have to get stingy with love and affection. My baby has no other means to communicate, so when he does cry, I have to be there for him, quickly figure out what's wrong and remedy the situation right away.

It's science. There are enough studies out there about how stress-free babies learn better, have better social skills, and thrive better compared to those who grew up in strife-filled households.

CONTINUE READING BELOW

Recommended Videos

We managed to get a nanny to help us out during the day, so we can get some work done. We told her our strict rules: No TV, no tablets or phones in front of the baby (not until he's a year and a half, and even then, screen time will be limited). He needs to stick to his daily routine. He has to have his music in the background. He should be encouraged to play as much as he wants.

There's no need, however, to overthink things. The only person who can tell you're doing a good job as a parent is your very own baby boy — nobody else. So long as he's happy, that's really all that matters.

I think it was one of our doctors who told us that babies are built to learn, adapt, and survive. So long as you're decent enough parents who, at the very least, show some form of concern for your offspring, your baby is going to be all right.




ADVERTISEMENT - CONTINUE READING BELOW

Are there other dads like me out there? I have absolutely no idea. Most of my schoolmates have kids already in high school or college. While it's nice that I get a Facebook message, or a text from an old classmate asking me how fatherhood is, now that I'm going through it myself, it seems that there's a lack of dads with infant children in my immediate circle of friends, one that was pretty small to begin with.

It would be nice to hang out with dudes who have the same day-to-day issues as you do. So you can help each other figure things out. That, and have some gin and juice over burgers or something.

But I need to shape up. My five-month-old son is still cuddly and adorable for the most part, but we couldn't help but notice how much mass he's packed these past several weeks. It won't be long till he's a running bundle of energy streaking through the house, and here I am nursing a bad back and worn-out knees. I'd like to be able to run around with my son by the time he hits 2 years old. 

I am reminded by the work I need to do at my son's 5-month mark. At 20 or 21 weeks, he will develop two important skills: Facial recognition and reach-and-grasp movements. Put those two together and what will I get soon? Hugs. 

So, to my fellow dads, be an active participant in your baby's life. Step up your game and be a better person, so you can be around him healthier and stronger, easily able to catch up with his shenanigans.

ADVERTISEMENT - CONTINUE READING BELOW

Renzie Baluyut creates and manages websites, does digital marketing, and runs a boutique cake shop from his home office in Amadeo, Cavite. By day, he and his wife are in the business of weddings, events, and real estate. By night, they spend as much time as they can with their infant son, singing classic Sesame Street songs, and going through a collection of Dr. Seuss books.

What other parents are reading




Celebrate your pregnancy milestones!


Enter your details below and receive weekly email guides on your baby's weight and height in cute illustration of Filipino fruits. PLUS get helpful tips from experts, freebies and more!

You're almost there! Check your inbox.


We sent a verification email. Can't find it? Check your spam, junk, and promotions folder.
Trending in Summit Network