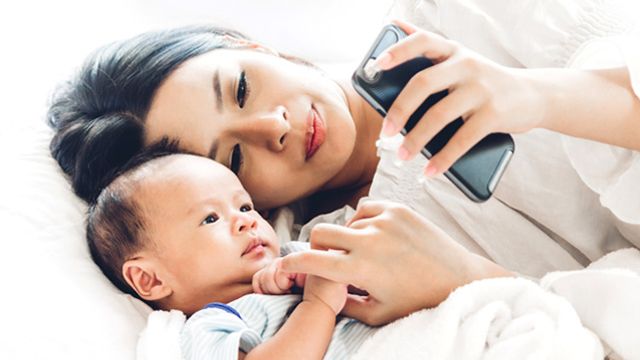 The internet, particularly social media, has indeed become an indispensable part of everyone's lives nowadays. It used to be that the only photos we have of our kids were the ones in those clunky baby albums; now, we have baby photo albums on our phones — and social media accounts.
One mom from the Smart Parenting Village, however, expressed her concerns about relatives posting photos of her little one online and whether or not it's okay. Is there a real danger in putting your baby's pictures and videos online? Should you really make them their own social media accounts even though they don't know what it is yet?
To Joslyn Palma, senior associate at a risk management company, the biggest concern is what authorities call "online grooming." It's when someone builds an emotional connection with your child to gain their trust for sexual abuse, sexual exploitation, or trafficking. Palma said it's effortless to mine your child's information online, especially since everything you do on the internet becomes your digital footprint, revealing where you are, who you're with, and what you're doing. So what should you do?
Don't fall into the "sharent" trap
Clinical psychologist Genevieve von Lob told The Guardian that the photos and videos you upload online create a digital tattoo, especially if it's something that goes viral. Social psychology professor Sonia Livingston said you need to respect your child's privacy, too, and ask for permission before posting. "What will matter to children is to feel they have agency, respect, and dignity," she said.
Von Lob does point out that asking parents to stop sharing is unreasonable especially since social media has become a fact of life now, and for parents, there are several benefits. "You feel supported, you get practical advice, and reassurance. It can be very lonely if you've been with the kids all day, and putting pictures online is a way of connecting with other adults, but I do think parents need to keep in mind how those children will feel in the future," she explained. 
At the end of the day, it all boils down to what your kids will think of the photos and videos you shared when they grow up. It is better to give them a chance to decide on their own when it comes to what they want to end up online. Perhaps it's best to provide them with a choice. 
Mommy Akira Valencia Sullano told SmartParenting.com.ph in an interview that social media is a double-edged sword. "There should be a healthy balance between what we share and the frequency when doing so," she said. "We should limit ourselves from comparing our kids with others to avoid unnecessary stress and unconsciously putting senseless pressure to our child," she added.
How to use social media to help you parent
While you don't want to fall into the "sharenting hole" deeply, none of us can deny that social media can be helpful as parents. You get tips and tricks from "seasoned" mommies, look through baby product reviews and recommendations, and establish connections that help you feel less alone and lonely (if you ever do) in your parenting journey.
But don't use social media to validate your parenting skills. Comparing how your child is doing versus other kids you see on your friends' social media accounts is like comparing apples to pears. Not all babies are the same, so there's no point comparing your child to another. No one family dynamic is the same, either, so there's also no point comparing your parenting style to another mom's.
Ask yourself why you're sharing what you're sharing before you put it online. What is there to gain? Remember, you are building your child's identity online the moment you start posting his or her pictures and videos. Are you creating an identity that he or she would agree with when he or she grows up?
Actress and now mommy-of-two, Bianca Gonzalez said one of the greatest things about being a millennial mom is how incredibly informed everyone is — there is so much information available online. The less fun part is the pressure that comes with it. "We're so hard on ourselves. I think the millennial mom is under insane pressure," she said.
Parenting in the digital age is indeed a balancing act —  too much of a good thing can be bad. If you choose to share things online, make sure you are mindful about what you share, how often you share it, and who you share it with. Always review and update your social media account's privacy settings, so you're sure you're not giving away too much information out there.
It's also important to remember that your kids might soon grow to pick up your social media habits. If you constantly overshare online, your child might grow up thinking that's normal and soon become an adult who craves for fame. As Mackenzie Dawson, writing for Parents, puts it, there is beauty in everyday things, often unseen by an audience.