The Many Ways Your Baby Benefits From Spending Time on His Tummy!

Tummy time builds strength and motor skills and can even affect your baby's writing when he grows up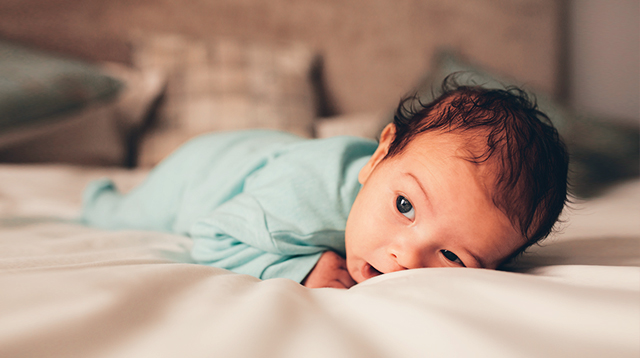 By now, we all know how vital it is to lay newborns and babies who are less than 6 months old on their backs when sleeping with no obstructions in his sleep area to prevent Sudden Infant Death Syndrome (SIDS). And while that is safe and sound advice, experts are reminding parents not to forget "tummy time."

A new research points out that spending time on the stomach is essential for building a baby's strength and motor skills and may even affect his handwriting when he grows up. 

In a report by The New York Times, Dr. Anne Zachry, chairwoman of the department of occupational therapy at the University of Tennessee Health Science Center in the United States, conducted the informal research while working with school children. Dr. Zachry discovered that the kids, who needed an occupational therapist because of their poor handwriting, that many of them had weakness in their trunk muscles and had trouble controlling their shoulders and arms.

What other parents are reading

She sent questionnaires to these children's parents and found that "the majority of these kids who were having fine motor and handwriting issues did not have tummy time," she told the New York Times. She also noted that many of them skipped the crawling stage.

Tummy time strengthens your baby's upper-body muscles that don't get used when your baby is lying down on his back. It's also a great prep for when your baby is ready to roll over and crawl on his own. Tummy time also lessens the instance of flat head syndrome (it happens when the baby develops a flat spot, usually on the back or side of the head, typically caused by a baby lying down in the same position for prolonged periods of time).

"In tummy time, they're using their neck and trunk and shoulder muscles, and also their hands," Dr. Zachry said. "They start pushing themselves up to look around, working muscles that are foundational for fine motor skills, and getting a different perceptual experience."

ADVERTISEMENT - CONTINUE READING BELOW

What other parents are reading

"The experience helps babies learn to push up, roll over, sit up, crawl, and pull to a stand," Dr. Danette Glassy, a pediatrician and chairperson of the AAP's committee on early education and childcare, told BabyCenter.

And if you think tummy time should be done when the baby is able to hold his head up on his own (around 6 months), Dr. Zachry emphasizes that you should "start tummy time as soon as you get home from the hospital."

The American Academy of Pediatrics (AAP), which launched a "Back to Sleep" campaign (now "Safe to Sleep" campaign) to reduce the number of incidents associated with SIDS, recommends tummy time two to three times a day but for only a short period between three to five minutes each. 

Dr. Zachry suggests to lie down on your back and put the baby on your stomach or on your chest so you can also look at each other "eye to eye."

A great period for tummy time is right after a nap, a diaper change, or a bath. It should be done when your baby is alert and awake — not tired or hungry. You shouldn't put him on his tummy when after he fed. Wait about an hour to avoid spit-ups and infant acid reflux. Your baby should always be supervised during tummy time. (Read more on how to have tummy time with your baby here.)

What other parents are reading

"As babies grow older and stronger they will need more time on their tummies to build their strength," said the AAP.

ADVERTISEMENT - CONTINUE READING BELOW

Recommended Videos

You might find that some babies will be uncomfortable to be on their stomachs at first. Dr. Zachry advises that you try different positions, like putting your baby on your lap, before giving up. "The reason I believe most infants resist it is they have poor head control, and it's hard," she said. 

Add a few more minutes at a time once you see that your little one starts to get comfortable on his belly. "For a 3- to 4-month-old baby, some research suggests aiming for at least 20 minutes of tummy time a day," Dr. Jay L. Hoecker, a pediatrician and fellow of the AAP, writes in a column for Mayo Clinic.

What other parents are reading

Dr. Zachry also suggests limiting the time babies spend in baby gear like carriers, bouncer seats, and swings to "15 to 20 minutes at a time." She attributes the introduction of these types of baby gear as another reason why babies get less tummy time. "You leave them in the basket, they don't get any trunk control, they don't get a lot of visual stimulation, they're just lying there like a potato," Dr. Zachry writes in her 2013 book Retro Baby.

Tummy time sets off a positive chain of events for your baby's growth and development, so take advantage of it from birth. "You need to get down there and entertain, entertain, entertain," Dr. Zachry said. Get down on baby's level and show him a toy, read aloud, or do something to make tummy time interesting and interactive.

By encouraging your baby to work on his motor skills, you're also teaching him to have a strong and determined personality, two important life skills he'll need when he gets older. Now that's a good payoff for a few minutes on his stomach, right?

ADVERTISEMENT - CONTINUE READING BELOW

What other parents are reading

Celebrate your pregnancy milestones!


Enter your details below and receive weekly email guides on your baby's weight and height in cute illustration of Filipino fruits. PLUS get helpful tips from experts, freebies and more!

You're almost there! Check your inbox.


We sent a verification email. Can't find it? Check your spam, junk, and promotions folder.

Trending in Summit Network