This Girl Weighed 1 Pound at Birth and Was Given an Hour to Live

She was such a fighter that her mom said, "'Yung baby natin lumalaban, bakit tayo hindi?'"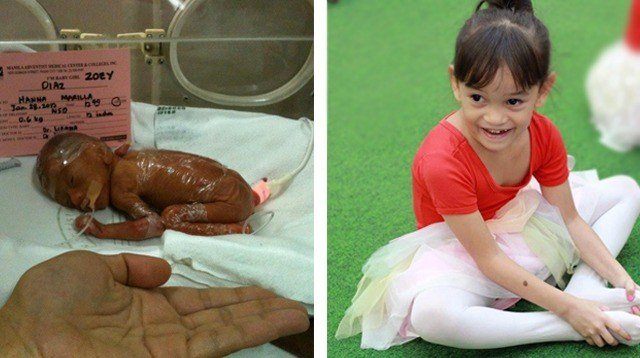 Hormonal imbalance meant Hanna Diaz always had an irregular menstrual cycle. She didn't think anything was amiss when she did not get her period for three months.

"I was still going to the gym every day," Hannah, who was 20 years old then, recalls. "I do remember going to the bathroom to pee a number of times more than the usual and being extra sleepy. But it was normal for me to do those things."

Hanna only went to a doctor because she felt a "lump" on her stomach. "My mom died of breast cancer when I was 12, so I panicked."

After an ultrasound was performed, the doctor told Hanna, "Oo nga, may bukol ka. Tapos may kamay at paa." That was how she discovered she was already three months pregnant.



What other parents are reading
Hanna was advised to go on a complete bed rest after she went in and out of the hospital due to bleeding. On her 24th week, Hanna experienced what she thought was stomach pain -- she was actually in labor. "Hindi ako nag-re-research, so hindi ko alam na labor pains na pala 'yun," she said.

Her high tolerance for pain didn't make her think she needed to go to the hospital immediately. Eventually, she asked her partner to bring her to the hospital and, as soon as they arrived, her water broke. Hanna was in hysterics, thinking, "What is happening? Why is this happening?"

The hospital staff at the Adventist Medical Center Manila immediately placed her in the labor room to prep her for delivery, but they realized the baby was already on her way. At this point, Hannah could not help but break down. "Nagwawala na talaga ako. I was asking myself why this had to happen. I followed my doctor's advice, lahat ng gusto nilang ipainom sa akin na mga pampakapit ininom ko naman. I didn't leave my bed, but why was my baby coming out in her fifth month?"
ADVERTISEMENT - CONTINUE READING BELOW
What other parents are reading
Hannah had to deliver her baby, and it was a breech birth -- her daughter came out feet first. "Sobrang liit niya, parang kusa na lang talaga siya lumabas," she says. The baby weighed 0.6 kilograms (1 lb 5 oz) and measured 12 inches.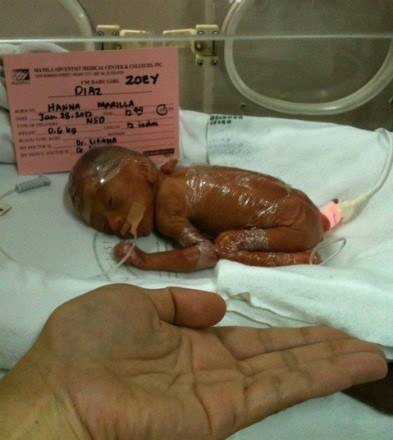 Hanna didn't get to hold her baby. Instead, the ob-gyn told her it was better not to see her daughter because she might not last an hour. She blacked out after that. She woke up three days later, asking where her daughter's funeral was being held. 

To her complete surprise, her baby was still alive. Still, doctors told Hanna she needed to be strong and prepare for what was to come. "Sabi nila, swerte na 'yung maka-five days siya." She was made to sign a waiver not to resuscitate in the case of a relapse.

Hanna was discharged from the hospital after two days, her baby's fifth day on earth. Her baby was still fighting, and it made Hanna question whether she should retract the waiver.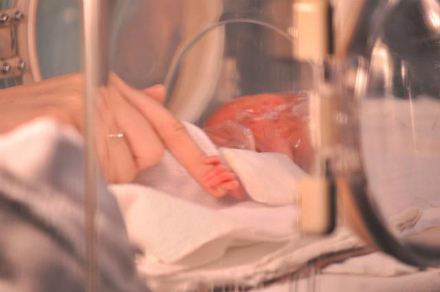 Hanna clung on to the hope that her baby would live. It would be the greatest blessing since she already lost both her parents (her mom passed away when she was 12 and her dad when she was 19).
CONTINUE READING BELOW
Recommended Videos
What other parents are reading
In the week that followed, Hanna continued to visit the newborn intensive care unit (NICU) where her baby was inside an incubator wrapped in plastic (to keep her warm) and connected to an IV. Hanna pumped breast milk every day so her baby could get enough nutrients. On her baby's second week, Hannah felt her daughter was fighting to survive. "Sabi ko, may chance. Nag-sisi ako. Sabi ko sa partner ko, 'Bawiin natin yung waiver. 'Yung baby natin lumalaban, bakit tayo hindi?'"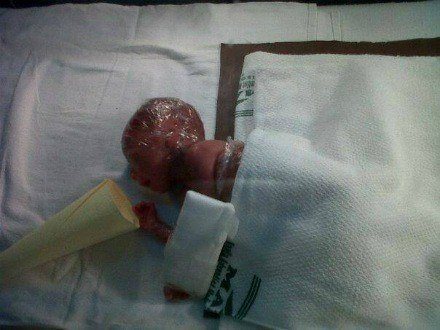 Throughout this ordeal, the doctors worked hard to help the baby get better day by day, but they made it a point not to give Hanna false hopes. "Hanggang nabuo siya, hindi nila outright sinabi na mabubuhay siya. Ang hirap din naman nun, na buong-buo 'yung hope ko tapos biglang mawawala pala siya," Hanna says.

The baby continued to stay in the NICU for three months. In her first month, she experienced apnea (where breathing stops for more than 20 seconds), but for the most part, she grew stronger at an amazing rate. The doctors and nurses encouraged Hanna to talk and hold her baby. (According to studies, this skin-to-skin contact, called kangaroo mother care, benefits babies' health and cognitive intelligence later in life. It also helps transfer the mother's warmth and protective bacteria that will keep the baby calm and healthy.)

We could only imagine Hanna's relief and happiness when her baby was finally cleared for discharge. Best of all, the baby had passed her newborn screening: her heart was intact, her lungs were the same size; in short, the results were all normal. The baby who was given an hour to live was able to defy the odds.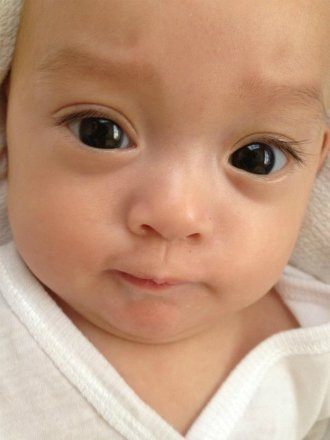 Hanna named her daughter Zoey. It was an homage to the heroine in her favorite film, 500 Days of Summer. Later on, she researched the real meaning of the name. It brought tears to her eyes. Zoey, derived from the Greek name Zoe, meant life.
ADVERTISEMENT - CONTINUE READING BELOW
What other parents are reading
During Zoey's first year out of the hospital, Hanna enforced strict measures to make sure her baby was healthy and safe. "Lahat ng tao na papasok sa kwarto, dapat naka-hospital gown and mask. Kahit yung dad niya minsan, ayaw kong papasukin lalo na 'pag galing sa labas," she confesses.

She also lived in constant fear. What if Zoey experienced complications? What if she can't see properly, what if she couldn't speak? Zoey, however, was determined to prove her mom wrong. She hit all her milestones, and she is a healthy 5-year old today.

Now that Zoey has started preschool, Hanna has mellowed from being an overprotective mom. "Tingin ko kasi sa kanya, special case, hindi pwedeng masaktan. Pero sabi nga ng mga tao, kailangan hayaan ko siyang mabuhay, kailangan niya i-enjoy ang freedom niya," she shares.

While she has no plans of having another baby, Hanna has learned to take care of herself. She is now taking birth control pills upon her doctor's advice to balance out her hormones. After all, she has now realized just how important it is to take care of your own health, especially when pregnant. "It's not just for yourself, it's for your baby, most especially," she says. "One of my biggest regrets is I didn't find out I was pregnant sooner. Kung siguro una pa lang nalaman ko na, maiiwasan 'yung nangyari." She also stresses that one of the most important things to accomplish at the early stage of pregnancy is to take vitamins and milk, and everything else that the doctor advises you to take.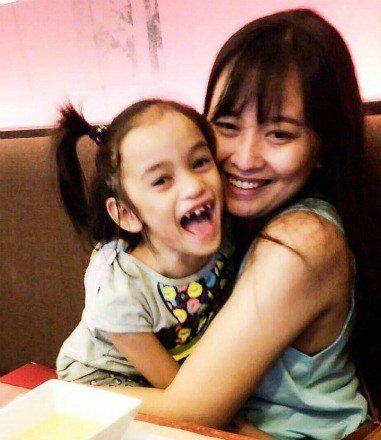 Looking back at her incredible journey, Hanna says she can't help but thank God for every day that Zoey is alive. "Maybe this is God's way of telling me na kahit ang dami Niyang kinuha sa akin, hindi pa niya ako pinapabayaan. Binigyan niya ako ng isang tao na makapagpapasaya talaga sa akin."
ADVERTISEMENT - CONTINUE READING BELOW
What other parents are reading
Trending in Summit Network