This 4-Step Hack Can Help Your Child Master Any Subject

We can even use this technique ourselves to expand our knowledge and learn new things.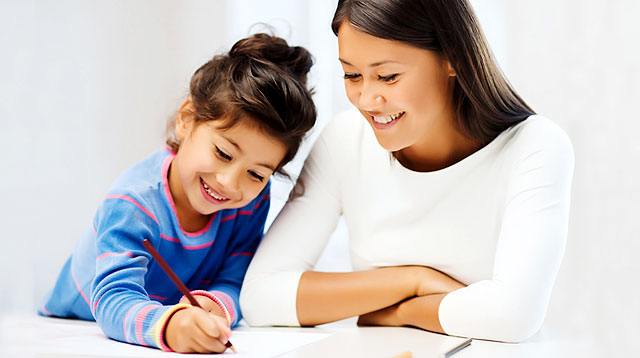 We've written about it before: Instilling good study habits in your child early is key to successful independent learning.

As parents who want our kids to succeed in school, we're always ready to help -- but no, not by doing their work for them, but by teaching them skills that they can use on their own. And this learning hack could make studying easier. Even you, dear parents, can use it to deepen your knowledge on a topic or to learn new things. 

It's called the "Feynman Technique," named after its creator, Nobel Prize-winning physicist Richard Feynman, who understood the difference between knowing the name of an object or a concept and truly understanding how it works. We describe it as a learning hack because it actually works on any kind of topic, subject, or concept. His approach stems from the belief that intelligence is a process of growth, which is based on the studies by child psychologist Carol Dweck, Ph.D. 

So how do you know if you understood something as opposed to just knowing it? The goal of the Feynman Technique is to see if you can explain a topic in simpler terms. For example, explain how matter moves without using the word energy. Tough, right? Feynman's four-step technique should be able to help. You teach it to your child better if you practice it as well. Here's how it works, according to Shane Parrish, who wrote about the Feynman Technique in Quartz.

Step 1: Pick a topic. 
Read books, watch informative videos, and other learning materials on your chosen topic, subject, or concept.

ADVERTISEMENT - CONTINUE READING BELOW

What other parents are reading
Step 2: Teach it to a child.
Take a blank piece of paper and write about your chosen topic like you're explaining it to someone else, say, your 7-year-old. "When you write out an idea from start to finish in simple language that a child can understand (tip: use only the most common words), you force yourself to understand the concept at a deeper level and simplify relationships and connections between ideas," writes Parrish. 
In a YouTube video explaining the technique, it's ideal to try to write and speak at the same time, just as a teacher does it. You can use notes and not whole sentences as long as you understand them. This exercise will tell you which parts you truly understand and where you still have gaps.
Step 3: Identify learning gaps and study again.
When you get stuck, these indicate your learning gaps. This is the part where you can deepen your knowledge about your chosen topic, subject, or concept. Go back to studying until you're confident enough that you can speak and write about it to your child (Step 2). Repeat the process until you 'get' the topic.
Step 4: Review, simplify, and organize.
If you're confident about your work, it's time to simplify your terms and create analogies that can help you understand it more and remember it. Explaining the subject to a child means you should use simple words and make sure you don't just reuse terms that are used in your source material. When using notes, organize them into a story that's easy to read. The ultimate test is to let another person read your output. If they understood it clearly, then you've done a good job. 
CONTINUE READING BELOW
Recommended Videos
Now the question is how to teach this learning technique to your child? The answer is to guide him through the four easy steps at first, particularly in studying the topic. Letting you read his output is essential for your child, and you can point out the good parts and the part where he needs some improvement. Try to step back and let him do it eventually, but be there if he needs help. Eventually, he should be able to do the technique on his own. 
What other parents are reading
Trending in Summit Network