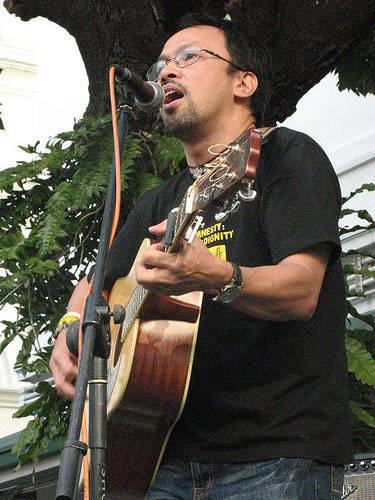 While newly inaugurated President Benigno Aquino III set the tone of his administration "for the people" by delivering his inaugural speech almost entirely in Filipino, it was the the simple songs of reknown musician, Noel Cabangon that touched the hearts of a lot of Filipinos (both at the Quirino grandstand and at home, watching TV).
For parents of big kids, this would be a wonderful opportunity to deepen your children's understanding and knowledge of Filipino. A nation's language is actually best exemplified in its poetry and songs. Given their recent exposure in current events and their deep messages, Noel Cabangon's songs would be a good way to discuss Filipino culture with your kids.
Tungo sa Pagbabago, Para sa Pagbabago (Towards Change, For Change)
(Read full lyrics here).
Tungo sa pagbabago
Para sa pagbabago
Ngayon na, ngayon na!
Tungo sa pagbabago
Para sa pagbabago
Bayan ko, ngayon na!
In this song, you will encounter words like kinabukasan (future), hustisya (justice), karapatan (right),  kaunlaran (progress), kapayapaan (peace) and pagkakaisa (unity). All of these words and concepts can be taken in context of things that can still be changed. You can start by asking what your child understands from the song and then you can proceed with other things that you have reflected on and share them with your child. Asking for his opinions and giving them value will definitely be an advantage.
Ako'y Isang Mabuting Pilipino (I Am One Good Filipino)
(Get the full lyrics here)
Tumatawid ako sa tamang tawiran
Sumasakay ako sa tamang sakayan
Pumipila at hindi naddipag-unahan
At 'di ako pasiga-siga sa lansangan.
This song has practical applications of what good citizenry looks like. Perhaps your child isn't aware yet of what being part of a country entails. You can start by talking about your family. Everyone in the family has a role, even the kids. Being part of a country is like being a part of a bigger family where everyone has roles and tasks as well. Ask your child to list down what his roles and chores are in the family and then relate it to being part of a bigger family called the Philippines.
Kanlungan (Sanctuary or Refuge)
(Get the full lyrics here)
Ang mga puno't halaman
Ay kabiyak ng ating gunita
Sa paglipas ng panahon
Bakit kailangan ding lumisan?
This will be a little harder to discuss because, among the three songs, it is the closest to poetry and can have many meanings for whoever is listening to the song. First you can start with the literal meaning of the song's story and then talk about what he thinks it is about. Make sure to acknowledge whatever it is that he shares. Then you can also talk about how things don't stay the same, for example, your child was once a baby and now he is a big boy. But no matter what happens, he can always count on you, as a parent, to be there for him even when he grows up. This is the part where you can explain what kanlungan (refuge) is.
There are many materials out there that can help a parent make Filipino more relevant and part of their children's everyday lives: bilingual story books that are published locally, komiks, and, of course, popular songs (like those of Noel Cabangon). It just takes some creativity, some patience and the right opportunities.
Image of Noel Cabangon from Flickr.com.