Start Them Young! This Local Children's Book Series Will Teach Your Kids To Be Money Smart

Here's the answer to "Why don't they teach financial literacy in school?" You can teach it at home!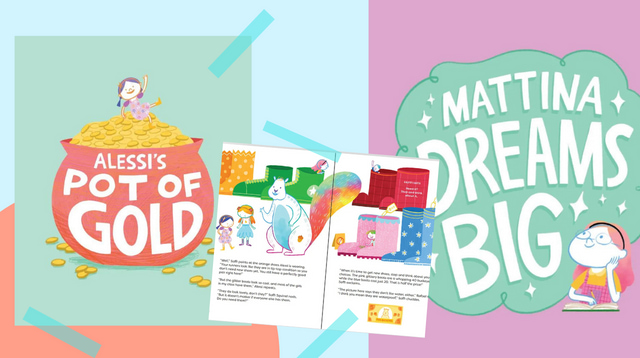 When we start teaching our kids about the value of money while young, they will develop the right attitude and behavior around finances early on. It is for this reason that two women came together to introduce a series of financial literacy books written specifically for kids. 

Clarissa Seriña de la Paz is a financial literacy expert and co-author of two books, I Wish They Taught Money in School and Money Grows on Trees, while Monique Leonardo Carlos is an early childhood and infant-toddler educator. Both founded Saffi Squirrel, an independent publication of children's books, under which they will soon launch five financial literacy books for children.

The books are packaged as a series, each one tackling an important value about money. "Saffi Squirrel was born out of our desire to help families cultivate better values and habits through meaningful stories and thought-provoking activities," says Clarissa. 

"We aim to empower families to cultivate a positive relationship with money." 

ADVERTISEMENT - CONTINUE READING BELOW

Renee's Ginormous Bag is one of five books in a series that teaches kids financial literacy.

Learning the value of money as a kid

"My mom and dad never sat us down with numbers and figures, but they taught me and my siblings important principles through everyday circumstances, molding our money language or how we deal with money," Clarissa tells Smart Parenting via email. 

Clarissa is a mom of two.

PHOTO BY COURTESY OF SAFFI SQUIRREL

As young as seven, she and her siblings would be given a weekly allowance and from there leave them to budget and spread out the money in the next seven days. "We were not given any more if we happened to prematurely run short before the end of the week," she says.

CONTINUE READING BELOW

Recommended Videos

When she they grew older, their allowance were given monthly. In time they have developed a discipline in budgeting to the point that Clarissa never had to utter the words "I have no more money!"

Financial literacy learned later in life

Unlike Clarissa, Monique learned to develop good habits around money much later in life. For me, it is the opposite, the lack of such," the Canada-based mom reveals. 

While she says she was aware of the basics like what money is for, the importance of  saving, and that one earned money when she worked, she felt that she did not have the most positive outlook toward personal finances.

Monique learned about financial literacy as an adult.

PHOTO BY COURTESY OF SAFFI SQUIRREL

In fact, it was only when she met fellow immigrants in Canada who were unable to buy a home because of bad credit, that she was encouraged to push for financial literacy among children. 

ADVERTISEMENT - CONTINUE READING BELOW

Written for kids of all ages

When she became a mother of two, Clarissa knew she wanted to write about money for children based on her experience growing up. However, she says, her challenge was that she was not an expert on childhood education.

"I don't have the knowledge to bring these money concepts down to the vocabulary of children. That's where Monique came into the picture," she shares.

Inside one of the books of the series.

 

The series teaches children the difference of needs and wants.

ADVERTISEMENT - CONTINUE READING BELOW

The core principles of the books, which are the money values and habits, are left to Clarissa while Monique transformed them into easily understood and relatable stories and visuals.

The partners took the best route in teaching children about money and other life skills by coming up with five titles that not only entertains, informs, and educates but encourages parents to be part of the learning journey: 

Renée's Ginormous Bag explores being mindful about our choices by understanding what is necessary and what is not.
Rafael Stretches His Patience teaches kids the difference between instant gratification and delayed gratification—an important life skill that goes beyond managing money.
Alessi's Pot of Gold shares the value of creativity and abundance. It explores the concept of what a 'pot of gold' really means and using it to unlock so many avenues of earning money.
Mattina Dreams Big encourages children to turn their hearts' desires into realities, and to open their minds to unlimited possibilities.
Basti Builds a Home introduces children to the value of helping others, no matter how young they are.

ADVERTISEMENT - CONTINUE READING BELOW

"Our five kids are aged 4-10 years old, so we wrote these books with them in mind. However, we also added conversation prompts and activities at the back that the whole family can do together," says Clarissa.

"We would say the books are for kids of all ages who would want to start their money journey together as a family," she adds. 

Monique says that the values they chose to focus on in the books are 'very much foundational' and are important for children of any age to be introduced to. "How deep you get into the topic and how it becomes more applicable to your child's or family's unique situation is really up to the adult," she says.

RELATED: Teach And Encourage Your Kids To Save Money With The Help Of This Free And Easy To Use App

She also says that like Clarissa, she involved her children before placing her inputs in the book. "We carefully thought about how we would explain said concepts and values to our own children and used examples that we actually use at home." 

Teaching kids how to be money SMART

Curating how to bring the language of money to the level of vocabulary of children was a challenge but both authors turned to creativity to get their messages across.

An example is how the book demonstrated what instant and delayed gratification are by showing two kinds of cakes—one without icing and one that is covered not only in icing but comes with sumptuous toppings. 

ADVERTISEMENT - CONTINUE READING BELOW

Those who don't know how to wait get the plain one but those who do get not only the cake but all the good stuff that come with it.

'We carefully thought about how we would explain concepts and values to our own children and used examples that we actually use at home.

Apart from this creative approach, the books also features BPPs or Big People Prompts. "These are suggested talk points that adults can have with the children as they read the book together," explains Clarissa.

They come in guide questions are meant to bring certain events in the stories even closer to the reader's own experiences and make the lessons more relatable and easier to understand.

RELATED: Raise Your Kids to Have a Healthy Attitude Towards Money

The last pages of the book integrates activities to extend the learning beyond the story. These activities are meant to be the beginning of a deeper exploration of the values in each book.

How to teach your kids to financial literacy

Clarissa and Monique agree that parents can make everyday activities an extension of teaching the value of money to children. They give these tips for parents that can be best remembered using the SMART acronym.

1. Set a good example and be consistent.

Kids will half listen to our lectures but will fully copy what we're doing. Our relationship with money will most likely be the same for our children. Focus on money values and habits that are taught in the books:  money mindfulness, delayed gratification, abundance, creativity, believing in yourself, and dreaming big and giving.

2. Mindfulness is a daily practice we can do with our little ones.

ADVERTISEMENT - CONTINUE READING BELOW

Encourage children to be more aware and be present by enumerating our blessings, making a list of what we need, or writing down our goals.

It can be as simple as asking them to set one goal in the morning or encouraging them to share one thing they are grateful for at the end of the day. This gets them into the habit of being mindful of their thoughts and choices.

RELATED: Pinoy Psychologist: Paano Turuan Ang Bata Sa Pera Bukod Sa Alkansya

3. Abundance is not only for concrete, material things but also for what is in the mind and heart.

When children want something their friend has, guide them to think about what they already have. When children decide they want to learn how to ride a bike, encourage them to believe they are more than capable.

When children receive birthday money and are deciding what to do with it, inspire them to realize they have what they need and there is room to share.

 

All five books from the series.

ADVERTISEMENT - CONTINUE READING BELOW

 

 

4. Reduce, Reuse, Recycle.

 

Not only is it good for the environment but practicing this with our children on a daily basis helps them see the value of the things they have. 

Take time to explain concepts. Talk to children about their actual experiences and unique situations.

For example, when you have to work, talk to them about how your work or business pays for expenses in the house. When they say they want to buy a new toy, take the time to explain why we can't buy one right away.

When they see you buying things online, include them in the decision making process or explain what is needed now and what can be set aside for later.

Saffi Squirrel will be launching their Financial Literacy Series on June 25, 11am-12nn (Manila time) via YouTube and Facebook live.




Celebrate your pregnancy milestones!


Enter your details below and receive weekly email guides on your baby's weight and height in cute illustration of Filipino fruits. PLUS get helpful tips from experts, freebies and more!

You're almost there! Check your inbox.


We sent a verification email. Can't find it? Check your spam, junk, and promotions folder.
Trending in Summit Network