In its Human Capital Report ("Preparing People for the Future of Work"), the World Economic Forum stated that "many of today's education systems are already disconnected from the skills needed to function in today's labor markets." It underlined how schools around the globe are so focused on nurturing a child's cognitive skills, and they may be forgetting three essentials: problem-solving, critical thinking, and creativity.
One progressive school in Mandaluyong is hoping its latest technology-focused program can foster these said skills in its students and prepare them for the "jobs of the future."
"Although the school is meant to address the child at the moment, we're also supposed to address the needs of the child for the future. It's the 21st century; it's part of the profile of a learner that he has to be tech savvy and also be ethical in the use of technology," explains Didi Manahan, the directress of Keys School Manila.
ADVERTISEMENT - CONTINUE READING BELOW
So, apart from introducing robotics, coding, and programming in the elementary levels, Keys has introduced TechEd (technology education) classes — web design, game development, and most recently, 3D printing — to its Grade 7 to 12 students.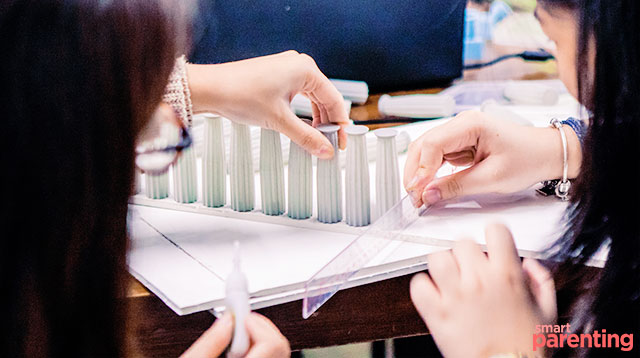 Inspired by a visit to an international school in Bangkok where kids were able to create various projects using a 3D printer, Manahan envisioned replicating the learning experience in her school. She tapped George Wang, founder of iCode Academy, an educational institution that works with various schools in the metro to come up with specialized technology courses for schools. Last year, iCode taught computer science, programming, PC assembly, and web design to Keys students. George and his team then developed the 3D printing curriculum with Clariss Chua, a senior design consultant from Simon Fraser University in Vancouver who happens run Scoops 3D Hub, a 3D printing services company. 
MORE FROM Smartparenting.com.ph
At the start of the school year, students were taught the basics of 3D printing. Teachers provided them with templates and instructions how to print small objects like keychains, cookie cutters, and rulers. For their third term, their assignment was to create a final project that was primarily based on set projects created by iCode, as well as their own designs. "There was a good choice of set projects," Manahan affirms. "It allowed kids diversity."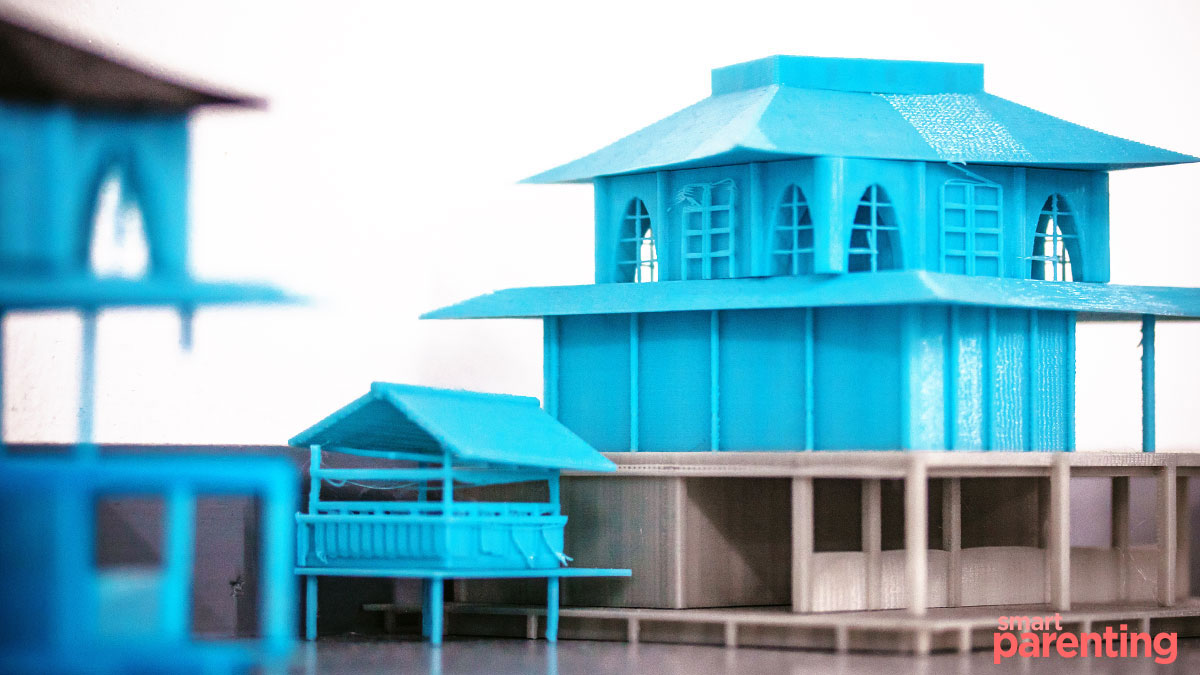 Luke Garcia's 3D model of Kyoto's Golden Pavilion.
PHOTO: Paulo Valenzuela
Keys wanted the students to be able to express their creativity through 3D printing but also solve real-world problems at the same time. So, it wasn't surprising that the kids chose designs that were based on their own experiences and interests. Some chose to make scale models of historical buildings like Luke Garcia, a tenth-grader who made a 3D model of Kyoto's Golden Pavilion (or Kinkakuji).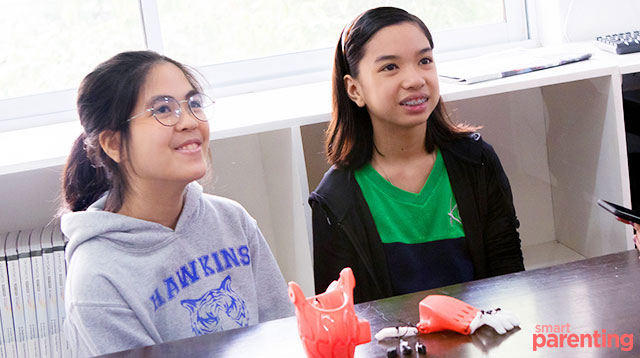 ADVERTISEMENT - CONTINUE READING BELOW
Other students like Yana Victorino, who is handicapped, chose something more personal. The 12-year-old has a prosthetic arm, but she wasn't happy with it. The class offered her a chance to design one. 
"When they told us that we were going to do 3D printing this year, I was really excited. I really wanted a 3D prosthetic arm for me that was affordable and inexpensive," she tells Smart Parenting.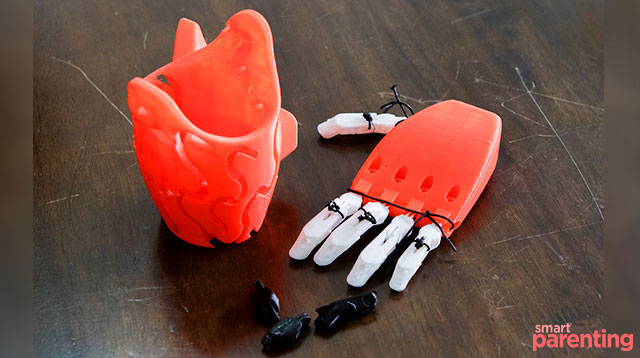 ADVERTISEMENT - CONTINUE READING BELOW
Yana, who is working on the project with her partner, Anika Maculangan, says that she's now inspired to create inventions that can be used for everyday activities. "I want to create things that are affordable but will make life easier," she says.
"We didn't know that technology could have this ability to help people," Anika says. "Now we realize that a lot of people need it." She hopes to one day inspire other people to use 3D printing as a tool to help others.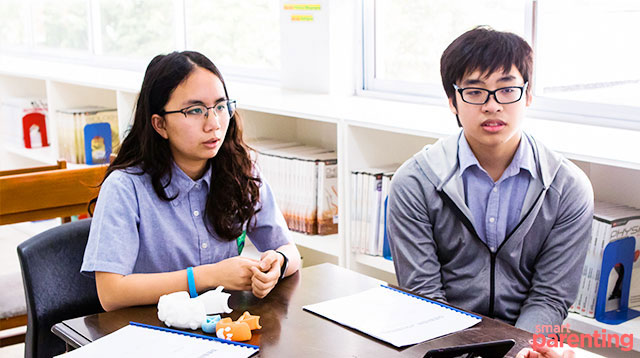 ADVERTISEMENT - CONTINUE READING BELOW
Like Yana and Anika, Grade 9 student Marty Tirona was also inspired to make prosthetics but for animals.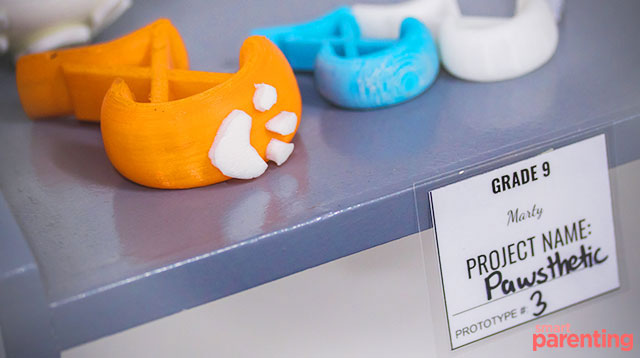 "I had two cats that were born with birth defects, and then a friend of mine had a dog who was born without the use of her front legs as well. I thought of making a prosthetic leg for them," she explains. "Animals who are born without limbs can get by with things like wheelchairs, but for animals that have some remnants of their limbs, it's uncomfortable — they can't hold up their body. So, the point of my project is to make something that you can just strap into the limb so they can move as if they are using their legs."
ADVERTISEMENT - CONTINUE READING BELOW
For these young digital natives, 3D printing was a fresh, innovative subject. For the directress, she saw TechEd classes as "safe classes."
"Of course, kids have to be able to make mistakes to learn that it's part of the problem-solving process. But for the 3D classes, the kids know that error is ok," Manahan explains."Normally, in other areas, they might find it too challenging. They might give up. But with 3D printing, the persistence is there."
The way we see it, TechEd is the perfect opportunity for students to learn resilience. Manahan says the students can let their guard down, even the achievers who are always striving to be the best.
"Part of the culture of a tech class is to encounter an error and not be fazed by it," she says.
The idea of making your designs into actual products is exciting, but as with anything in life, it won't always be smooth sailing. Students still encounter setbacks throughout the design process. And it's an excellent opportunity for them to learn independence — to figure it out on their own and come up with better ideas to fix it.
ADVERTISEMENT - CONTINUE READING BELOW
MORE FROM Smartparenting.com.ph
"Besides the actual 3D printing, they're also learning about the design process," George says.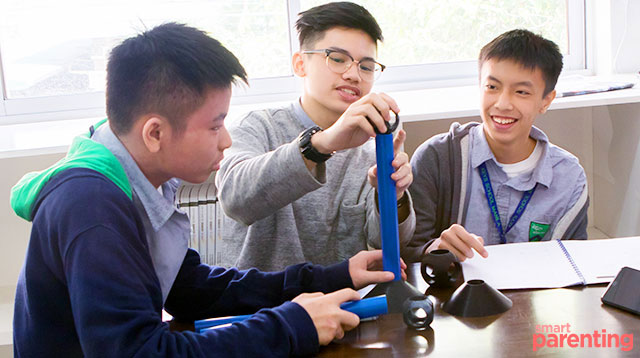 For groupmates Marco Javier, Ramon Dragon, and Griel Gatchalian, the problem-solving part was challenging but manageable. For their final project, they decided to create a multi-purpose sports training tool that will help athletes improve their game. But while they had everything all planned out, they struggled with getting the proper measurements.

"Right now, we're adjusting," Marco says. He starts to explain to us all the ways they managed to troubleshoot the problems, which already impressed us even before he said that he and his group mates were confident they'd be able to present a functional training tool before the submission date. 
ADVERTISEMENT - CONTINUE READING BELOW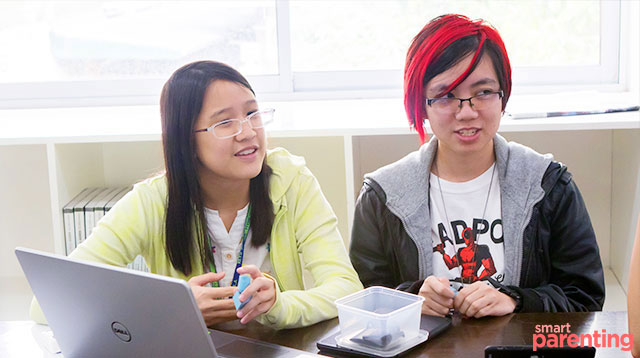 Like Marco and his group mates, Grade 12 students Rafi Ko Teh and Gaby Tirona also had to figure out the design process. For their final project, the two are working on a robotic arm.
"Whenever something doesn't work, we'll be like, 'Ok, back to the drawing board. We have to fix this,'" she says. Both very creative individuals, the two 18-year-olds also had to compromise when it came to making their project functional but still look 'cool.'

"Sometimes the results change from what you originally want, but it's up to you to make it work," Rafi says.
ADVERTISEMENT - CONTINUE READING BELOW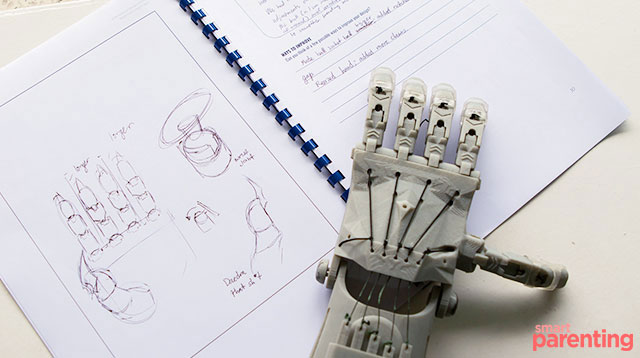 "It's all about knowing what you want. And figuring out how to get there," her partner Gaby adds. "There's a sense of accomplishment and pride with what you've made."

Not only are these Tech Ed classes teaching Keys students how to navigate real-life situations at an early age, but it's also showing them that technology is more than a means of entertainment. There's an entirely different aspect to it that's helpful and educational. Keys indeed sees the benefits. The course had only been plotted for one school year, but because of the positive feedback from the students and parents, Manahan says that it will now be a regular course in the curriculum.
ADVERTISEMENT - CONTINUE READING BELOW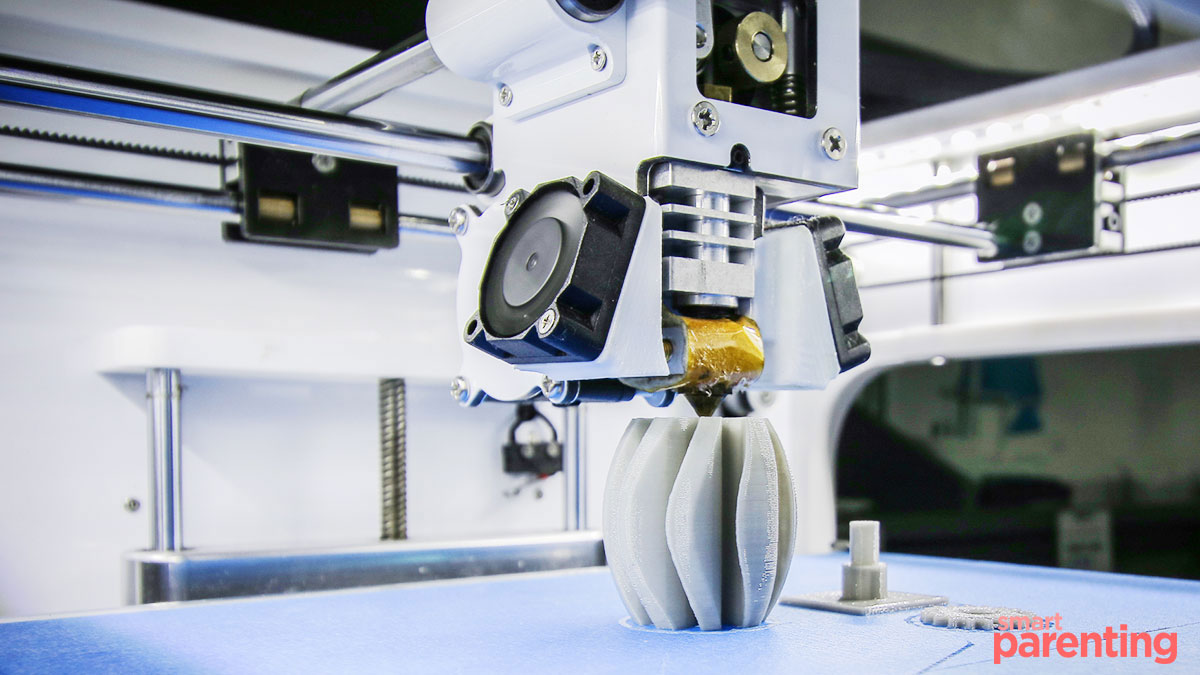 "3D printing itself would be a good experience for anyone," Marco says. "It'll teach you to do 3D modeling, yes, but it will also teach you to adjust to certain situations. How to use your surroundings and take advantage of them. How to find your limits and overcome those limits."
"You can look at it as a form of entertainment first but then you start learning about it, and you'll find out what you want to do and then develop it," Griel adds.

Because they grew up in technology, these students also have a piece of advice or two for parents when it comes to exposing their kids to gadgets at an early age.

"A lot of technology today is used in a one-way transaction regarding information. You're just absorbing. You're not thinking back. That clogs the brain," Gaby says.
"The key to keeping attention with the young generation is to encourage them to learn how to use the technology and to find the balance between learning and having fun."
"Just showing videos won't help. Kids learn better if you give them something to hold or touch," Rafi adds.
ADVERTISEMENT - CONTINUE READING BELOW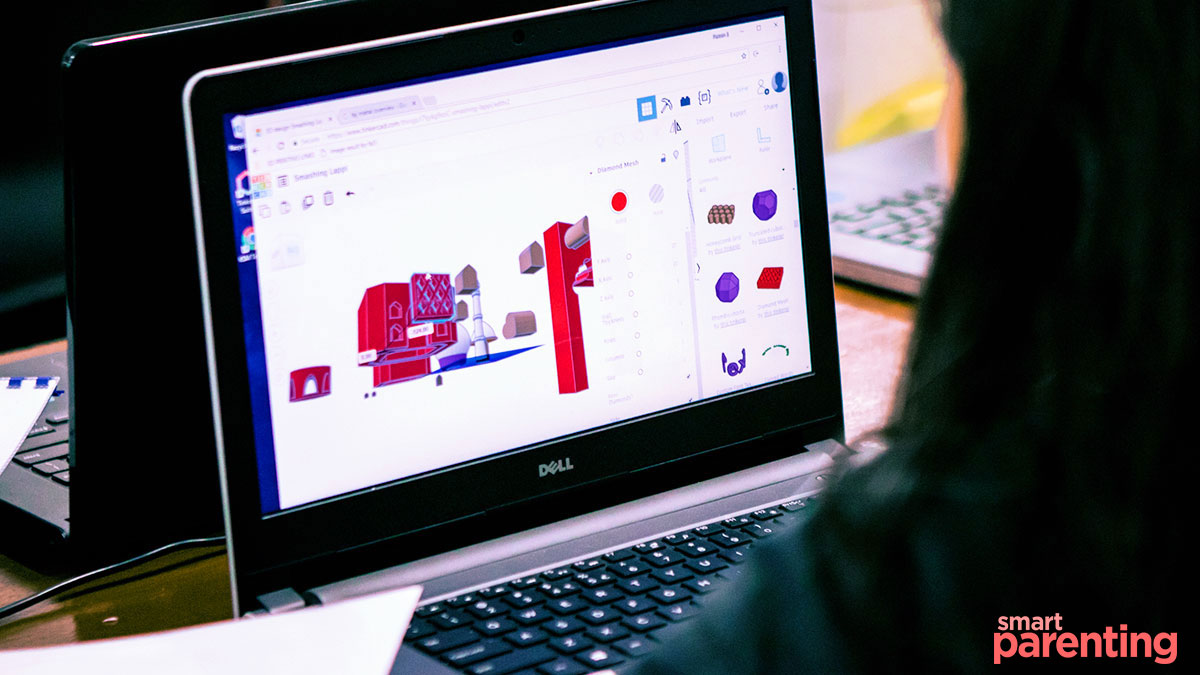 A Keys student working on her 3D project.
PHOTO: Paulo Valenzuela
"I think the best way is to find something that holds their interest. And put a more 'useful' spin on it. If your kids are interested in videos why not help them learn how to edit videos? It'll be more beneficial for them. Make it a learning process," Gabby says.

Manahan acknowledges the important role that parents have when it comes to setting rules and exposing kids to technology, but she's also a firm believer that kids will be able to develop internal controls.

"I don't believe in totally banning options for students because the important thing with kids is to determine whether or not something is appropriate or inappropriate," she explains. "As adults, we should be involved in helping the kids make ethical choices about whether these things are appropriate or not."
The positive and negative effects of technology is a conversation that will continue in the years to come, but we should not be afraid to expose our kids to the educational aspect of tech.

"We can't just get rid of devices. But we can help shape their view of it through setting rules and helping our kids learn what else is there besides just playing the game and consuming content," Manahan says. "The question we should ask is, 'How can we turn them into creators?' These children are going to be the leaders of tomorrow. Through hands-on experience, it will change how they view and use technology in the future."
ADVERTISEMENT - CONTINUE READING BELOW
iCode Academy provides computer science and coding courses for elementary and high school students. For more information on their courses, visit their website.
MORE FROM Smartparenting.com.ph