Child Struggling in School? 5 Tips to Help Him Become an Achiever

If your child is struggling or failing, stop yourself from "rescuing" them--it actually hinders their development.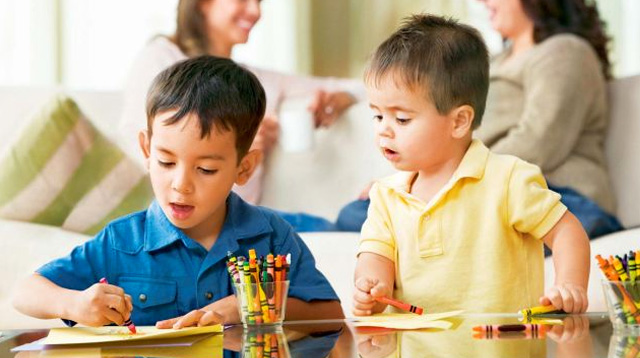 These days, parents take control over all possible variables to ensure that their children have not only the best chances in life but also all the tools to land on top and become successful. We all want to raise kids to be an achiever. But there is a danger of pigeonholing our kids to a limited view of success, which can be our own.

Take a step back to assess first what achievement or success means to you. Do you want your child to be the best in his class (or his entire batch or age group), or do you want the best for your child?

What other parents are reading

Check your reasons for why being the best of the best is important to you, says Ma. Blesila D. de Asis, M.A., R.P., a certified clinical psychologist at MLAC Institute for Psychosocial Services, Inc.

De Asis advises, "Maybe the parent has to ask herself if the way she views achievement is her own perception or concern. This is a very important step, because oftentimes, parents view achievement using traditional measures of success, such as having high grades, [winning] trophies, and getting into [prestigious] schools.

"If a parent is really attuned to her child, then it would be easier for her to know what he likes to do, what he is good at, and what makes him feel secure, given his recognized abilities. However, the current high-stakes, high-pressure culture--where success today is defined by being an A student or having as many special talents--are not helping the children grow up to be resilient, successful individuals."

Pilar Tolentino, a family pastoral counselor and family business consultant, adds, "Ultimately, we want our children to have an internal compass. Their confidence in their work--and in themselves--is based on knowing that they have given it their 100 percent and not on getting the highest mark or being on top of the competition."

ADVERTISEMENT - CONTINUE READING BELOW

Is it okay if your child wants to be at the top of his class? Should you encourage your child to be one of the best athletes? Of course. Should you drop everything so that these goals and ambitions are met? Maybe not.

Ask yourself: Is it important to you that your child gets high grades because his achievements reflect on you as a parent? Do you feel successful as a parent when your child exhibits many special talents?

This is a crucial point for reflection. De Asis explains, "When this happens, children learn that success is just superficial and therefore do not really give importance to it. They begin to think that their parents love them only when their grades are high."

The need for failure
What is your knee-jerk reaction when your child falls short of a goal? If your child is struggling or failing, try not to swoop in and make everything all right. "Rescuing" your children prevents them from fully developing the coping skills they need for navigating their developmental stages, according to De Asis. "Similarly, they lose the chance to know if they are capable of thriving or picking themselves up again in challenging circumstances," she adds.

Your child will fail not once, not twice, but many times. Failure, says Tolentino, should be "an opportunity to reaffirm our love and support for, and confidence in our child."

Dealing with failure can look like this: First, console and empathize. "Make the child feel that you are with him, that you are his partner," says Tolentino. Try not to panic or react negatively, as this can add to the stress your child is already experiencing. 

What other parents are reading

Next, analyze the reason behind the failure. "'Was the topic hard? Maybe my child needs more time or help in understanding it. Did he have enought ime to study? Were there any distractions that need to be managed?' After we have determined the factors that affected our child's work, then we can help them address these factors," points out Tolentino.

CONTINUE READING BELOW

Recommended Videos

Similarly, a child may feel frustrated if he lands in the awkwardly disappointing position of being second best. Parents need to navigate this situation carefully as well. De Asis advises parents to validate your child's feelings of frustration and accept them in a caring, non-judgmental way. She adds, "A parent can acknowledge her child's improvement and the small steps he has taken to accomplish his task. When she does this, he develops competence and becomes self-confident. When a parent tells the child he needs to work harder or expresses disappointment in spite of his best effort, she risks damaging his self-esteem."

Rethinking the best approach
De Asis warns of the risks that come with exerting extreme pressure on a child: risk of burn-out; anxiety or depression; poor coping skills; and an unhealthy reliance on others for support and direction. 

You need a game plan that's maximizes your child's potential and builds his character, flexibility, pursuit of knowledge, and self-motivation. On the flip side, assess what makes him hesitate or slack off, whether it's perfectionism, shyness, the need to please, or a seeming lack of interest. 

What other parents are reading

Tolentino suggests these ideas:

1. Know your child's talents and skills.
Play up your child's uniqueness by uncovering and focusing on his strengths. Give him the opportunities to enhance these.

2. Learn weaknesses and limitations.
Understand that your child (as perfect as you'd like him to be) has shortcomings. Figure out a way to help him navigate these problem areas by helping him find ways to manage difficult tasks and requirements.

ADVERTISEMENT - CONTINUE READING BELOW

3. Recognize and affirm his efforts.
Send the message that you value hard work and his discipline, determination, and effort to do well. These are values that will work for him in the long run; these may or may not translate into getting the highest mark or top honors, but the diligence will take him far in the bigger scheme of things.

4. Celebrate when he completes his requirements.
Imbibe in your child the need not just to start well but also to end well. Working through apprehensions and difficulties is a feat that even grownups need to go through everyday. Having that mindset to finish what he has started completely and fully is significant.

5. Support her interests.
If your child wants to join competitions, clubs, or activities in school, support her and open doors for her. The entire experience should enrich your child's budding greatness, but let her do it her own way. Be her cheerleader, not her taskmaster.

De Asis points out that many children and teenagers--despite their parents' best efforts to "help them"--feel that their parents don't really know them. She says, "They can show their confidence and competence, yet inside they are 'empty' or 'unhappy'. We have to understand that being authentic with how one feels is just as important as being successful. Parents' ideas of success need to be a good fit for their child. This means they need to be attuned to their child's needs, capabilities, and pace."

By setting aside parental agenda and expectations, you are arming your child with a sense of self that enables him to confidently tackle and conquer the challenges that come his way. He will always look to you for encouragement and inspiration, so instead of pushing him, be ready to reassure and help him see what lies beyond the finish line. 

ADVERTISEMENT - CONTINUE READING BELOW

This is an edited and condensed version of the article "Taming the Tiger, Raising a Dragon," which first appeared in the September 2015 issue of Smart Parenting magazine. 

What other parents are reading

Celebrate your pregnancy milestones!


Enter your details below and receive weekly email guides on your baby's weight and height in cute illustration of Filipino fruits. PLUS get helpful tips from experts, freebies and more!

You're almost there! Check your inbox.


We sent a verification email. Can't find it? Check your spam, junk, and promotions folder.

Trending in Summit Network