Raising Two Sons With Autism: Small 'Champagne Moments' Give Us Strength

A couple shares what life is like with sons who have been diagnosed with Autism Spectrum Disorder.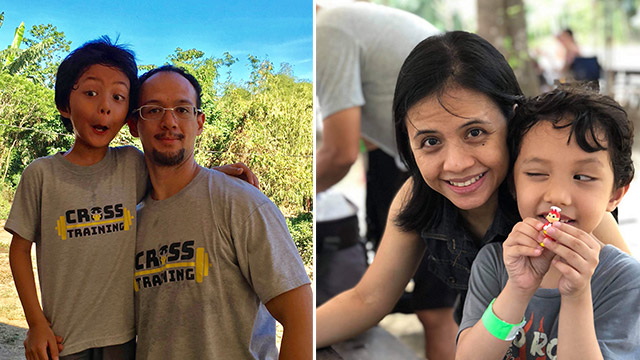 Raphael, 8 years old, draws dinosaurs like nobody's business. He loves to create doodles using chalk and his trusty Mega-sketcher.

Nate, his 7-year-old brother, on the other hand, loves music. Give him fork and spoon, and Nate will happily drum and tap-tap-tap away. He also sings with passion and enthusiasm, whether it is "Pure Imagination" from the film Willy Wonka and The Chocolate Factory or a Disney cartoon anthem.  

Both boys can spend hours splashing in a swimming pool, and they love snacking on Mommy's freshly baked Ovaltine cookies. They are just like any typical, rambunctious boys.     

Their every day, however, is not always the kind of daily life typical young boys go through. Both brothers have been diagnosed with Autism Spectrum Disorder.

What other parents are reading

Parents need to trust their gut instinct

According to the Autism Society Philippines (ASP), "Autism is a lifelong developmental exceptionality, which may challenge an individual's ability to communicate, socialize, and adapt to the world around him.  One out of 100 Filipinos is on the autism spectrum, translating to approximately 1.2 million of our countrymen living with autism today."

Organizations like ASP strive to instill autism awareness in the community. It also hopes to inspire genuine inclusion through acceptance, accommodation, and appreciation. No one can relate more about embracing and trying to understand their children's daily battles, struggles, and celebrating their little milestones and successes more than Ralph and Nate's parents, Diane and Gabe.

"It wasn't until their toddler years that we noticed little things like they were sometimes inconsolable," Diane shares as she mulls about how she and her husband came to know their sons had special needs. "They had these behaviors that wouldn't seem unusual to other people. But we, who are with them 24/7, knew there was something 'amiss' with how they played, their baby talks, etc. At first, the developmental milestones were there. But as they grew, we knew they weren't reaching [milestones] at the pace that they should."

ADVERTISEMENT - CONTINUE READING BELOW

Gabe relates, "When our eldest was 3 years old, there was a noticeable delay in his use of speech. Children his age started utilizing more words, and we thought that he was just a late talker. But then his younger cousins started to surpass him. That's when we decided to seek an assessment."

What other parents are reading

Raph responds more to visual and immersive learning and loves to engage in imaginative play.

PHOTO BY

courtesy of the author

After the developmental pediatrician told them autism could be a reason for Raphael's speech delay, Gabe found comfort that the diagnosis wasn't yet final at that point. "I found it easier to deal [before it was finally confirmed]. I was fortunate enough to be immersed slowly, instead of being shoved in and forced to deal with a definite diagnosis."

"For me, it was an emotional battle," Diane explains. "I did a lot of research, of course, red flags that we noticed, and I knew that seeing a specialist was the next step, but there was also fear. If there was no diagnosis, did it mean we were terrible parents? That we weren't raising them or nurturing them right? And yet, if there was, and I felt relief that if there was something, what kind of parent would that make me? It felt wrong to wish there was a diagnosis, and yet fear and the feeling of failing them if there wasn't."

CONTINUE READING BELOW

Recommended Videos

"One of the things we learned as parents is to trust your gut instinct. There are things that you 'just know,' and this was one of them. And whether or not your kids get officially 'diagnosed,' when you feel in your heart that there is more than meets the eye, that may be a 'tantrum' isn't what you think it is, or you need to get help, do not deny it, you go with that gut feeling," stresses Diane.

What other parents are reading

An ordinary family faced with extraordinary challenges

When Diane and Gabe finally had their questions answered and their suspicions confirmed, there were things to be done. "We didn't feel relief, but we were not devastated either. We were sad, of course, but now we knew that there were steps to take. It was like being lost, and someone handed us a map. It didn't mean we suddenly stopped being lost. It just meant that we now had a map to help us figure it out. We may take some wrong turns, but there were roads we can choose to take, and it was our choice."

A typical day for Diane and Gabe as parents to two kids with special needs would begin with one of the boys having a session with his occupational therapist or speech therapist. They homeschool the boys.

"Our eldest loves to draw, and from an early age was already drawing non-stop. He also has additional tutorial lessons that focus on just reading, learning to identify words and phonics. Our second son loves drum-playing, and he will beat and bang on chairs, tables, and his bottle, using anything from pens to spoons and forks," Diane narrates.  

ADVERTISEMENT - CONTINUE READING BELOW

Gabe encapsulates that their days are "probably similar to most families out there. Except that it's a bit noisier, messier, and instructions have to be repeated more often."

Diane agrees, "Every single day we have a 'to-do' checklist, something that's supposed to be routine, but the challenges make a typical day seem 10 times more 'busy.'"

What other parents are reading

A day in the life of a child with special needs

Since both boys have sensory issues of varying degrees, their parents have different activities for them that correspond to their needs.  

Ralph responds more to visual and immersive learning, which often finds him donning a pirate costume or holding props like that of a scientist.  He engages in imaginative play while building his Lego Bricks, and asks many questions about things that he observes, like sights, sounds, and smells that he may find bothersome or he can't seem to grasp fully.

Nate has a sensory processing disorder, and he would often seek sensory input like biting, hitting/drumming, pulling on things. His parents share, "We want to teach him there are a time and a place for those things."  

"We invested in an electric drum set so he can have 'drum sessions' after therapy. Or we give him specific things he can use to play as drums, so he doesn't wreck things but still have an outlet," describes Diane.

Diane and Gabe find themselves reminding Nate not to tug or pull at furniture and fixtures, like their curtain rod. And this reminder can be repeated about 10 times a day.

ADVERTISEMENT - CONTINUE READING BELOW

"Some days, we lose our temper. Like the movie, Groundhog Day, we wake up, and we feel that we are not going anywhere. But then there will be a day where one behavior we used to deal with (such as chewing on the table) just stopped happening. And we realize he is growing, learning, still moving forward."

Drum sessions help Nate with his sensory processing issues.

PHOTO BY

courtesy of the author

What other parents are reading

Just like any parenting journey, this couple has their good days and not-so-good days in coping with autism in their family. There are many instances that people outside the walls of Diane and Gabe's home do not see, moments of confusion and struggle that can be heart-wrenching for any parent.

"When people encounter our children at a party, see them laughing and playing like 'normal' kids, they don't see the many hours we spend watching our children do occupational therapy. They don't see how it takes days or weeks to learn something as simple as stacking blocks or remembering what toy they were asked to pick from a box.

ADVERTISEMENT - CONTINUE READING BELOW

"They don't see the hour-long meltdown they have after losing a toy because they accidentally popped a balloon or the screaming we have to endure in traffic because Nate who has SPD (Sensory Processing Disorder) could not stand the blinking red lights from the cars ahead of us," Diane describes in a pained voice.

What other parents are reading

You treasure every good and bad moment as a milestone

What gives Diane and Gabe strength to embrace the daily challenges of being hands-on parents to their kids with special needs are the many unforgettable experiences they continue to share with their children. 

A fond memory that crops up in Diane's mind was when she and her husband were at a birthday party, and one of their friends started singing with their second son Nate. While Nate loves music, watching musical concerts on TV and performing at home, attending he would get affected by the volume of the sound system, the children singing in unison, and the crowd laughing all at once. But at that party, his parents witnessed him singing with all his heart and did not run away when the people applauded.  

"Perhaps he can have his dream of performing in theater. Maybe not now, but who knows?" You could almost see the smile on Diane's face as she says these words.

"We appreciate it when those around us show patience, like not showing their irritation or 'nagpaparinig.'"

PHOTO BY

courtesy of the author

ADVERTISEMENT - CONTINUE READING BELOW

"When we see our boys overcome a challenge or reach a milestone, no matter how small — things like telling a joke or saying 'I'm just kidding' to make us laugh, it is such a simple thing. But it shows their attempt at humor, which I was told is actually a very complex process in the brain. We didn't know if they were capable of it until at that moment. 

"It gives us that assurance that we are moving in the right direction. It isn't so much one big event, but just small 'champagne moments,' as a friend in a support group I belong to calls it, that gives us strength."

"When our kids display a talent for something, we go out of our way to let them know what it means to us," Gabe illustrates. "Beyond saying 'good job!' or 'that's a nice drawing,' we try to be more specific. We invest in that talent without them having to ask us. Sometimes we even give them a little push to keep practicing."  

Diane adds, "When they proudly show us something they made or when they say 'Look, I did it all by myself,' it brings us so much joy.  It's such a typical kid moment, but we know how much work, frustration, and attempts to try again went into that moment."

And Raph and Nate, just like any boys, thrive in their parents' attention and love. "They are most happy when we play with them, whether it's Lego, or make-believe, or dress-up, or in Nate's case when we become 'audience' to his performances. They find such joy in seeing we are 'in their world.'"

ADVERTISEMENT - CONTINUE READING BELOW

Adrienne Sarmiento-Buenaventura is a freelance writer and songwriter, with two professional albums as a singer/recording artist. She is a staunch advocate of Original Pilipino Music and hands-on parenthood. She sings with her band AdJunDie and is a worship leader at church. She loves creative collaboration, quirky vintage finds, poetry, a well-prepared meal, and traveling with her husband and two children.

What other parents are reading

Celebrate your pregnancy milestones!


Enter your details below and receive weekly email guides on your baby's weight and height in cute illustration of Filipino fruits. PLUS get helpful tips from experts, freebies and more!

You're almost there! Check your inbox.


We sent a verification email. Can't find it? Check your spam, junk, and promotions folder.

Trending in Summit Network