Despite the Imperfection, Jessy Is Like Any Other Kid

"The world is too cruel for someone like her, and I often doubt if I have the strength to face that with Jessy. But everyday, life would also give me answers."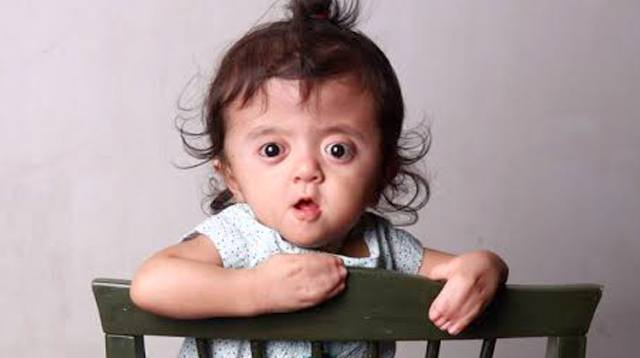 A few years ago, when my daughter Jessy Isidra was only two years old, we were browsing the shelves of a department store in an upscale mall in BGC when the sales ladies took notice of my little girl and began playing with her. A kid born with Apert Syndrome, Jessy stood out among the crowd because of her large eyes, slightly bigger head, and her visibly different 'gloved' hands.

The sales ladies, who by then formed a small crowd around Jessy, were polite, although evidently curious about her condition and asked me outright, "Saan niyo po sya pinaglihi?" It was a common question I usually get in public areas, one that I don't really believe in so I just gave my usual spiel, "She was simply born special."

When we were about to leave, I noticed one of the patrons (a very well-dressed lady), who has been eyeing my daughter for a few minutes already, approached us and without any provocation, started kissing my daughter's head and hands, and then wiped her Pierre Cardin hanky on my daughter's chest -- the way you would a wooden saint during processions.




She did not say anything to me, and I was too stunned to react. She simply left right after her 'ritual,' and when she turned her back, the friendly sales ladies started laughing. "Baka po naisip niya pampasuwerte po yung anak nyo." (Maybe she thought your daughter would give her luck.)

This is the life of a parent with a special kid. The reactions of meeting someone like her border on the extremes: Curiosity, awe, the 'crazies', and sadly, extreme pity and at times, dislike as well, especially among other kids. It still pains me when I remember the time a little girl her age cried out of fear when Jessy tried to hold her hand, or when a little boy we saw in a cafe was staring intently at her, muttering quietly "why is her eyes like that?'

ADVERTISEMENT - CONTINUE READING BELOW

Parenting has always been hard, but parenting a special child definitely needs a different set of operating instructions.

What other parents are reading

Jessy was born as a pleasant addition to my little family. Her brother was already 6 years old when I found out I was pregnant with my second child, and I didn't really expect to get pregnant again. I had an uneventful pregnancy and nothing seemed out of the ordinary as far as my checkups were concerned.

When I went into labor though, I knew something was wrong. I was in pain for almost 12 hours before my OB decided that I was going under the knife. When I woke up a few hours later, I felt quite confused when the nurses refused to show me my baby. They told me something about my baby having a cleft palate and fused hands. Still groggy, I demanded that they show me Jessy. They reluctantly brought her to me but I was too weak to carry her at that time. I thought she was perfect.




ADVERTISEMENT - CONTINUE READING BELOW

Recommended Videos

The next few days was a roller coaster of emotions. I found out that Jessy was born with a genetic condition called Apert Syndrome, an abnormal fusion of the skull which results to her head growing abnormally. Aside from the size of her skull, other symptoms also appear such as syndactyly or the fusion of her fingers, and a cleft palate which meant she couldn't feed properly the way normal babies do. Aside from that, she was born with a slight blood infection which meant we couldn't bring her home immediately.

It was a roller coaster ride, and I wasn't sure I could handle everything that was happening to me and my daughter. I couldn't fathom the idea of how she could be born like that. Doctors started asking me questions like whether I took meds while I was pregnant with her, did I suffer high blood pressure, or if I actually tried to terminate the pregnancy during my first trimester. Needless to say, I was made to feel that all these might have been something I caused, and for that, it was my daughter who's now paying the price.

What other parents are reading

So what got me through the ordeal? As simple as it may sound, but it was love that got me through. It's the love in different forms: From my husband who has been so supportive and understanding from the start, the love from my son who thought his sister couldn't be anymore perfect; the love from my family and friends who showed me unconditional support as Jessy grew up; and the love I have for my little girl, because the more difficult our journey became, the more love I felt for her.

And everyday, I see how, despite the imperfection, she grows perfectly just like any other kid. Her hands often amaze her. She would raise them slowly, and they float like graceful fishes, or little birds taking flight. And she would stare at them like the little miracles that they are. She couldn't suck her thumb when she was small, but she relished on the softness of her little hand, the way I do when I kiss them every chance that I get.

She can't hold my hand the way babies should, but she has learned to use them and guide my fingers towards her little lips and suck at them like an extension of her little digits, an extension of my heart. She has learned how to feed herself growing up, handling her utensils with as much care as anyone with her condition could muster. Her hands are so loved that they inspire kindness and tenderness, and I see them in the looks people around her give her ... the same kindness that I now show for kids like her.

ADVERTISEMENT - CONTINUE READING BELOW




What other parents are reading

Of course, there are still times when I catch myself asking why, among the millions of babies born every day, was she the one to have been 'blessed' with this kind of condition. Will she be ok? What will happen to her when she grows up? Are there other things wrong with her? The world is too cruel for someone like her, and I often doubt if I have the strength to face that with Jessy. But everyday, life would also give me answers.

My constant worry would often be replaced by appreciation of how beautiful she has grown. Every accomplishment feels like little victories for us in her family, and we've learned to be more thankful for the little blessings that life throws our way because of her.

In time, I also learned to understand, and to forgive myself from all the worries I've kept, in believing it was me who has caused her condition. Because I realized that all the anger, the fear I was feeling -- they were all mine, and Jessy's beautiful heart has no room to savor such negativity. It is now my job to make sure that despite the imperfections, she has nothing to be afraid of in life.

And now, I truly believe that she came into my life because I was bound to be taught a deeper and bigger kind of love -- one that's grateful, and kind, and yes, the kind of love that even without a lucky charm, makes me feel like I'm the luckiest mother in the world for having her.

Lorraine Lorenzo is a travel editor and mom to 9-year old Anton and 3-year old Jessy. She enjoys going to the beach and going on road trips with her husband, Jovel, a photographer who took the photos above.  

ADVERTISEMENT - CONTINUE READING BELOW

What other parents are reading

Celebrate your pregnancy milestones!


Enter your details below and receive weekly email guides on your baby's weight and height in cute illustration of Filipino fruits. PLUS get helpful tips from experts, freebies and more!

You're almost there! Check your inbox.


We sent a verification email. Can't find it? Check your spam, junk, and promotions folder.

Trending in Summit Network