You'll Fight Back Tears as You Read This Teacher's Letter to a Boy With Autism

"These tests only measure a little bit of you."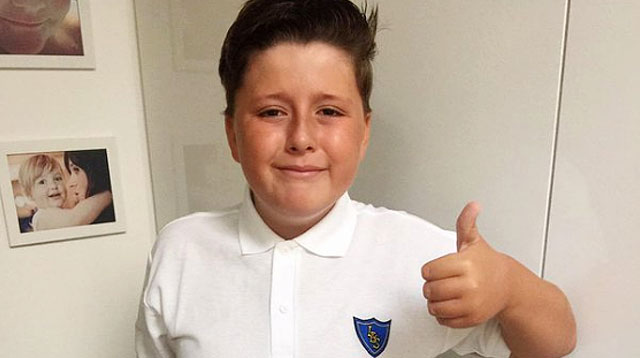 We want our kids to do well in school, or at least pass their subjects. We know that getting a good education is one way to help ensure that they get into a good college and have the best future. But too much emphasis on our kids' grades can give undue pressure--it also takes away the little one's joy in learning. Let this story be a reminder that grades do not fully measure a child's whole being.

Eleven-year-old Ben Twist from St Helens in Merseyside, England, failed his Scholastic Aptitude Test or his key stage SATs, a set of standardized tests taken by all grade six students in England to gauge how much they've learned in major subjects like English, Math, and science. Normally, a failed SAT score is bad news, but a teacher turned things around for Ben, who was diagnosed with autism when he was just 5 years old.

ADVERTISEMENT - CONTINUE READING BELOW

More from Smart Parenting

His mother Gail took to Twitter to share a letter she received from his son's school, Lansbury Bridge School and Sports College, a school for children with special educational needs. She and her husband decided to transfer Ben from a regular school. They noticed that he was lagging behind his peers, so she really wasn't expecting too much from his son's SAT scores. But Gail was so touched by the letter that she was in tears; she could barely finish reading it.

CONTINUE READING BELOW

Recommended Videos

In tears. A letter to my 11 yr old autistic son from his school. "These tests only measure a little bit of you" pic.twitter.com/e9OPECidxX

— Gail Twist (@gailtwist) 9 July 2016

"These tests only measure a little bit of you and your abilities," wrote Ruth Clarkson, assistant head teacher of the school who penned the letter. "Ben Twist is made up of many other skills and talents that we at Lansbury Bridge see and measure in other ways," she continued and then listed down the 11-year-old's many strengths that are not measured by the school tests. These include his artistic talents, growing independence, his ability to work in a team, express his opinion, and make and keep friends, and his kindness, just to name a few.

Clarkson ended the letter with: "We are so pleased that all of these different talents and abilities make you the special person you are and these are all of the things we measure to reassure us that you are always making progress and continuing to develop as a lovely bright young man. Well done Ben, we are very proud of you." Jane Grecic, head teacher at Lansbury Bridge School and Sports College, told the Mirror Ruth sent the letter to reassure Ben that he is a wonderful talented young man regardless of the outcome of the tests.

ADVERTISEMENT - CONTINUE READING BELOW

More from Smart Parenting

"It was just so wonderful and the most beautiful letter I've ever read," the mom-of-three told Manchester Everning News. Gail, also a mom to Joseph, 13, and Ava, 7, said taking the exams was a huge achievement for Ben, and that he worked so hard to do well, which the letter also acknowledged. She said in an interview with the Liverpool Echo, "When I told [Ben], he said: "Wow, do they really think all those things about me?'" He thought it was awesome.

We think so, too--and we are not alone. Gail's tweet has been liked more than 9,000 times and retweeted more than 5,000 times. She said her son made her so proud that she thought it was important to share it with other people. "I think more schools should recognise the arts and music alongside maths and English. There's definitely more to a child than just answering exam questions and these qualities should be recognised more," she said. 

ADVERTISEMENT - CONTINUE READING BELOW

Just like Ben, kids do worry about school and they want to make their parents proud. And with that simple gesture, a young boy with autism gained more confidence, giving him the proper motivation to do better with the help of his teachers. This inspiring story is proof that your child's happiness and overall well-being is more important than what's written in their report card.

Trending in Summit Network