How to Get Your Child a PWD ID and the Benefits that Come with It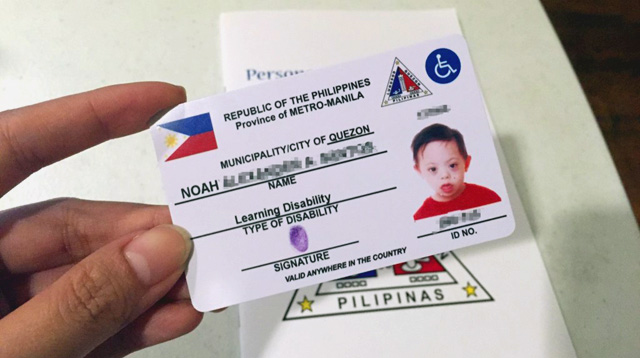 Every year on December 3, the world observes International Day of Disabled Persons. In the Philippines, we also do the same by virtue of former president Gloria Macapagal-Arroyo's declaration in 2006. 

The 2010 Census shows that there are nearly 1.5 million persons with disability (PWDs) in the country, comprising 1.57% of the total population, reported Rappler. The 2016 Disability Prevalence Survey has yet to be released. 

As provided in the Magna Carta of Disabled Persons or Republic Act No. (RA) 7277, amended and expanded through RA 9442 in 2007 and RA 10754 in 2016, "the state is duty-bound to recognize the rights, protect, and support PWDs through various social systems," according to the Official Gazette. This means that with proper identification, a PWD is entitled to privileges as mandated by law. 

What other parents are reading

A PWD is someone who has restricted or different abilities due to a mental, physical, social, or sensory impairment. According to the National Council on Disability Affairs (NCDA), this is classified and identified on the PWD ID as: 

Physical/Orthopedic Disability
Visual Impairment
Hearing Impairment
Speech Impairment
Intellectual Disability
Psychosocial Disability (includes people with ADHD, bipolar disorder, long-term recurring depression, nervous breakdown, epilepsy, schizophrenia, and other long-term recurring mental or behavioral problems)

Here's something to note for parents with kids with autism: Because autism is a spectrum disorder (some kids have intellectual disabilities and some don't, for example), classification for autism can differ per individual -- it can fall under #5 or under #6. 

What other parents are reading

Here's a quick guide for new parents on how to get a PWD ID for their child with special needs, and the benefits that come with it. 

How to get a PWD ID

Step 1: Gather requirements

A. Medical Abstract or Certificate
These can be obtained at licensed private or government clinics and through a hospital-based physician or licensed teacher. The best place to start is by asking your child's doctor or school principal for assistance. 

B. Filled out PWD Registration Form
Where to get a copy:

ADVERTISEMENT - CONTINUE READING BELOW

Online through pwd.doh.gov.ph (To go directly to the printable form, click here)  
PWD registration centers or other offices which include: Office of the Mayor, Office of the Barangay Captain, National Council on Disability Affairs or its regional counterpart, Department of Social Welfare and Development (DSWD) offices

C. Two 1x1 ID pictures

Step 2: Submit your documents

Head to your city or province's Persons with Disability Affairs Office (check with City Hall) to submit your application. This is also where claiming and renewal of PWD IDs take place.

More information on applying for a PWD ID can be found here.  

What other parents are reading

Benefits and privileges

Along with the card, you will also be given a Persons with Disability Purchase Booklet. Make sure you have the booklet and PWD ID with you at all times as it contains important information and fill out slips for PWD entitlements. Inside you'll find a list of discounts and value added tax (VAT) exemptions for the purchase of medicine, necessities, and other commodities entitled to the bearer of the card. These include:

A. 20% discount and VAT exemption

hotels and similar lodging establishments
restaurants
recreation centers 
theaters, cinema houses, concert hall, circuses carnivals and other similar places of culture, leisure and amusement
medicines
medical and dental services, including diagnostic and laboratory fees and professional fees of attending doctors in all private hospitals and medical facilities (subject to guidelines to be issued by the Department of Health in coordination with Philippine Health Insurance Corporation)
domestic air and sea travel
public railways, skyways, and other public utility vehicles (including buses, jeeps, taxis and shuttle services)

B. 5% discount

basic necessities 
rice, corn, bread, fresh or dried and canned fish and other marine products, fresh pork, beef and poultry meat, fresh eggs, fresh and processed milk, infant formula, fresh vegetables, root crops, coffee, sugar, cooking oil, salt, laundry soap, detergents, firewood, charcoal, candles and other commodities as may be classified by the Department of Trade and Industry (DTI) and the Department of Agriculture (DA)
prime commodities
fresh fruits, dried or processed or canned pork, beef and poultry, meat, dairy products not falling under basic necessities, noodles, onions, garlic, diapers, herbicides, poultry, swine and cattle feeds, veterinary products for poultry, swine and cattle feeds, veterinary products for poultry, swine and cattle, paper, school supplies, nipa shingle, plyboard, construction nails, batteries, electrical supplies, light bulbs, steel wire and other commodities that may be classified by the DTI and DA

Note: Purchases should not exceed P1,300 a week to avail of the 5% discount. For more info and details on basic necessities and prime commodities, click here.  

C. Other benefits

educational assistance to pursue primary (nursery and kindergarten), secondary, tertiary, post-tertiary, as well as vocational or technical education, in both public and private schools, provided the PWD meets admission requirements
continuance of the same benefits and privileges given by the Government Service Insurance System (GSIS), Social Security System (SSS), and Pag-IBIG
express lanes for PWD in all commercial and government establishments (if none, priority shall be given)
protection against verbal and non-verbal ridicule and vilification (see details about it here)
P25,000-annual income tax deduction to relatives within the fourth civil degree of consanguinity or affinity, who are caring for and living with a PWD

ADVERTISEMENT - CONTINUE READING BELOW

Be aware of all the benefits and privileges your child with special needs is entitled to by law by reading the full Magna Carta for Disabled Persons or Republic Act 7277 here, the 2007 amendment here and the 2016 amendment here.

Sources: Official Gazette 1, Official Gazette 2, Department of Social Welfare and Development, National Council on Disability Affairs, Department of Health, Rappler 1, Rappler 2, Philippine Star 

Photo is used with permission from mom Neva Santos who runs the blog Manila Mommy, which also has an informative post on applying for PWD IDs. 

Trending in Summit Network