'My Son Has Autism and a Purposeful Life'

Thanks to early intervention and one determined mom, this young boy with autism is now a 24-year-old who surfs, cooks, paints and works at a resort.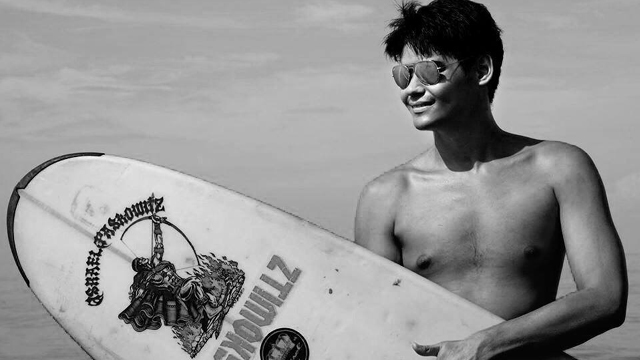 It was the early 1990s, and architect-turned-flight attendant Rachel Fernandez was preparing to move to Switzerland with her husband, banker Keith Harrison, and their two children at the time, Alexander and Julyan. Before making the move, she decided to visit her parents in the Philippines. And it was here when Rachel came upon a piece in a popular daily about the 20 signs that a child is autistic. Rachel found herself ticking off 18 that applied to her second son, Julyan. 

"Actually, all 20 applied to him," Rachel says today on hindsight. "But I was in denial at that time."

What other parents are reading

Several friends and relatives already observed that there was something peculiar about Julyan. At 2 years old, he would not speak nor socialize. "He knew about 10 words when he was 1," Rachel recalls, "and he somehow lost them." When she consulted doctors, "They assured me that his development was just delayed." 

At the time, there was very little information easily available about autism. So when Rachel saw a seminar on the topic sponsored by an Australian society in Manila, she quickly signed up to attend. It was here where her worst fears were confirmed, and she couldn't stop crying. "I went home and it dawned on me that my child might be autistic. The symptoms were all there." 

After her family settled in Switzerland, Rachel read every book she could get her hands on to learn about her son's condition. "I was frantic. I was going to do everything in my power, everything I could do [for Julyan]." 

In her research, she discovered and got in touch with Dr. Svein Eikeseth, a Norwegian doctor at the University of California in Los Angeles (UCLA), who was using a form of therapy called applied behavior analysis (ABA).

ADVERTISEMENT - CONTINUE READING BELOW



Today, ABA is known as the longest-standing form of therapy for children with autism. The Atlantic describes the therapy this way: "Certified therapists deliver or oversee the regimen, organized around the child's individual needs -- developing social skills, for instance, and learning to write a name or use the bathroom. The approach breaks desirable behaviors down into steps and rewards the child for completing each step along the way."

Despite the distance, Rachel somehow managed to convince Dr. Eikeseth and UCLA to help her set up an ABA home program for Julyan, who was 3 in 1995 when he started the therapy. When Keith's job took the family to Singapore, a persistent Rachel tapped the psychology students from the National University of Singapore to help her with what she and Dr. Eikeseth started. 

Julyan had six hours of one-on-one therapy every day, which dropped to three hours by the time he entered school until he was 12 years old. But just a few weeks into the program, Rachel was already seeing progress. "He was able to say, 'Mama,' 'Papa,' 'apple.' It all depends on imitation, starting with actions then words. Napaiyak ako when I realized he could do those things."



Today, Julyan is 24 years old, and he is working as one of the housekeepers of a Zambales beach resort, which sits on the land Rachel bought with her savings as a flight attendant. Called Zambawood, it is a haven for Rachel's son who functions well in nature and craves for structure and schedule. At Zambawood and at the adjacent organic farm, Julyan's Pine Beach Farm, where he is a farm assistant, Julyan thrived; in fact, he surfs and goes kayaking, paints, cooks, and has even built a bamboo bike! (His mother clarifies that Julyan is assisted by his best buddy, Jophel, who is the same age as her son.)

Rachel is thankful every day that she had the opportunity to provide for her son's special needs. But, at the same time, she stresses how early detection and intervention was vital in her experience especially since autism covers a wide range of social, communication, and behavioral disorders. "Autism is for life, but you can help lessen the behavioral problems. Your child can have a purposeful life," Rachel says, adding, "A lot of experts have solutions. It's up to the parents to decide which therapy is good for the child and spot the skills they can be good at." 

In the future, Rachel hopes to build a community in Zambawood for adults with autism, supported by experts who can help them become productive. Julyan, of course, is ever present in her mind. "One day, we will all be gone. Now, I know, he will not be a burden to his two brothers (Alexander and the youngest Jonathan). There are many opportunities for Julyan to work with the community in Zambales, to have his own life." 

CONTINUE READING BELOW

Recommended Videos

What other parents are reading

To parents with children with special needs, Rachel recommends that they need to find a way to learn how to relax. "I used to cry when I get frustrated because he couldn't grasp simple tasks we taught him -- I wanted him to catch up with kids his age. It's easier for me to say that now," Rachel smiles. "I have accepted his limitations, which are beyond our control.

"Take care of yourself. Take time to look after yourself. Go on a date with your husband, get a massage, take a trip. When you're happy with yourself, when you have a clear mind, you can face your problems better. It's not the end of the world. You can still live your life despite having a differently-abled child. Bigay 'yan ng Diyos, [our children] are a blessing and a gift. 

"Julian has taught me so many things in life. He has made me a better person. I have learned to love unconditionally. You develop so much patience; you expand your creativity! I pray for guidance, vision, and energy to make a difference to Julyan and to others like him. Resilience is key. You just go one step at a time."

Editor's note: Know more about autism and the leading special education schools in Manila during a symposuim held by the Association for Adults with Autism Philippines. The event is scheduled on October 22, 2016, at the Ateneo Law School in Rockwell, Makati, from 8 a.m. to 4 p.m. To know more, click here. 

About the author: Mari-An C. Santos loves to travel, and it was how she met Rachel Fernandez. She has visited more than 10 countries by land in Europe when she was an Erasmus Mundus scholar, but she appreciates the biodiversity in the Philippines the most. 

ADVERTISEMENT - CONTINUE READING BELOW

*This story was updated on October 10, 2016 to reflect corrections in Julyan's therapy schedule as a child and his job at the farm and resort, and additional quotes from Rachel.     

What other parents are reading

Celebrate your pregnancy milestones!


Enter your details below and receive weekly email guides on your baby's weight and height in cute illustration of Filipino fruits. PLUS get helpful tips from experts, freebies and more!

You're almost there! Check your inbox.


We sent a verification email. Can't find it? Check your spam, junk, and promotions folder.
Trending in Summit Network