11 Children's Books That Answer Your Child's Toughest Questions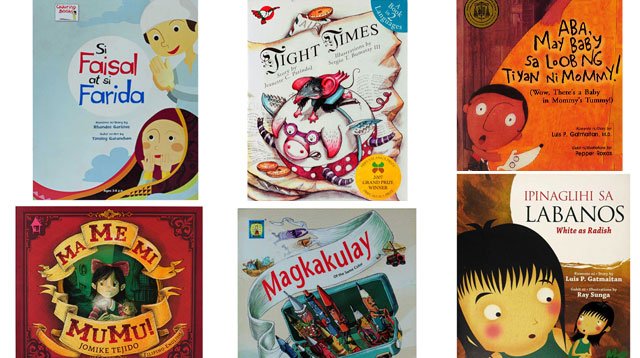 I have a 6-year old, and she's been asking questions ever since she could talk. It made me realize I was not as smart as I thought. I honestly struggled -- and still do -- to answer a lot of her questions. Google rescued me many times, but some topics made me wonder how I could have survived without ever knowing the answers. The others were complicated, and by complicated I mean these were questions that if incorrectly answered it could affect my child's future standing as a global citizen. (Yes, pressure there.)

So I've learned early on books are essential survival tools for parents with an inquisitive child. They encapsulate what you want to say in, well, a child-friendly format, and you can use them as a springboard for a more extensive discussion. In a nutshell, you won't have to wrack your brain for answers.

Based on the first-hand experience and from other parents', I've listed 11 books where the subjects can be tough to explain when your kids come asking. All books are bilingual, in both English and Filipino except when stated. 

What other parents are reading


1. What is in your tummy, Mommy? 
How do you talk to your young child about pregnancy? Aba! May Baby sa Loob ng Tiyan ni Mommy! (Wow, There's A Baby in my Mommy's Tummy! from Hiyas) by Luis P. Gatmaitan, M.D. is an informative book that shows kids what happens inside mommy's tummy while she's pregnant. How is a baby growing? What does it look like inside? When will the baby come out? 

ADVERTISEMENT - CONTINUE READING BELOW

2. Why does dad/mom have to work so far from me? 
Bunsoy (Chikiting Books) by Genaro R. Gojo Cruz is for the millions of young Filipino children whose parents are working overseas. It is a father's letter to his young son, explaining how much he loves them, but he needs to leave him and his mother to work abroad. Here's an excerpt: "Never be sad...I may be far away, but this is all for us...you can just pretend that I only went to buy something in town...you and your mother and I will be together again...I love you and your mother very much. It's for the two of you that I am working so far away...I am coming home soon."

ADVERTISEMENT - CONTINUE READING BELOW

Recommended Videos

3. Why can't I buy the toys that I want? 
Having no money is a difficult concept for kids, but it is often the reality for us parents. Tight Times (Adarna House) by Jeanette C. Patindol is an award-winning book that explains financial struggles beautifully. With the Filipino expression "mahirap pa sa daga" in mind, the book follows a family of mice in financial crisis and how their lives changed in so many ways. My daughter distinctly remembers this line from the book when I told her we had to cut back on expensive treats: "I used to have two eggs for breakfast. Now, I only have one, and not every day at that. But I'm glad that I still have eggs to eat."  The family of mice stayed together, made sacrifices, worked hard and continued to help others. They counted their blessings and remained happy and grateful. 

What other parents are reading

4. Why can't we all live in one house?  
Papa's House, Mama's House (Adarna House) by Jean Lee C. Patindol is about three siblings who divide their week between Mama's house and Papa's house. For parents who are separated, it's an excellent guide to ease your kids into their new home set-up. The book can help explain to your children why his parents can no longer live together simple terms, but stress that both Mama and Papa still love them very much. 

ADVERTISEMENT - CONTINUE READING BELOW

5.  Who is my dad/mom? 
Solo parents, prepare the answer to that question, using Junior (Lampara Books) by Sheila Gonzales-Dela Cuesta as a guide. It is the story of a young boy who constantly wonders if any of the men he sees every day could be his father. He finally asks his mother, and she gives him an honest answer. She does not know where his father is, nor can she contact him. In the end, the boy is assured of his mother's love and realizes that even without a father, he already has all the family he will ever need. 

ADVERTISEMENT - CONTINUE READING BELOW

6. Where is my brother/sister? 
In Heaven's Butterfly/ Paruparo ng Langit (Anvil Publishing) by Cathy & Pia B. Guballa, a 7-year-old girl sees her 4-year-old brother leave for the hospital for his heart checkup. She waits for him for weeks, but he never makes it home -- he has gone to heaven. It's a story offers strength to grieving families as it shows from a child's perspective how the girl and her parents cope and accept the passing of their little boy. 

What other parents are reading

7. What do you mean Mama is now in heaven? 
We often explain death to kids as someone going to heaven. But "heaven," a difficult concept in itself, may not satisfy a child when it involves a parent. Si Puyinggot at si Puyonggit (Chikiting Books) by Lem Garcellano may help. In this story, two siblings want nothing more than to be with their mother again. Their pain and desperation are almost tangible, but through an imaginative tale, they finally learn to accept their mother's death because they know that she is watching over them day and night from up above. 

ADVERTISEMENT - CONTINUE READING BELOW

8. Why do I look different from everyone in the family? 
Adoption is a very sensitive subject, and Ipinaglihi sa Labanos/ White as Radish (Anvil Publishing) by Luis P. Gatmaitan, M.D.  does not claim to have all the answers. Rather, it is a practical introduction to the discussion of adoption. In the book, a young girl would ask her mother why she was a lot fairer than everyone in the family. Her mother would often answer that she ate a lot of radishes while she was pregnant, giving her fair skin. The daughter eventually finds out she's adopted and in tears, her mother admits, "You know, Anak, there are children who came from the womb. But other children...they are born from the heart. You, my daughter…you came from my heart...Tatay and I chose you to be our daughter." The daughter realizes she never lacked for love and she wouldn't have her family any other way. 

ADVERTISEMENT - CONTINUE READING BELOW

9. How do you make the monsters go away?   
At some point in their childhood, our kids will hear about aswangs, and they will be terrified for days, weeks, sometimes for life. Ma Me Mi Mumu! (Tahanan Books) by Jomike Tejido is the story of a little girl whose wise lolo teaches her fun things to do in case she ever meets them. In this book, aswangs are illustrated as bright and cheerful creatures to shake away children's fears. 

ADVERTISEMENT - CONTINUE READING BELOW

10. Why is her skin color different? 
Magkakulay (Of The Same Color by Lampara Books) by Periwinkle Cajiuat is the story of two crayons named Orange and Violet -- they are siblings and love each other very much. They only realize they don't have the same color when others tease them, but this only makes their bond stronger. Magkakulay is a simple tale with profound lessons on looking beyond what is skin deep. It can be used to discuss blended families, interracial families, and even racism. 

11. Why do Muslim women always cover their hair? 
My daughter asked me this question, and I didn't know what to say. Si Faisal at Si Farida (Chikiting Books) by Rhandee Garlitos answers it as well as other questions kids may have about Islam. The book is the story of Faisal from Tawi-Tawi and Farida from Cotabato, both Muslims who moved to a new city. Their classmates think they were a bit different at first, but soon they all become good friends. The book is wonderful at highlighting that we can all be friends regardless of faith. 

Alexine Parreño is mom to 6-year-old Adriana, a bookworm who dreams of becoming a ninja, the first Filipina astronaut, a scientist, and a chef. Alexine also runs the online bookstore, Pumplepie Books & Happiness, which carries the books above.    

ADVERTISEMENT - CONTINUE READING BELOW

What other parents are reading

Celebrate your pregnancy milestones!


Enter your details below and receive weekly email guides on your baby's weight and height in cute illustration of Filipino fruits. PLUS get helpful tips from experts, freebies and more!

You're almost there! Check your inbox.


We sent a verification email. Can't find it? Check your spam, junk, and promotions folder.

Trending in Summit Network