11 Easy and Realistic Family Goals When You're Raising Small Kids

Hint: They don't involve you losing 300 pounds together in 30 days!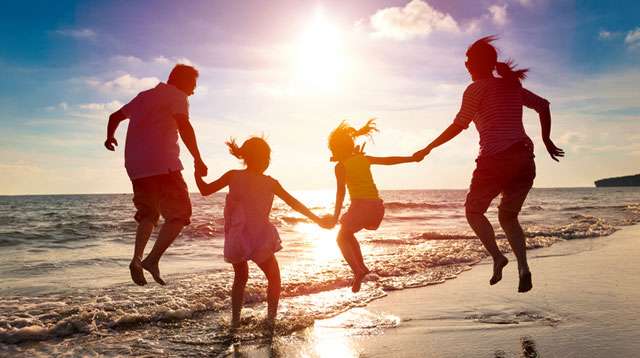 Setting family goals sounds like a corporate team-building exercise, and it is except there is a lot more riding here — like, you know, your child's future. There is no escaping that pressure, but you might be surprised to see that the goals that make the most impact are not difficult to achieve. 

Family goals strengthen your relationship with your husband and your kids, makes your children feel valued knowing they have a say in the team, and will enable parents to create precious teachable moments. It helps you to live every day of the year as one unit. And it is incredible how much you can achieve together as you become a family with a purpose. 

Here are just a few simple goals you can set and work towards achieving with your family this year. 

Family Goal #1: Have at least one meal together as a family. 

It sounds simple, but some families are finding it difficult because one, people are so busy and have so many things on their plates and two, schedules can get so fluid it's hard to bring all members together to sit at the table. But with proper coordination and communication, it can be done. Studies have shown that children who spend regular mealtimes (at least once a day) with their families grow up to be mentally, socially, and even physically healthy (since they tend to make better food choices).

What other parents are reading

Family Goal #2: Do earlier bedtime…for everyone!

Yes, easier said than done, we know! Start setting regular bedtime routines that you and the kids can follow. And take baby steps in unlearning your "bad" bedtime habits, i.e., scrolling through your Facebook 'till 1 am, or watching movies 'till you fall asleep. If you need motivation, remember that getting enough sleep keeps sickness at bay and allows you to be alert and present with your family the following day.

ADVERTISEMENT - CONTINUE READING BELOW

Family Goal #3: Start saving.

If you haven't started putting aside money for your family, now's the best time to do so. Better yet involve the entire family in the process, make this your family goal, all while teaching your kids the proper way of handling money and the benefits of putting aside a little for emergency or future use. Let them maintain piggy banks which they can eventually contribute to the overall family savings. It's the best teachable moment, one that will allow your kids to learn essential life skills they will carry with them as they grow up.

What other parents are reading

Family Goal #4: Travel or go on an adventure at least once a year.

They say the best gift you can give your family is experience. Making it your goal to go out there and explore the world with the entire family at least once a year will allow you to have a different perspective on things. Travel will give mom and dad a chance to get away from the pressures of life, and take a step back to get a brand new perspective on things. Going out to explore what's out there will teach your kids valuable lessons; it will widen their understanding of how the world works.

Family Goal #5: Start a vegetable garden.

You don't even need a huge one like that of Jamie Oliver's to reap the benefits of gardening with the family. It is a fun bonding moment you can have with your spouse and kids, a chance to go out and get some sun, and an excuse to stretch those muscles. Having a vegetable garden will also give your family easy access to fresh, organic, and super healthy produce. It will teach your kids the value of cultivating something and reaping the benefits of their hard work. Plus with the rising prices of commodities, a vegetable garden may help save you money.

ADVERTISEMENT - CONTINUE READING BELOW

Recommended Videos

What other parents are reading

Family Goal #6: Set a mom and dad date night.

Yes, this is a family goal, one that involves the cooperation of the members of the family, and one that where the family will benefit. We often get too caught up in our responsibilities as parents that we forget to nurture our relationship. You can't pour from an empty cup. To be able to function as good parents, they have to tend to their needs and strengthen their bond as a couple too. Seeing their parents happy give kids a sense of security so they will most likely cooperate and work towards making date night happen. 

Family Goal #7: Volunteer or join an outreach program as a family.

Volunteering for community service with the family is a beautiful bonding activity with many teachable moments. It gives parents the chance to give back to the community, allows them to be a good example to their children, and gives their family a sense of higher purpose. Helping other people will also teach the kids responsibility, how to make a big difference in small ways, and show them what it means to be part of a bigger community.

What other parents are reading

Family Goal #8: Recycle, reduce waste.

A quick scroll on your Facebook feed, and you'll know our planet is suffering. Our kids need to know their home is in peril. The first few weeks or months could be a struggle as you unlearn your ways and learn to segregate, reduce, reuse, and recycle. Teach your kids to find purpose in things that might otherwise end up as trash, i.e. (make plant pots out of plastic bottles, etc.) Set up an area to store plastic, cans, and others you can take to the junk shop to be recycled. You are teaching your kids how their actions can affect the world and the environment outside.

ADVERTISEMENT - CONTINUE READING BELOW

Family Goal #9: Build your child's tribe!

Stop skipping those reunions and birthday parties, and introduce your kids to your extended family. Let's face it — we will not be with our kids forever. They need a reliable support system, and that can happen with the friendships they build with their cousins. These are the people who will hold their hand through life.

What other parents are reading

Family Goal #10: Make learning a skill a family activity.

Is there a skill that you and your spouse have been wanting to learn? Something your kids might be interested in too? Like playing drums or doing wushu? You are never too old to learn something new. It will keep your mind sharp and allow you to take a step back from the pressures of your daily life. Doing it with the entire family is a precious experience your kids will carry into adulthood. 

Family Goal #11: Start and organize a family video library.

They say kids grow up so fast, and before you know it they're marching up the stage and graduating college, moving out of your home, getting married, and starting their own family. Start making memories and taking videos of them now. They will never be this small again. They will never be 5, 7, or 10 years old again. And you know whom you can delegate this task to, right? The tech-savvy in the family — your kids — are the best people for the job. 

Each family is unique with its own set of strengths and weaknesses. Remember that what might work for one might not work for another, so it's best to plan these and consult all members of the family carefully. Make sure they are all comfortable with these goals and are entirely on board to make sure you successfully achieve them.

ADVERTISEMENT - CONTINUE READING BELOW

What other parents are reading

 

Celebrate your pregnancy milestones!


Enter your details below and receive weekly email guides on your baby's weight and height in cute illustration of Filipino fruits. PLUS get helpful tips from experts, freebies and more!

You're almost there! Check your inbox.


We sent a verification email. Can't find it? Check your spam, junk, and promotions folder.

Trending in Summit Network