4 Tips To Heed So You Won't Have to Do Your Child's Homework Again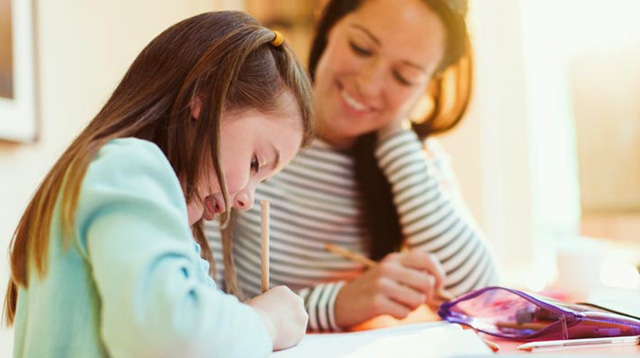 My son came home from his first day of kindergarten with an assignment: He had to create a poster that would introduce himself to the class. When the neighborhood moms gathered at the playground that afternoon, talk turned to our kids' homework. We brainstormed all of the different things that could go on these posters, until one mom who had several older children said, "You know, it's not your homework."

I was so used to helping my son navigate the world when he was a preschooler that I had to shift my thinking now that he had moved up to the next grade. "What many parents of children this age don't realize is that they should be communicating much more with the teacher and be far less involved with doing the actual homework," says Cathy Vatterott, Ph.D., professor of education at the University of Missouri-St. Louis and author of Rethinking Homework. "At this age you're trying to build homework as a positive habit and something that helps give your child a sense of mastery."

What other parents are reading


Now that your young student is back in the classroom, start off on the right track by following these tips.

1. Set a time and a place.
Establishing a homework routine will put your child on a solid footing, explains James Walsh, Ph.D., associate professor and chair of school psychology at The Chicago School of Professional Psychology. Let her have a say in when and where work gets done, but make sure the setting is quiet and television-free. Some kids like to do their homework at the kitchen table, while others prefer the living room floor. Dr. Vatterott suggests having your child decorate a "homework box" filled with supplies--like pencils, erasers, and crayons--that she can take with her wherever she decides to do it. Some kids want to complete their homework as soon as they get home, but yours may need a snack and prefer to play outside first. Giving her ownership over this decision helps reinforce that her homework is her responsibility. However, experts caution against waiting until right before bedtime because that creates added stress for you both at a time when everyone should be winding down.


2. Be present.
At this age, homework is a chance for kids to practice what they've already learned in school. Ask your child to explain what he needs to do after you read over the assignment together, suggests Lori Durocher, a kindergarten teacher in West Hartford, Connecticut. Give him direction only if he doesn't understand it. As he works, stay in the same room in case he has any questions about the instructions. "You should be nearby but not next to him," Durocher says. "This empowers him." If the task is too complicated for him to do alone, make sure you let the teacher know.

ADVERTISEMENT - CONTINUE READING BELOW
What other parents are reading


3. Don't fix mistakes.
The point of homework is for the teacher to see how well your child has absorbed the lesson and how her skills are developing. But it's also helpful for parents to see progress. Look over your kid's work before she turns it in, suggests Dr. Vatterott. "If you see a mistake, say something like, 'There's a problem with number 5. See if you can figure out what's wrong.' " Review the error with her, but don't correct it yourself. "Letting her work through her assignment will teach her persistence and help her build grit," says Dr. Vatterott. If you want to offer praise, make sure you applaud her work, not her. Try "You put a lot of effort into that" rather than "You're so smart."


4. Handle frustration.
Despite your best efforts, homework may still be irritating for kids (and you!). A short attention span contributes to the angst. Ask your child's teacher how much time he should spend on homework. It could be anywhere from 10 minutes per week to 10 minutes per day for this age group, depending on your school's philosophy. If he's struggling to finish the assignment within the allotted period of time, let him take a break. "If homework continues to cause your child undue stress, ask to meet with the teacher," Dr. Walsh says. Working to create a positive homework environment now will better prepare both of you for the time when assignments become more challenging, in first grade and beyond.

This is an excerpt from Parents Magazine (September 2015). Copyright © 2015 Meredith Corporation. All rights reserved. Reprinted with permission. Subject to national and international intellectual property laws and treaties.  Parents © is a registered U.S. trademark of Meredith Corporation.

What other parents are reading

Trending in Summit Network