You Think Your Child Is Addicted to Screens? You Are Not Wrong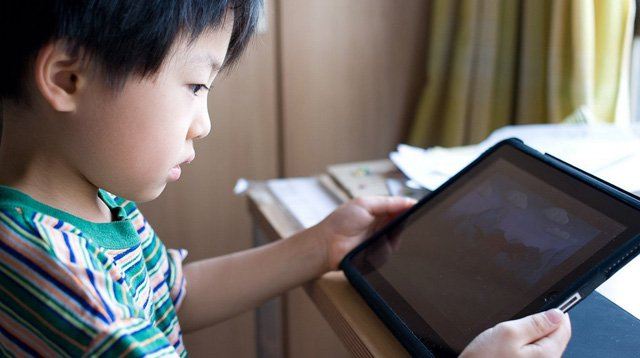 What is the effect of screen time on your kids? "Many parents intuitively understand that ubiquitous glowing screens are having a negative effect on kids," says Dr. Nicholas Kardaras in an article about kids and screen addiction for NY Post. "We see children who become bored, apathetic, uninteresting and uninterested when not plugged in." 

And, it's getting more and more difficult to keep them away from their devices. In fact, neuroscientists are calling screens "electronic cocaine" while researchers refer to them as "digital heroin." It's becoming like a drug that rewires children's brains, according to Dr. Kardaras.

What other parents are reading

So, what can parents do to avoid things from getting out of hand? First, set limits. Then, find balance. "You can't kick the Internet and the digital age out the door. You have to learn to live with it," says Michelle Lichauco-Tambunting, co-founder and directress of Young Creative Minds Preschool during a talk for "Smart Parenting's Workshop: Raising Toddlers." 

Here are some of her suggestions on how you and your child can have screens at home and still stay connected to the real world: 

1. Let them get bored.
"Sometimes when our kids tell us they're bored you say, 'Ay anak you're bored? Wait lang.' Then we look for something for them to do," says Michelle. But this shouldn't be the case. 

When Michelle's son tells her he's bored, she tells him, "It's good to be bored." And it's true. According to Dr. Teresa Belton from University of East Anglia's School of Education and Lifelong Learning, boredom can help develop a child's innate ability to be creative. "Children need to have stand-and-stare time, time imagining and pursuing their own thinking processes, or assimilating their experiences through play or just observing the world around them," says Dr. Belton.

ADVERTISEMENT - CONTINUE READING BELOW

What other parents are reading

2. Teach delayed gratification
"With the Internet, everything's instantaneous. You press a button, and you get it. That's why our children don't know what it's like to wait," says Michelle. So how do you balance it out? Teach delayed gratification. It is when a child waits to get a reward, so they get something better later on. In Michelle's case, she uses the technique when her son brings home an award from school. She tells him that they can either buy his reward now, which can be a pack of Pokemon cards or wait until the weekend and he can have two packs. 

Delayed gratification has benefits extending to other areas as well. Well-known studies have shown that children who are better able to delay gratification do better in school and have fewer behavioral problems, says Dr. Alex Lickerman in an article on the subject for Psychology Today.

3. Take them outdoors.
Michelle highly recommends immersing kids in nature to take them out of their technology trance. Take the kids on vacations where there's no WiFi or cable TV. For Michelle's family, a favorite destination is Sagada in the Mountain Province where one can commune with nature. "You have to be able to immerse them. Take them somewhere! Take them to your home province where life is slower."

According to the Child Mind Institute, more and more parents are finding that their kids are showing a clear preference for sitting in front of a screen over playing outside. However, studies agree that "kids who play outside are smarter, happier, more attentive, and less anxious than kids who spend more time indoors." So, the solution is clear. Grab your backpacks and go on an adventure. Why not try MAD Travel's Kids Camp this summer where the kids can get a taste of buhay probinsya? Check out our feature on it here.

ADVERTISEMENT - CONTINUE READING BELOW

Recommended Videos

What other parents are reading

4. Stay connected to each other.
Develop a relationship with each other by purposely slowing down your lives, says Michelle. Turn off the gadgets and allot a day or two when you and the kids don't have anything on your schedules -- no soccer practice or piano lessons. "Don't put too much emphasis on the academics this summer. Spend time with your kids," she adds.

Sunday is family day for Michelle's family. They schedule a whole day to be with each other and not be preoccupied with their phones and tablets. Yes, that applies even to the grown-ups. "It's hard sometimes, but we need to stay connected to each other," says Michelle.

5. Use the internet for good. 
The Internet is not inherently good or bad. It's a tool, and how we use it makes all the difference. Michelle shares that when typhoon Yolanda devastated some provinces in the country, her son wanted to help out. So, he placed donation boxes in different spots in his school. To get the word out, Michelle and her son made a post about the boxes on her Facebook account. "He was so thrilled that people were saying, 'Send me a box too,' said Michelle. 

"Show your kids that they can use social media and the digital world to make a difference. Yes, it's there for entertainment, like Instagram or Facebook, but it's also there for a bigger purpose," Michelle concluded. 

What other parents are reading

Celebrate your pregnancy milestones!


Enter your details below and receive weekly email guides on your baby's weight and height in cute illustration of Filipino fruits. PLUS get helpful tips from experts, freebies and more!

You're almost there! Check your inbox.


We sent a verification email. Can't find it? Check your spam, junk, and promotions folder.

Trending in Summit Network