7 Tips to Encourage Children to Share

Help your child discover the joys of sharing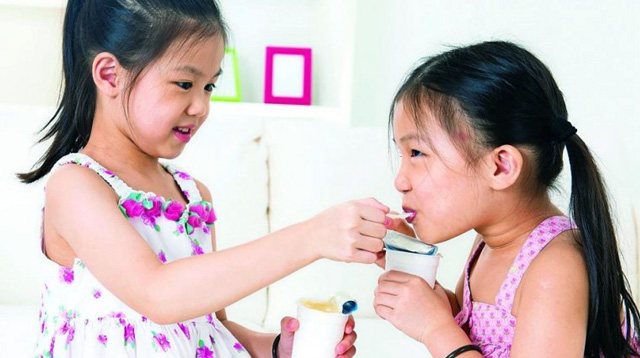 It happens all the time. When you put any number of preschool kids together in one room, you'll no doubt hear the following remarks sooner or later: "That's mine! Akin 'yan! Give me that!" But, relax -- these children are not bound to become juvenile delinquents. It just means the kids are being themselves.

Why kids don't want to share
Are all kids born selfish? How come they don't want to share?

Children of this age think only of themselves and have yet to learn how to share. "Selfishness is not there yet. The concept transcends their innocence," says Brian Vincent Calibo, school coordinator of Playgym, Britesparks International School and Fastrack Kids. "They are not selfish, but rather egocentric. At this stage, kids' only reality is themselves. Everything is directed at themselves. This manifests most during play," adds Calibo, an occupational therapist currently taking his Master's degree in Special Education at the University of the Philippines.

"For kids in preschool, it's hard for them to share or have a concept that there are other people aside from them," says Portia Amores, one of the teacher-owners of Starting Right Learning Center, a preschool in Makati City. This is normal until kids reach five years old, she says, although some younger kids can share if they have had experiences in sharing.

What other parents are reading

        
Generally, "younger kids find it harder to share. But they learn to do so as they grow older," says Amores, who's finishing her Master's degree in Basic Education at Ateneo de Manila University.
    
Malou Gonzalez-Neri, mom to three kids (Alaia, 9; Uno, 7; and Paco, 6), says: "It takes time before a child learns how to share his toys with others. When they're toddlers, their concept of ownership is: 'whatever I'm holding is mine.' They think if it goes to someone, hindi na maibabalik." And most toddlers go into the preschool years with this thought.

Time to share
Every parent wants to have a friendly and generous child. According to Calibo, there is no specific age when sharing can be taught. "Start as early as possible, as soon as the child can comprehend. Let him know there are rules to follow," he adds.

ADVERTISEMENT - CONTINUE READING BELOW

What other parents are reading


To start early, you have to begin the lessons right in your home. Calibo says it's good to start between parent and child rather than between two egocentric children. Share with your child something you own, like a small mirror. Then ask him to share with you the toy he's playing with. Later on, he'll be ready to share with his siblings and playmates.
    
When Malou's kids were younger, it wasn't unusual for the youngest to grab his kuya's toy. "I taught him not to grab but instead say, 'May I borrow first?' I also told Paco to wait for his kuya to get tired of his toy first before he borrows it. That's teaching him to take turns," Malou shares.
    
For Maia Carreon-Garcia, explaining works wonders for her two sons Jake and Gino. She says, "Early on, I told them the pros and cons of sharing. I said, 'It's good to share because the other person may have something you may want to borrow.'" She didn't force her kids to share by shouting, "Share!" The kids got it. They have since shared their toys so often with each other (they call it trading) that it wasn't clear anymore who owns which. "They now refer to their dinosaurs and action figures as 'our collection,'" Maia says. "Sometimes I kid one of them and I say, 'I bought this especially for you and then you'll just trade it today?' Then they just laugh. I'd say they had a good foundation."
    
Of course, even among siblings, there'll be fights at one point. Should a parent step in and get the toy? "That's an extreme measure," says Calibo. "First, try to reconcile the two by staying in between," he adds. See if you can make one to agree to share the toy for a few minutes. Try to convince the other to wait for his turn.

ADVERTISEMENT - CONTINUE READING BELOW

Recommended Videos

What other parents are reading

Sharing 101
Preschool teachers like Amores and Calibo encounter golden opportunities for teaching sharing everyday, right in their classrooms. Here they share some more techniques you can apply at home:

1. Model it for them.
Say, "This is mine but I'll share it with you." Share a snack together.

2. Lay down the rules.
At Starting Right Learning Center, the rule is: If you bring a toy to school, you should share it with others. You might want to have a rule such as: If you bring a toy to a playdate, you should share it with your playmate.

3. Acknowledge what your child is feeling.
If he doesn't seem ready to share, say, "I know that you don't like it but we have to share."

What other parents are reading

4. Play games that call for sharing, such as pass the ball.

5. Time it.
For difficult kids, give one child two minutes to play with a toy, after which, the other child can get to play with it.

6. Don't force a child to share.
To get a child to learn how to share, he needs to be an active doer. He has to be ready to share. Every child goes through the developmental stage when he's reluctant to share.

7. Build his self-esteem.
Self-esteem and a well-established self-concept give a child the confidence to reach out to others. To achieve that, give kids a sense of self-accomplishment. Provide age-appropriate tasks.

"Every child is unique. No one can force a child to learn. They need to do it by themselves," adds Calibo. Just be patient and provide opportunities for your child to share. Everything will work out in time.

ADVERTISEMENT - CONTINUE READING BELOW

Celebrate your pregnancy milestones!


Enter your details below and receive weekly email guides on your baby's weight and height in cute illustration of Filipino fruits. PLUS get helpful tips from experts, freebies and more!

You're almost there! Check your inbox.


We sent a verification email. Can't find it? Check your spam, junk, and promotions folder.

Trending in Summit Network