This Anti-Anxiety Technique Can Help Calm Your Child if He Is Having a Meltdown

Anxiety in a child doesn't only show up in his behavior. It has physical symptoms.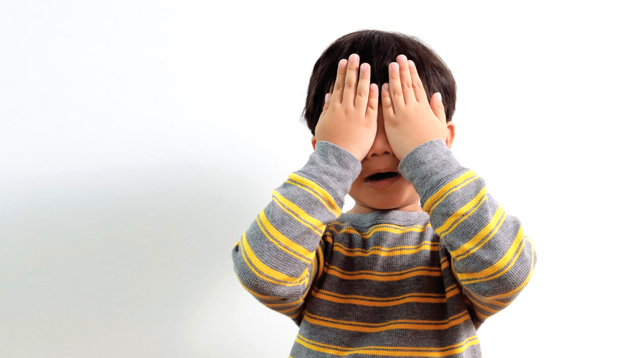 The causes for anxiety attacks in children can vary widely. It can be triggered by a challenging situation or the presence of an unfamiliar person. It can also be because of a stressful home environment, pressure in school, or bullying.

In the U.S., one out of eight children is troubled by anxiety, according to the Anxiety and Depression Association of America. However, the more difficult part is pinpointing whether the child is suffering from the condition or not. Because anxiety is often characterized by a number of negative behaviors (eg., long, frequent meltdowns and irritability), parents and teachers can address the behavior issue but not know that anxiety is behind it.

What does anxiety look like in a child? It doesn't only show up in a child's behavior — the condition can manifest as physical expressions of symptoms. The symptoms of an anxiety attack in children manifests in different ways — psychosomatically, in the form of headaches, muscle pains, difficulty in breathing, an increased heart rate, and so on. He can also suffer from poor concentration and insomnia.

ADVERTISEMENT - CONTINUE READING BELOW

Though childhood anxiety is a cause for concern, it is also treatable, especially if parents can spot the signs early on.  (You can read more about signs of anxiety in a child here.) The first step is to seek for help. Child and adolescent psychotherapist and parenting educator Katie HurleyHurley advises to consult with a pediatrician to rule out medical issues. He can then refer you to mental health practitioner that specializes in working with children.

CONTINUE READING BELOW

Recommended Videos

If your child has anxiety, you want to help him manage it, not avoid it. As the Child Mind Institute points out, "Helping children avoid the things they are afraid of will make them feel better in the short term, but it reinforces the anxiety over the long run.

"If a child in an uncomfortable situation gets upset, starts to cry — not to be manipulative, but just because that's how she feels — and her parents whisk her out of there, or remove the thing she's afraid of, she's learned that coping mechanism, and that cycle has the potential to repeat itself."

ADVERTISEMENT - CONTINUE READING BELOW

 

At home, there is a method experts call the grounding technique to help a child going through an anxiety attack. The technique uses a child's five senses to bring or "ground" him back to reality and be reminded of the present. You may consider using it on your child who may not have anxiety but who may be having an particularly bad tantrum. (Honestly, we find it helpful for grown-ups too.)

How to use the grounding anti-anxiety technique to calm your child

Step 1: Tell him/her to find five objects she can see

The items can be big (like a window or a piece of furniture) or small (like a toy or a pencil). It might also help to let her use her fingers to count those five things.

Step 2: Tell him to find four things he can touch

Encourage him to touch them. Again, he might find it helpful to use the fingers of his other hand to count those four objects.

ADVERTISEMENT - CONTINUE READING BELOW

Step 3: Ask her to find three things she can hear

It can be loud sounds from outside the house or the hum of an electric fan inside the room. Let her concentrate and wait for her to tell you these sounds.

Step 4: Ask him to two things he can smell

Encourage him to count two scents that he can distinguish, maybe the scent of food, perfume, or of his favorite toy.

Step 5: Instruct her to find one thing she can taste

If there is no food or drink that she can consume, even what she had eaten a few minutes before will be just fine.

After the five steps are done, your child ideally feels a lot calmer. You may also tell her to take some deep breaths to relax her even further.

Trending in Summit Network