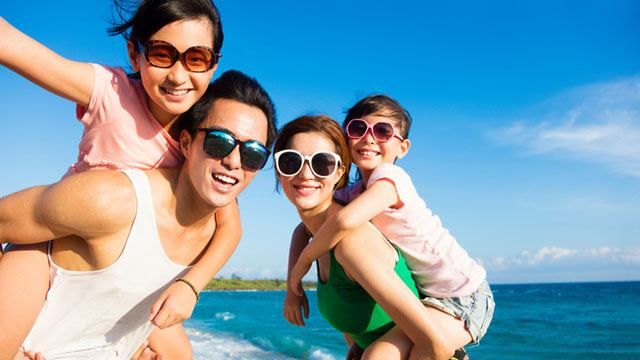 Most parents strive to raise smart and successful kids because who doesn't want that? But we often equate success with academic achievement. What we need to prioritize is giving our kids a positive environment where they feel loved, secure, and free to explore without fear. A loving -- and fun -- childhood experience, as various research has shown, produces happy kids who are more likely to grow up as accomplished adults.

So how do we raise happy kids? Parenting educator and author Elizabeth Pantley published this infographic of simple ways to help our children experience happiness and positivity. We break it down below. 
1. Listen when your kids talk. And really listen. 
Kids are attuned to our emotions -- they know whether you are truly paying attention or just answering them automatically. Whether it's your toddler telling you about her favorite toy or your pre-schooler telling you about her new classmate, she will be happier knowing that you value her opinion. It will increase her self-confidence and make her feel more connected to you.
2. Let your children express their feelings and validate them. 
If your child is feeling frustrated or angry, refrain from reprimanding her because this might only cause her to bottle up her feelings and try to deal with negative emotions by herself. Try the "Empathize, Label and Validate" method, according to the book Raising Happiness: 10 Simple Steps for More Joyful Kids and Happier Parents by Christine Carter. Relate with your child, offer to help her identify whatever she's feeling, and acknowledge it. 

3. Praise your child's strengths.
"Happiness depends largely on the feeling that what we do matters and is valued by others," says Bob Murray, Ph.D., author of Raising an Optimistic Child: A Proven Plan for Depression-Proofing Young Children—for Life, to Parents. So focus on your child's strengths and praise their effort; will make them feel valued and driven.
4. Avoid excessive screen-time. 
Research shows that there is a strong link between happiness and NOT watching television. Try to divert your children's attention from the screen, whether it be the television or the tablet, and encourage them to try physical activities to release endorphins (they trigger happy feelings) and boost positive emotions. Celeb moms like
Judy Ann Santos
and
Daphne Osena Paez
often have "no gadget day" with their kids. Instead, they go on field trips and
bonding activities
that don't involve gadgets. 
You can also try '
do-nothing playtime
' every day. Unstructured play promotes intellectual, physical, social, and emotional well-being, according to research. Kids complain they are bored? Let them be and see how creative they can get. 
5. Encourage their friendships with other great kids. 
Research by the National Longitudinal Study of Adolescent Health showed that "connectedness"—a feeling of being loved, understood, wanted, and acknowledged is the biggest protector against emotional distress, suicidal thoughts, and risky behaviors in teens. Social connections contribute a lot of happiness, so start your children young by allowing them to build connections with their friends. 
Friendships also teach them to pay attention to others' feelings. In the same way that their parents acknowledge and validate their feelings, children should be encouraged to be attuned to others' people's emotions as well. Build their empathy by asking them to do small acts of kindness for others.
6. Eat dinner as a family. 
We've seen the commercials and read the research. Eating one meal a day as a family helps mold children into better individuals. It makes them more emotionally stable and happier. Take time to sit, share a meal together, and listen to each other's stories!

7. Tell them you love them—often! 
Positive reinforcement does wonders in boosting a child's emotions. And while actions speak louder than words, it's just as important for them to hear what their parents feel about them. So be patient with their mistakes, and make them feel unconditional love.

8. Let your happiness show. 
Happiness is contagious—the happier you are, the happier your children will be, too. And don't forget children are quick to absorb our emotions.