Why Telling Our Kids To Calm Down Only Makes Them Angrier

If someone told us to "Calm down" in the middle of an outburst, it doesn't work. So why would it work for our young kids?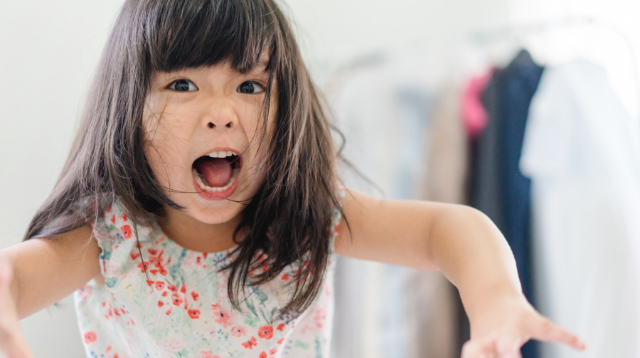 Have you ever been in a heated argument with someone (probably your spouse), and the other party told you to "Calm down", and you really calmed down?

Most likely the answer is no.

Most likely, if someone told us to "Calm down" in the middle of an outburst, we would just spew out more arguments, shout louder until one surrenders and just walk away.

Imagine this happening to a toddler who is developmentally incapable of managing his emotions–then a kid's tantrum becomes just as reasonable as an adult's fits of shouting.

If they can't express the anger, it doesn't go away

In an article published by Janet Lansbury, internationally acclaimed author and mentor of Respectful Parenting, she pointed out that telling our child to "Calm down" in the middle of their "big emotions" is actually as ineffective as telling your spouse the same thing while arguing."

Anger is an emotion we can all relate to, but it can be incredibly hard for us to allow our children to express it. They need to. If kids can't share their anger, it doesn't cease to exist. 

It festers, usually causing more frequent and intense flare-ups, discharged in bursts of impulsive limit-pushing behavior. It is also likely that unexpressed emotions like anger may be stockpiled and distilled into chronic anxiety or depression," she says.

Most studies regarding children's emotions say that they can start to identify what they feel as early as toddlerhood, but the skill to manage them will be a prolonged process reaching until young adulthood.

ADVERTISEMENT - CONTINUE READING BELOW

Young children don't have the brain maturity yet

Toddlers and children know they want a candy. They like it. They know they love it. They know how to say that they love it. 

But the things that won't allow them to have it (you ate too much sugar already, it's past your bedtime), they can't process it immediately. Resulting to anger, frustration then meltdowns and tantrums.

"The truth is that our young children don't yet have the brain maturity to control their intense feelings, so attempting to enforce self-control or self-censorship (particularly when we've lost composure ourselves) only teaches kids that their feelings aren't safe or acceptable and must be hidden away."

How you can calm down your angry child

So how do we really calm an angry child?

1. Shift in parents' perspective

This probably comprises 90% of the answer to the question "How to calm an angry child". For some reason, tantrums and meltdowns become trigger to parents. 

Some feel that children do this on purpose to manipulate their parents and get what they want.

Some feel that tantrums and meltdowns are signs that we've failed as parents. That someone is tallying how many times our child cried on the floor in the grocery–and if the number becomes too high, we are bad parents.

Janet Lansbury mentioned this as her inspiration for teaching Respectful Parenting, "We need to treat babies as persons from the beginning".

PHOTO BY INSTAGRAM /BIGLITTLEFEELINGS

CONTINUE READING BELOW

Recommended Videos

Our children are persons with feelings, persons who are just learning how to identify their feelings, how to communicate them. Imagine telling someone you're angry but you can only speak in babbles and two syllable words?

Our children are learning how to manage their feelings and where is their safe space.

If parents stop thinking that tantrums are some manipulative game their children is playing, then we will see it as an opportunity to guide our child on how to manage their feelings.

If parents stop thinking that meltdowns are indications of being a failure as a parent, then we can shift our focus towards what's really happening in our child's mind, rather than be concerned about what other people will say.

2. Let them be.

Let them be angry. Let them cry. Let them feel. Let them know that they are little humans and being human means having emotions. And it's okay.

Although our auto-pilot response is usually "Stop crying", "Can you calm down?", "Please stop it", these all signal that our toddlers' emotions are not valid and accepted."

Just let kids be angry. Comforting words and cajoling—even hugs that stem from our own discomfort or impatience—will have the unintended effect of communicating our lack of acceptance. 

And it is difficult at best for children to feel safe or comfortable when their parents are not," Lansbury says.

Our children need to know that their parents are safe spaces where they can express all their emotions–including anger and frustration.

ADVERTISEMENT - CONTINUE READING BELOW

While letting them be, it is our responsibility to keep them safe in their anger.

Step by step plan to calm a child

Social media advocate of respectful parenting Big Little Feelings laid down a step-by-step game plan for this:

- "You're feeling mad right now" (You see them)

- "It's okay to feel mad." (Validates the feeling)

- "It's not okay to hurt someone." (Clear the boundary)

- "I'm going to hold your hands now to keep you safe." (Act on boundary)

Calming our angry children will not be easy always, as we also have the tendency to not be calm. But trying to shift our perspective, and putting ourselves in the shoe of these little humans might help us along the way.

And whenever we feel like we are trapped again in our child's meltdown, let's keep this quote in mind:

"There are no bad kids, just impressionable, young people wrestling with emotions and impulses, trying to communicate their feelings and needs the only way they know how" - Janet Lansbury

Celebrate your pregnancy milestones!


Enter your details below and receive weekly email guides on your baby's weight and height in cute illustration of Filipino fruits. PLUS get helpful tips from experts, freebies and more!

You're almost there! Check your inbox.


We sent a verification email. Can't find it? Check your spam, junk, and promotions folder.
Trending in Summit Network