May Imaginary Friend Ba Ang Anak Mo? How to Deal With This Phase

Don't get spooked out — this is an exercise in creativity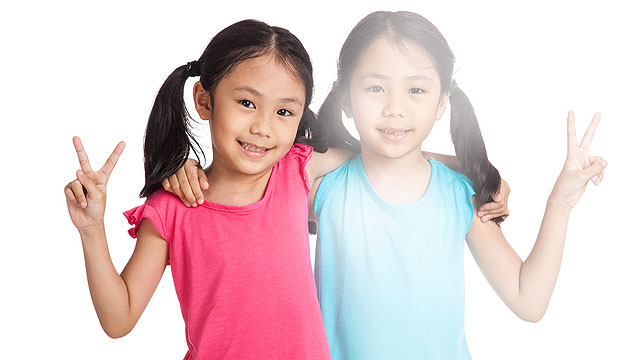 When your child starts talking about or talking to non-existent playmates like they're real people, any parent's first reaction would be to get spooked out. Is there someone in the room you're not seeing? Are there supernatural entities lurking around?

In most instances, these "friends" even have a name, have "likes" and "dislikes", and may even be responsible for some of the mischief going on in your house, if you know what I mean. 

According to a study by Marjorie Taylor, Ph.D., who authored Imaginary Companions and the Children Who Create Them, 65 percent of young children are likely to have these "friends," usually when they enter the preschool stage. Not only are kids this age able to engage in pretend play at this point, they would have also acquired the skill needed to understand the perspective of another person, whether real or imaginary. 

What other parents are reading

This phase may last for a few years, with a few tweaks every so often. Should you be worried? Not really. Dr. Taylor says "imaginary friends" actually help out our kids with emotional well-being and problem-solving skills. So how do you make the best out of this phase? 

How to deal with your child's imaginary friend

1. Just go along with it. 

Don't worry about your child not making real friends because he has made-up ones — he knows the difference between what's real and what's not. Says Dr. Taylor, "Parents tend to underestimate their child's ability to distinguish between fantasy and reality." So if your child asks you to leave a seat on the table for "Annie," do that. And think of it this way: your bossy child will enjoy having complete control over playtime with these imaginary playmates, says Susan Linn, author of The Case for Make Believe, so there's no need for you to break up a fight, mom!

ADVERTISEMENT - CONTINUE READING BELOW

2. Let him be creative.

Did you know that for a child to come up with the idea of an imaginary friend, he needs to get bored first? Dr. Teresa Belton, a senior researcher at the University of East Anglia's School of Education and Lifelong Learning, says that boredom can help develop a child's innate ability to be creative.

"Children need to have stand-and-stare time, time imagining and pursuing their own thinking processes or assimilating their experiences through play or just observing the world around them," she says. So allow your child some down time — turn off the TV and the mobile phone, let him be with some peace and quiet. 

What other parents are reading

3. Listen to what she is not saying. 

"An imaginary friend gives you a window into what your child is thinking about and working through," Dr. Taylor said. If your daughter tells you "Annie," her best friend, doesn't want to go to school, she might be more inclined to discuss the reasons with you knowing it's Annie and not herself who is opening up. You can ask open-ended questions like "Why do you think she feels that way?" It's also an opportunity for you to give her comfort in a less direct manner. 

4. Enforce rules — both to your child and to the imaginary friend.

Because they know they have to abide by rules, preschoolers will try to get off the hook by sometimes blaming the imaginary friend for their mischief. "Preschoolers are starting to feel pressure about rules, so you'll see kids this age creating alter egos that can do the things they aren't supposed to do," says Linn. When this happens — say, the toys remain scattered on the floor even after playtime — you don't have to confront your child about the obvious (that Annie can't put away the toys). But make it clear that if "Annie" didn't do as she was supposed to, your daughter will have to help finish the task, because rules are rules.

ADVERTISEMENT - CONTINUE READING BELOW

Recommended Videos

What other parents are reading

Celebrate your pregnancy milestones!


Enter your details below and receive weekly email guides on your baby's weight and height in cute illustration of Filipino fruits. PLUS get helpful tips from experts, freebies and more!

You're almost there! Check your inbox.


We sent a verification email. Can't find it? Check your spam, junk, and promotions folder.

Trending in Summit Network