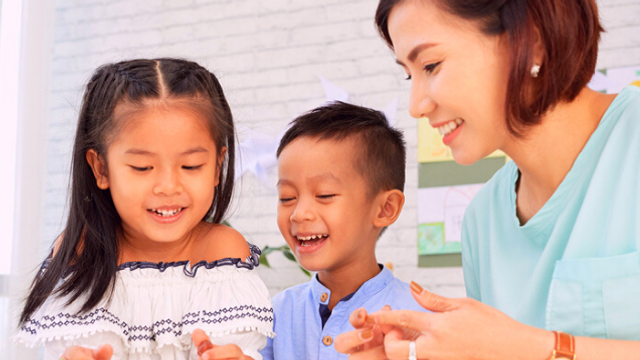 For so long, parents saw perfect grades as the key to their child's future success, but experts have said time and again that a better driver for success is emotional intelligence. It's a skill that helps kids get along with other people, nurture relationships, problem-solve, and more. And new research says kids who are able to understand and manage their emotions effectively also tend to do better in school.
A study published by the American Psychological Association in the journal Psychological Bulletin found that students with a higher emotional intelligence do better in school when it came to grades and standardized test scores compared to their peers. Researchers looked at data from over 160 studies published between 1998 and 2019, which included 42,000 students ranging from elementary school to college. The studies featured students from 27 countries, over 76 percent of which were English-speaking.
According to researchers, their findings held true even when they looked at controls for intelligence and personality factors, such as age. "Although we know that high intelligence and conscientious personality are the most important psychological traits necessary for academic success, our research highlights a third factor, emotional intelligence, that may also help students succeed," said Carolyn MacCann, Ph.D., lead author of the study, in a press release.
She adds, "It's not enough to be smart and hardworking. Students must be able to understand and manage their emotions to succeed at school."
MacCann believes that there are a number of factors as to why emotional intelligence has an impact on academic performance. This include being able to manage negative emotions like anxiety, boredom, and disappointment, which can also be detrimental to academic performance. "Also, these students may be better able to manage the social world around them, forming better relationships with teachers, peers, and family, all of which are important to academic success," she says.
The skills required for emotional intelligence, such as understanding human motivation and emotion, are also needed to master subjects like history and language. This gives students an advantage in those areas, according to MacCann.
Teaching kids how to recognize and manage their emotions teaches them valuable skills that they need to succeed in life. And the key is to nurture a child's emotional intelligence at a young age. They will have higher self-esteem, better academic performance, financial success, and better health. And isn't that we want — to have happy, kind, and healthy kids?
There are five domains of emotional intelligence. A psychologist breaks it down and shares how you can teach it to kids here.