7 Early Signs That Show Your Child May Grow Up to Be an Extrovert

Is your child more comfortable in social settings and able to make friends even with people she has only met once?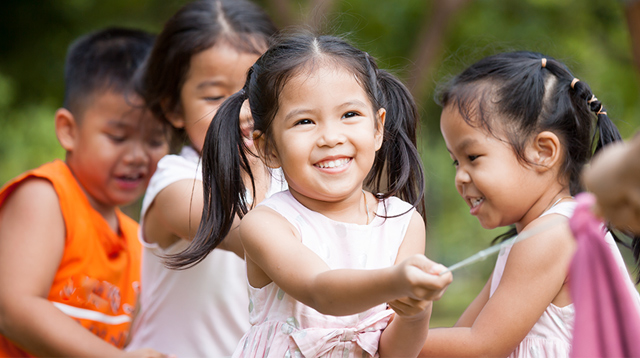 Just like the concept of introversion, extroversion is a personality trait that many may not completely understand. Often, being an extrovert is perceived as being the type of person who only enjoys socializing and being outgoing and talkative. However, extroversion is much more complicated.

Psychology Today describes extroversion as "a state of being where someone 'recharges,' or draws energy from being with other people, as opposed to from being alone." Most people who identify as extroverts genuinely enjoy interacting with others and being in groups and also seek out various experiences. Psychologist Carl Jung, who was the first to propose the concepts of introversion and extroversion, illustrated extroverts as people who are outgoing, active, and able to make quick decisions.

To stick to these descriptions, however, can be overly simplistic. Many experts argue that extroversion and introversion exist on a scale, and it is difficult to find any one person who is purely extroverted. It is possible for extroverts to exhibit specific characteristics that may be more associated with introverts and vice versa.

ADVERTISEMENT - CONTINUE READING BELOW

Here are some characteristics your child may exhibit that point she is an extrovert

Your child is not shy

Some kids may go through times of pangingilala, especially when they're around people they don't know or meet for the first time. However, there are also some kids who seem to be comfortable even when around unfamiliar people. They're more than willing to explore and try out new things. Extroverted kids also love being the center of attention and putting on their own little shows.

CONTINUE READING BELOW

Recommended Videos

Your child talks… a lot

Extroverts enjoy interacting with others in different ways, such as talking. They love to chat — sometimes without seeming to get tired at all — and are incredibly excited when they are surrounded by people who also like to talk. Verywell Family also writes that extroverts tend to think as they speak, and they are more able to process their thoughts and feelings if they are able to talk about them.

ADVERTISEMENT - CONTINUE READING BELOW

Extroverted kids usually enjoy participating in group activities more than solo ones.

Your child prefers group activities

In contrast to introverts who prefer to do activities by themselves, extroverts love being around other people. You may find that in school your child enjoys doing and is more productive in group activities more than in solo projects, and is more likely to want to participate in team sports and club activities.

ADVERTISEMENT - CONTINUE READING BELOW

Your child is most energetic during social events

For extroverts, social events are heaven — it is where they are most able to recharge their energy and feel most hyped up. If you observe that your little one enjoys going to social gatherings more than spending time by herself, that might mean that she is an extrovert. Long after the event has ended, an extroverted child may also find it difficult to calm down because she is still feeling very energetic.

More from Smart Parenting

Your child gets easily bored when left alone

While introverts gain more energy by spending alone time, extroverts find being left by themselves draining and boring. They may feel listless and isolated without someone to interact with, which means that a child who exhibits similar characteristics may be more productive when she has someone to talk to, whether it is a parent or a sibling.

Your child is not afraid to express herself

Extroverts are generally more comfortable with opening up to others and tend to be better at expressing their emotions, making them very easy to get to know.

ADVERTISEMENT - CONTINUE READING BELOW

Your child loves being in charge

Do you notice your child taking leadership positions whenever she is with a group of other kids? An extroverted child's ability to connect easily with other children can make it easy for her to take charge in whatever kind of social setting she finds herself in. Extroverts also tend to be very well-liked by the people around them and are able to influence others' moods positively.

Trending in Summit Network