5 Expert Tips to Raising an Independent Preschooler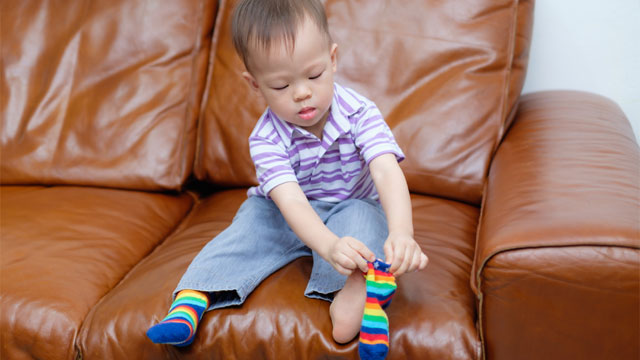 "Mama, can you get my toy for me?"

"Help me with my shoes, please!"

"I need some water, Yaya. Can you get me some?"

If you're a parent of a preschooler, the abovementioned phrases could be just a few of the many "requests for help" that you hear from your child on a daily basis.

Of course, being the attentive and caring parents that we are, we often do whatever we can to help our children, counting it as part of what it means to "dote on" them.

Experts, however, discourage overdoing it and actually advise parents to begin fostering independence in their children from a young age.

What other parents are reading

In fact, renowned educator and physician Maria Montessori, who is famous for the Montessori method of education, once said, "Never help a child with a task at which he feels he can succeed." This is why Montessori educators set up their classrooms to help make children independent, and be able to do things for themselves.

Montessori preschool teacher and mother of one Mars Medina encourages parents to teach their children independence through her blog, MontessoriOnMars.com. She cites how Maria Montessori observed and theorized that independence is considered as a natural progression in children.

As a teacher, Mars says she easily observes this in the classroom as well. "We would often hear a child say, 'Let me do it myself,' or would often see a child insist on doing something on his own," she shares.

"As such, fostering independence in preschool, through activities, language, mindset and environment, is only us responding to the child's natural yearning and sensitivity to be independent," she adds, "to create the man that he will become, in a setting that allows for the child's safety, happiness, confidence, and success."

ADVERTISEMENT - CONTINUE READING BELOW

What other parents are reading
Teach your preschooler to be independent
Helping your child learn to be independent is one of our important tasks as parents.
Michele S. Alignay, a psychologist and registered guidance counselor (RGC), encourages parents to remember that "the preschool stage is the best training time for later skills and tasks of kids."

"Independence should be set [early on], as they will go to school and grow up encountering more difficult life tasks — and parents won't always be there to do it for them!" Alignay emphasizes.

Meanwhile, Ma. Rowena J. Matti, educator and CEO of Galileo Enrichment Learning Program, Inc., says it is important to foster independence in preschoolers because "at this early age they should know that they are capable of doing things on their own."
How to teach independence to your child
There are numerous things that parents can do every day to foster independence in their kids. Here are five of them:

1. Prepare their environment.
Maita Ladrido, an educational psychologist at Assumption College, advises parents to create "safe environments where it's okay for kids to create, make mistakes and get messy."

Doing so is one way to encourage independence, while keeping your "sanity" as a parent.

On a practical level, this could mean giving your child easy access to things like his or her clothes/shoes, toys, eating utensils and cups.

It can also mean allocating a specific place for them to play, read and do other things, and specific containers or spaces for keeping their toys and books (for easier packing away after play).

Drawing from her Montessori background, Mars suggests making the things kids need for independence "appropriate, available and accessible."

"For example, in the classroom, we have small brooms and dustpans for sweeping, which are color-coded so the child knows which is for the floor and which is for cleaning the shelves/table," Mars shares.

"On low shelves, we have small glass pitchers for pouring their own drinking water and other things they need to prepare their own snacks," she adds.
What other parents are reading
2. Assign chores.
Aside from being an educator, Matti is an experienced mom herself to Bea and Celina, who are now teenagers. Her top tip for teaching independence to kids? Let them do chores (yes, even if you have household help).
"Assign preschoolers simple household chores that you know they can do, like asking them to bring their plates to the kitchen sink after eating," she expounds.

"It must be something that the child sees adults do. He must feel that he is helping."
3. Praise the child's efforts.
In addition to #2, Matti encourages parents to praise their children for accomplishing their tasks.

"He will want to help more [when you do so]," she explains. "He will want to do more! Then eventually you can give the child harder tasks."
What other parents are reading
4. Let them do "self-care" tasks on their own.
Mariel Uyquiengco, a U.S.-licensed Kindermusik educator, and co-owner of The Learning Basket, shares one of the things she's been doing to raise independent kids: allowing them to do simple "self-care" tasks alone.
Specifically, Mariel lets her two kids bathe themselves and dress themselves from an early age, among other things. She speaks about this in her workshops for parents too.

"Kids should be encouraged to put on their own shoes as soon as they show interest, even if it seems like it takes forever for them to do so," she adds.

"Even toddlers can do it, too — and the look of pride and accomplishment you'll see on their faces will be priceless!"
ADVERTISEMENT - CONTINUE READING BELOW
5. Model everything.
Mars says parents should never forget the importance of modeling, especially the tasks that we want our kids to complete independently.

"Model first -- or, in Montessori-speak, "make a presentation" -- of how something can be done," she explains. "This way, you are able to communicate the task step-by-step ."
"Another famous phrase we use is 'Freedom within limits'," Mars continues. This means that while children are free and encouraged to be independent, doing presentations or modeling the expected behavior helps set responsible limits while ensuring the success of the child.
What other parents are reading
Don't give up
Teaching our kids to be independent can be difficult at first, but we should not let our challenges stop us from doing so because the fruits of our "labor" will be totally worth it. Whenever we feel like giving up though, let us remember this quote found in the American childcare column "Ask Ann Landers":
"It is not what you do for your children but what you have taught them to do for themselves that will make them successful human beings."

How do you teach your preschooler to be independent? Share your tips with us by leaving a comment below!
What other parents are reading

Trending in Summit Network