6 Effective Techniques to Get Your Child to Do Something the First Time You Ask

Saying things over and over again will just frustrate you and your child.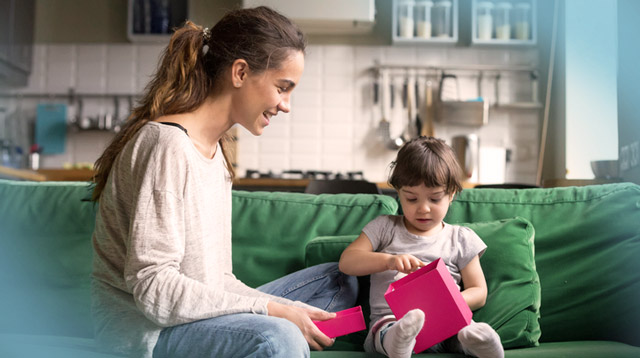 All parents have faced this situation hundreds of times before: you ask your child to do a simple task, say put away their toys, but there is no response from them, nor do they make a move to follow you. You repeat your request a few more times but still, your child does not budge. How to get your child to listen?

Having to constantly repeat yourself can make you feel like you're losing power over your child. It might make you think that your child does not respect you or feel the need to acknowledge you and do as you say. That's because repeating yourself does not work on children. In fact, you may even be training them not to listen. 

What other parents are reading
Why kids don't listen the first time you speak 
One of the reasons why your child doesn't listen to you when you constantly repeat yourself is because you're sending a message that she does not need to listen to you the first time. Imagine this: you want her to put on her shoes and get ready for school. When she does not react, you say the request again, this time in a firm but still calm tone. Still no response. Again, you repeat the request, but this time in a much louder, even aggressive tone. Nope, it still doesn't work.

Whenever your voice escalates trying to make your child do something, you are showing her that she does not need to do follow you when you are using your calm voice. It's the same thing when giving warnings — say it too many times and your child will call your bluff. Why must she follow the first time if she knows you're going to repeat it over and over again?

She might finally follow when you mean it — most probably when you are already yelling and showing signs of frustration and distress. This leads to another problem: when you repeat yourself, you get angry. And while it's normal to lose your cool now and then, this might put a strain on your relationship with your child.
ADVERTISEMENT - CONTINUE READING BELOW
What other parents are reading
6 ways to get your child to listen to you the first time
How to get your child to listen to you when you ask them to do something? To avoid repeating yourself, here are a few things you can do to get your child to follow the first time that you ask.
1. Get their full attention.
Kids are easily absorbed with what they're doing so chances are they don't even realize that you are talking to them. Go over to your child, wait patiently until she finishes what's she's doing then put a hand on her shoulder. Make eye contact and when you know you have her full attention, make your request.

While she can still choose not to follow you, she can no longer pretend that she did not hear you. It's harder to ignore someone when they are right in front of you and looking into your eyes.
What other parents are reading
2. Follow through immediately.
If you know your child has heard you but does not react, go over to them and help them do the task right away. For example, if you ask your child to get her bag so you both can leave for school but she doesn't make a move to get it, march over and assist. She may accept your help or decide to do it on her own when she realizes that she has no choice but to accomplish your request.

Just remember to keep calm. Yes, it can be incredibly frustrating to do tasks for your child, but as time passes, she'll realize you're no longer kidding and be more inclined to follow your requests.
ADVERTISEMENT - CONTINUE READING BELOW
Recommended Videos
3. Slow it down.
When we ask our children to do something, we expect them to do it right away, often forgetting that their young brains process things much more slowly than we do. The next time you ask your child something, try this: Call your child's name, then pause. Make eye contact and slowly say your request. Don't say anything else — just hold eye contact until she replies.

The pause implies expectation. It means that you expect your child to do what she is asked, and the likelihood that she'll follow through is higher.
What other parents are reading
4. Break it down into tasks.
Small brains can get befuddled by vague instructions so make sure to be precise and break down her tasks for her. Put the toys in the box, the books on the shelves, and your jacket on the hanger, for example. You can even print out a checklist (with pictures or logos for younger kids) and hang it on the door for her to cross out tasks.
5. Make the request short but sweet.
Instead of using long sentences to make a request, use shorter reminders that are easier to remember. This is less annoying than giving out long-winded explanations.

If you've established a rule that requires your child to bring her dishes to the sink after every meal, try saying, "Sara, plate." Often, a simple, short reminder is what they need to be able to follow you.
What other parents are reading
6. Practice giving out responses and agree on making them.
ADVERTISEMENT - CONTINUE READING BELOW
Sometimes your child wants to follow your request but is still absorbed with whatever they're doing. Teach her to respond so you'll also know that she is not trying to annoy you. Choose and agree on an appropriate response — "Yes, mama," or "Okay," are simple and easy enough to say.

Practice with her so she remembers to respond. You can make silly requests to make it more fun and memorable. For example:

"Sara, please put one green sock and purple sock."
"Okay!"
"Sara, please try touching your nose with your tongue."
"Okay!"

The key to how to get your child to listen to you and getting your child to do as you say is to first get her to listen to you speak. It will save both of you a lot of time and frustration and foster a better relationship between the two of you.
What other parents are reading
Celebrate your pregnancy milestones!

Enter your details below and receive weekly email guides on your baby's weight and height in cute illustration of Filipino fruits. PLUS get helpful tips from experts, freebies and more!
You're almost there! Check your inbox.

We sent a verification email. Can't find it? Check your spam, junk, and promotions folder.

Trending in Summit Network