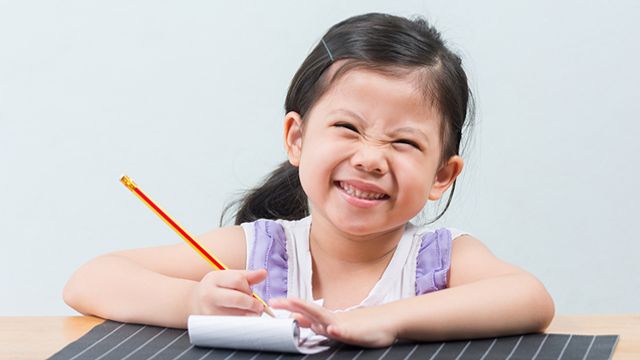 Many may think that goal-setting is for grown-ups, but teaching it to kids can benefit them in many ways. In an article for PBS KIDS for Parents, Katie Hurley, LCSW, a child and adolescent psychotherapist, parenting expert, and writer, lists down several skills kids can gain from learning how to set goals.
One is responsibility, which is cultivated as the child learns that the amount of effort she puts into a task helps determine whether she succeeds or fails. There is also resilience, which she develops as she learns how to deal with setbacks she might encounter. Another is perseverance, which she hones as she goes on trying again and again until she accomplishes her goal.
How to teach your child to set goals
The great thing about teaching kids how to set goals is it establishes an attitude of thinking, planning, and taking steps. They learn how to focus and make better decisions. How do you start them on the process? Here are a few tips. Don't forget words of cheer and encouragement because you have an invaluable part in this journey, moms and dads!
Observe your child
Your child might not be aware of it, but she might already be applying goal-setting techniques in her life. For instance, if she has been putting coins in her piggy bank to save up for a toy she wants to buy, that is goal-setting. Look for opportunities like this, and use them as a jumping-off point to discuss with your child her goal and the steps to take to achieve it. And after she reaches her goal, talk to her how about how she felt — on a level of 1 to 10 how happy did it make her feel to achieve it? Then come up with another goal that can make use of the same techniques she applied here.
Help your child come up with a simple goal
Encourage your little one to come up with a goal that she can achieve in a short time, and that is appropriate for her age. Some examples can be finishing a particular household chore and accomplishing homework that she finds difficult. These goals can be attached to specific rewards that will motivate her, such as being able to play later.
If you have your own goal, you can try involving your child in the process. For example, you want to grow a garden. Let your child help you out in deciding which plants to get, in planting them, in taking care of them, and so on.
Remember that as much as possible, parents are recommended to provide their children with the agency to decide what goal she wants to achieve, and simply assist in coming up with a plan. "If you want your child to follow through, the goal has to have meaning to your child," Hurley writes.
Break down the goal into smaller tasks
No matter how realistic your child's goal may be, sometimes, it may seem a bit abstract or big. Breaking it down into more manageable steps can help your child understand more concretely what she needs to do throughout the process. You may even want to try letting her write down her goal and the steps it involves. It's all about taking it one step at a time!
Assist your child in tracking her progress
For adults, crossing off tasks on a to-do list can be a way to keep track of their progress on goals they are trying to achieve. Children also need a system to help them monitor how they are doing throughout the process. You can use a checklist-type visual aid or a chart where you can add stickers to mark an accomplished goal each day, week, or month.
Encourage, but stay realistic
Occasionally, your child might complain or express discouragement because she feels that she's getting nowhere near the goal she wants to achieve. As a parent, your words of encouragement can help her regain the motivation she needs to keep going. By simply praising and recognizing the efforts she has been giving, her drive and energy might just get replenished.
However, don't also forget to stay realistic. Be honest about the challenges she will encounter and the perseverance that will be required about her, then motivate her to figure out how she will go forward from this point on. Parents writes, "The idea isn't to make the goal seem too daunting, but rather to share in the seriousness of the undertaking by helping plan it out."