How NOT to Raise a Lazy Child: 6 Practical Tips for Parents

Think your child is "tamad"? Stop the nagging and try these tips from experts instead.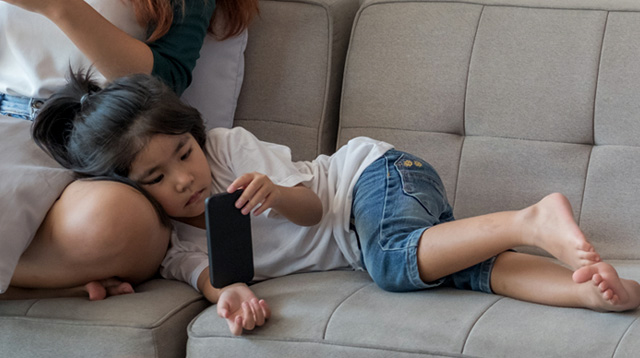 When your child is lazy or "tamad," it can be a constant source of parenting frustrations and worries. He spends all day on his gadget when he's not at school. He doesn't seem to be interested in his studies. Understandably, this can be concerning for any parent.

A lazy child, who tends to turn away from tasks requiring effort or hard work, may grow up to be a lazy adult. And, parents know that an attitude of laziness in the real world does not bode well. So, what can you do? Don't worry, it's not too late. 

Why labeling your child as "tamad" and giving "sermons" rarely work

You're probably already aware of this, but it may need restating: nagging your child to do better won't do any good. And if it does, it will only do so for a short while. "Talking to children about the importance of effort and hard work, however well-intentioned and however true, or grounding them for their avoidance of schoolwork, will not help," says Kenneth Barish Ph.D., a clinical professor of psychology at Weill Cornell Medical College and an award-winning parenting book author, for Psychology Today. 

"Children have heard this all before. Telling them that they have to try harder will only make them feel angry and misunderstood," he adds. So, what do you do? Understand where the "laziness" is coming from, find your child's interests (and accept it) and be encouraging. 

What other parents are reading

1. Understand that it's not "laziness"

Both Dr. Barish and Alyson Schafer, a psychotherapist and parenting expert, assert that laziness is not a personality trait. Meaning, it's not something that's inborn or can't be changed — laziness is an outcome. There is a reason for your child's "laziness." For example, it can stem from a lack of motivation, says Schafer. Your child may be unaware of her own goals and motivations. In this case, finding what will and can motivate her is the parent's next step. 

It could also be that she's trying to avoid being judged as not capable or smart enough. "If they try, it could reveal their inadequacies and inferiority. If they don't try, however, they have an excuse for their poor performance," explains Schafer in an article for Huffington Post. "Here's their thought process: 'I didn't even study for that math test, so my mark of 48 percent doesn't mean I am stupid, because I didn't even try.'" 

ADVERTISEMENT - CONTINUE READING BELOW

2. Find your child's interests and strengths

Can't seem to get your child motivated to do well in school? "Motivation begins with interest. Where there is interest, there is curiosity and a desire to learn, to know more," says Dr. Barish. "If you look hard enough, you will find in your child some interest — and a desire to do well. When I talk with 'unmotivated' students, I often find that they are interested in many things (although not in their schoolwork)."

Your child spends a lot of time watching TV. Taking a closer look, you both realize that he's mostly tuned in to Animal Planet. He could be spending a lot of time online playing games and is exceptionally good at strategizing, problem-solving and finding patterns. Your child's overflowing energy could be channeled into a sport he would enjoy. 

Remember that your child has his own interests and they may not always align with your own, says Dr. Barish, but be open. "When I ask children about their interests, they are usually happy to talk. Then, as long as we are respectful and not dismissive, they are usually willing, and often eager, to hear our point of view." 

What other parents are reading

3. Don't do it for him

Sitting at home, your child proclaims he's thirsty. Do you get up and get a glass of water for him? If your child can do it for himself, then let him. This goes for things of bigger consequences also like completing homework and studying for a test. "Children who learn that they are responsible for their own actions develop an independence that does not foster laziness," says writer for The Bump Elise Wile. 

"Give your child responsibility for chores and schoolwork. Let him take the credit for a job well done," says Wile. "Laziness is a habit, and the popularity of passive forms of entertainment such as television, computers and video games makes it pervasive in some households. Teach your children to be hard workers by requiring them to complete chores and to do work that furthers their development."

CONTINUE READING BELOW

Recommended Videos

4. Let her know that mistakes are okay

It can be ironic that avoiding failure (and disappointing mom and dad) can lead a child to try less which then inevitably leads to more failure. "Help them see that effort and improvement is more important than perfection, and that mistakes are not failures, but opportunities to learn," says Schafer. 

She adds, "Children tangle the idea that their personal worth is reflected in their performance, so they believe if you flub the math test you are somehow less worthy as a human than a classmate or sibling that gets an A. This is obviously not true, so parents need to help their children understand this."

What other parents are reading

5. Be encouraging

Even if it doesn't seem like it, your child does care a lot about what you think of him. "They want to earn our praise and approval, and they want us to be proud of them. Children say that they don't care, but they do care," says Dr. Barish. "They want to feel good about themselves - and about others."

Your encouragement and trust that he can succeed go a long, long way. It's something that adults often overlook, adds Dr. Barish. "Children want to become like, to learn from, and to earn the respect of the people they admire… We do not stop often enough, I believe, to consider our idealization in the eyes of our children — how children look to us and look up to us — and how we remain for our children, throughout life, sources of affirmation and emotional support.

ADVERTISEMENT - CONTINUE READING BELOW

6. Redefine happiness

Happiness and enjoyment can come from anywhere, not just in trips to the water park or owning a new, expensive gadget. "While engaging in enjoyable activities can certainly contribute to happiness, it is not the key, and if you raise your child to prioritize this version of happiness, laziness may be the result," says Wile. 

There is a quiet contentment, and even fulfillment, from caring for a seedling until it's fully grown, trying out a new hobby (like figuring out how to solve a Rubik's cube), or spending a day organizing a treasured collection. Perhaps more so, happiness is also in spending time with other people.  

Celebrate your pregnancy milestones!


Enter your details below and receive weekly email guides on your baby's weight and height in cute illustration of Filipino fruits. PLUS get helpful tips from experts, freebies and more!

You're almost there! Check your inbox.


We sent a verification email. Can't find it? Check your spam, junk, and promotions folder.
Trending in Summit Network