Your 9 Commandments to Limit Screen Time With Fewer Tantrums (Fingers Crossed)

Consistency and leading by example is key when it comes to screen use.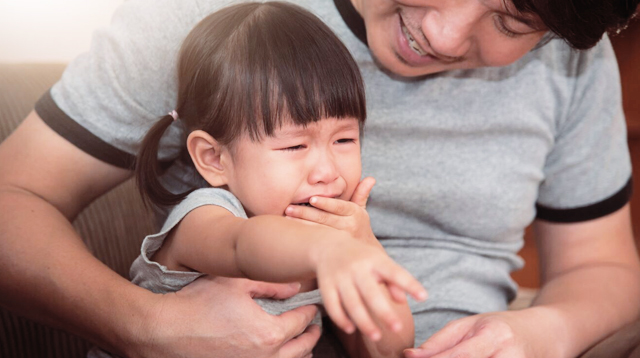 Parents know it's important to set limits on their children's screen time, but it's easier said than done. Many memes and gifs have been created to show the awe-inspiring tantrums when you take away the tablet or the phone from a toddler who is engrossed in her favorite YouTube video.

The reaction that ensues, from pouting to total meltdown, comes with age. At 3 to 5 years old, kids are not yet skilled to transition from one activity to another — specifically from a more preferred to a less preferred activity — and to manage their frustration. That's why you have shouts of protests, tantrums, and a lot of crying. (Click here for things you need to prepare for when you limit screen time at home.)

You'll need to have lots of patience but more importantly, you have to be firm and consistent about your decision to limit their usage. Don't give in easily.

What other parents are reading

Here are 9 ways to avoid meltdowns when you take screens away from your child:

1. Be clear about the rules.

Before turning on a screen, make sure to specify which devices (whether a tablet or TV) or apps your kids can use at certain days and at what time. Check the updated recommendations from the American Academy of Pediatrics here.

One her post on Medium, author, resource speaker, and tech journalist Alexandra Samuel, shares that rules will make things easier for kids. They will know when and how they can expect their next "dose" of screen time. For her two kids, Samuel has a screen time policy posted in their living room at all times, and she and her husband revise their rules every six months (for example, they have different rules during the summer vacation and adjust accordingly as their kids grow older.)

ADVERTISEMENT - CONTINUE READING BELOW

2. Create a routine.

Kids need a sense of structure to give them a sense of control, and they are more likely to cooperate with a routine in place because "a predictable routine allows children to feel safe," according to Laura Markham of Aha! Parenting.

Kids who know they have to turn off the TV before a specific activity (like before having dinner) can sometimes transition more easily, according to Common Sense Media.

What other parents are reading

3. Choose screen time activities that can be interrupted.

It becomes hard to end screen time if activities follow one after the other. "Ideally, your screen rules will let your child ladder down from more to less engrossing on-screen activities — for example, setting up a schedule that allows for a short TV show after a video game," advises Samuel. On YouTube, turn off the auto-play setting especially if it's a playlist.

4. Follow your screen time with a more engaging activity.

If you're scheduling screen time at specific times of the day, make sure that the activity that comes next is something your child will like, like reading with mommy, going to the playground, or having merienda.

5. Count down or remind your kids when screen time will end.

After handing the device to your child, immediately tell her what time you'll be asking for the device back. Then prep her for the end of the activity by reminding her two minutes before that screen time is about to end.

What other parents are reading

6. Don't negotiate.

If, after the warning, your child begs for "five more minutes," try your hardest not to give in. If you're firm enough, kids will accept the end of screen time without a fight. But if you feel that an extension can be given, Samuel advises to "set a hard limit on the maximum extension," and only allow it once.

CONTINUE READING BELOW

Recommended Videos

7. Praise your child.

If your child manages to end screen time without throwing a tantrum, show that you are pleased with him. Say something like, "Thank you for turning off the tablet and sitting down for dinner!" Kids will be more likely to follow through again when they end their activity with a positive experience.

8. Let your child express his feelings.

Your child cooperating with the rules and limits you set will not happen overnight. So, allow him to show that he is upset or angry and acknowledge what he's feeling. According to Samuel: "A simple statement like 'I can see it makes you really sad that game time is over' lets your child see that you care about his feelings and can help him recognize his own emotions, which is the first step in learning to manage them."

What other parents are reading

9. Remember to cut down on your screen time, too.

It's hard to set limits for your kids when you don't know how to do a check and balance on yourself. If you tell your kids too much gadget use is not good for him but he sees you doing the opposite, it will be harder to get him to abide by your rules. Lead by example because the kids are always watching!

If you're just starting to limit your child's screen time, don't expect him to follow you right away. For kids who have developed screen dependency, it's best to go slow but be consistent. Good luck!

ADVERTISEMENT - CONTINUE READING BELOW

What other parents are reading

Celebrate your pregnancy milestones!


Enter your details below and receive weekly email guides on your baby's weight and height in cute illustration of Filipino fruits. PLUS get helpful tips from experts, freebies and more!

You're almost there! Check your inbox.


We sent a verification email. Can't find it? Check your spam, junk, and promotions folder.
Trending in Summit Network