You Will Probably Say 'Dali, Anak' 540 Times Throughout the School Year (LOL!)

What is your most reliable early morning routine for school?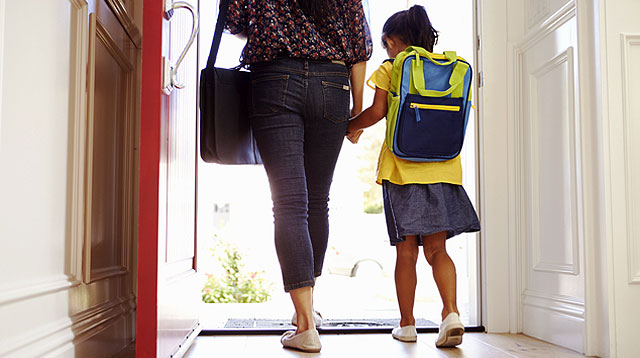 Say goodbye to snoozing your early-morning alarm or lazy-cooking breakfasts because school season is upon us. And with the country's worsening traffic situation, we can believe what this survey suggests: all the various tasks parents do to prep the kids and get the whole family off in the morning adds up to an extra workday every week!

The survey was commissioned by a breakfast snack bar brand and collected answers from 2,000 parents in the U.S., and their experience is similar to what Filipino parents go through every school day morning.

School morning routine challenges 

According to the survey, parents often make resolutions to make school-day mornings go as smoothly as possible, but these are quickly abandoned sometimes just weeks into the school year. What school morning routine challenged most parents?

Getting the kids off to school on time

The survey revealed the parents' most significant challenge during school day mornings is getting the kids off to school on time. As most parents know, there could be a myriad of reasons —  kids have difficulty waking up early, not everyone fares well when cooking and eating breakfast in a rush, and the unpredictable traffic. It is different for every family.

Kids need to be told at least twice to get ready for school

"At least twice" means many parents need to say to their kids three or more times to get up, get dressed, brush their teeth, or put on their shoes. According to the survey, an average parent has asked her child to hurry up almost 540 times by the end of the school year.

ADVERTISEMENT - CONTINUE READING BELOW

Parents resort to bribing the kids to get them back on track and on schedule

The survey results showed that 39% of the parents got their kids to move or hurry in exchange for screen time, while 33% promised extra TV time. About 38% rewarded their kids with a new toy or game. However, studies show that when children start to expect a reward, they become less motivated to perform the same action. 

Parenting educator Katherine Reynolds Lewis cautions parents about using rewards in her book The Good News About Bad Behavior. "If the child is coming up with, 'Oh, I'd really like to do this,' and it stems from his intrinsic interests and he's more in charge of it, then it becomes less of a bribe and more of a way that he's structuring his own morning," says Lewis.

Parents skip breakfast because they're already late

While eight out of 10 parents think breakfast is the most important meal of the day, many skip it because they're running late. It is easy enough to imagine what follows: hungry parents means cranky and impatient moms and dads. Tempers tend to run high in this mood.

How to make morning routine for school easier

Most preschoolers don't have a lot of issues waking up early. For older kids, however, the American Academy of Pediatrics (AAP) actually recommends elementary and high schools start at 8:30 a.m. or later. Studies found that adolescents become sleepy late in the evenings and need to sleep longer in the morning due to a shift in their biological rhythms. While science backs the case for later school time, our schools still start the day early. So how do we streamline our morning routine for school?

CONTINUE READING BELOW

Recommended Videos

1. Rehearse — yes, practice — the ideal school morning scenario.

Preparing for the school morning is ideal when you have a preschooler heading to school for the first time. Do your rehearsals a month before the first day of school, so it becomes a habit. You will also have time to adjust in case things don't work out and have more time to play out and role-play more scenarios that might happen on a school morning.

2. Prep school outfits before bedtime the night before.

It doesn't matter if your child is wearing a uniform. Ask him to hang a complete set including an undershirt and socks, so he doesn't have to waste time looking for them in the closet. The same goes for prepping school bags and baon, if possible. Some parents let their child take a bath at night, so they can skip the shower in the morning.

3. Ensure your child gets enough sleep.

"If you set three alarms and still have to drag your child out of bed in the morning, it's time to work on sleep habits," suggests Sara Lappe, M.D. You need to wean your child from those late-night family movie-nights and waking late in the morning during the summer vacation. Adjust your child's sleeping schedule a month before school starts (make it a part of the rehearsal we mentioned above). Remember, no screens an hour before bedtime!

4. Wake up early!

Moms whose kids have started school know that waking up earlier than the rest of the house will give them time to relax, drink coffee, meditate, or do whatever helps them to get their head and heart in the zone for the day. "Having even a little bit of 'me' time can make a morning feel calmer in the midst of hectic transitions to work and school," write Lexi Walters Wright, community manager at Understood.org.

ADVERTISEMENT - CONTINUE READING BELOW

5. Use a visual chart to guide your child's tasks.

If your child is old enough, you can place a column for time (drawings of how an analog clock would do fine), so he has an idea if he's already running late. This way, you're encouraging your little one to be independent. Kids need to accomplish tasks on their own time. You can also use the chart to refrain from nagging your child to "hurry up" — just point out to his task chart as a gentle reminder.

6. Keep your cool and don't rush.

If you're stressed, your kids will feel the pressure and anxiety, too, so remember to eat well and breathe. Start on a happy note by pleasantly waking up your child and encourage him to get moving. Nagging will not make him move any faster — it might even do the opposite. "The more you rush in the morning, the slower your kids will move," said Kirk Martin, a behavioral consultant.

7. Make a breakfast meal plan!

Making a meal and baon plan does take time, but it pays off during your school day morning routine. With a meal plan, you already know what you can prep the night before and quickly cook it in the morning. If you can cut cooking time, your kid can spend more time finishing their breakfast. (Here are some meal plans and baon ideas!)

If traffic is more of an issue with you than your daily routine in the morning, read tips on how to survive school day traffic with your child here.

ADVERTISEMENT - CONTINUE READING BELOW

What other parents are reading

Celebrate your pregnancy milestones!


Enter your details below and receive weekly email guides on your baby's weight and height in cute illustration of Filipino fruits. PLUS get helpful tips from experts, freebies and more!

You're almost there! Check your inbox.


We sent a verification email. Can't find it? Check your spam, junk, and promotions folder.
Trending in Summit Network