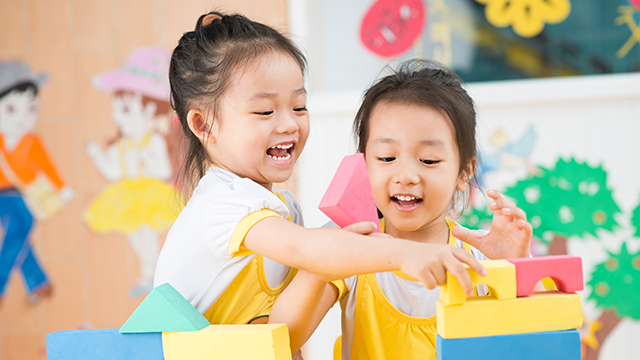 One of the many ways to help make your kids smarter is, simply, to let them play.
Preschool teacher Jill Dungo-Pangilinan says play is essential to a child's development as it gives him or her an avenue to explore with their senses, think critically, and socialize with peers.
"When children play, they don't just move their bodies. Their minds constantly work as they think of what they are playing with, how they play with it, who they play with, and what other things they can do or add to enhance their playtime," she explains.
In her class, Teacher Jill makes playtime fun and educational by providing varied activities and letting children engage in either parallel play or group play. She shares some of these brain-stimulating activities that your preschooler do at home, too:
1. Conduct sensory play
By using their senses, children get to discover things around them firsthand. With sensory play, their brain develops as they think of the cause and effect of their play schemes and predict outcomes when they perform mini-experiments or explorations.
[ads:5]
Provide kids with sensory bins containing sand, water, soft and hard objects, modeling clay, slime, rocks, and pebbles. You can also have them do color-mixing activities using colored ice–melting two colors together to make new colors–and experiments mimicking volcano lava explosions using clay, vinegar, baking soda, and food coloring.
You may also do water play, like scooping colored water into different containers and even watering plants, to help develop tactile processing in children.
2. Play with manipulatives
Manipulatives are simple toys that push the boundaries of children's imagination and hone their critical-thinking skills. This can be done by challenging them to build something they haven't tried yet with these objects, asking them open-ended or "why," "how," "what will happen," and "if" questions.
Blocks and cubes help them learn about numbers, height, and length of objects; matching letters with pictures, or colors with shapes help them learn about words, colors, and simple geometry; and board games with square tiles and dice can teach them about taking turns and following game rules.
[ads:10]
3. Have fun with arts and crafts
Through arts and crafts, children get to exercise creativity as they plan their work and use different materials to create masterpieces every parent will treasure. It also helps boost their self-confidence and self-expression.
Let kids paint using unconventional tools like sponges, cotton buds, foam rollers, bubble wrap, and even their hands and fingers to let them discover different patterns and textures brushes can't provide. Prepare a selection of different papers, coloring materials, child-safe pairs of scissors, and glue, and other materials like yarn and twigs, and see what they can create out of them.
4. Do role-play
Role- or pretend play is when children assume different roles of people, animals, and objects in different scenarios. For example, playing with dollhouses helps develop language and communication skills, lutu-lutuan enhances problem-solving skills and creativity, and playing with mud and dirt boosts not only the mind but also the child's immunity.
[ads:15]
Let them go all out by providing them with different costumes and safe and real-life objects as toys.
No matter what the activity, Teacher Jill reminds parents to be present whenever their child plays.
"Try their toys. Make your own artworks with them. Pretend to be like something they're trying to portray during dramatic play. When they see you have fun, kids get more excited. When I play with my preschoolers in class, it amuses them and makes them more engaged in play," she says.
Remember that play is a simple yet crucial hands-on experience and a brain-building gift you can give your child.
"Let your children be as creative and imaginative and wait for 'teachable moments.' For us, teachers, teachable moments in the classroom are unplanned opportunities that arise when kids are playing. It is a chance for us to offer them different insights and teach them about a specific skill," she explains.
[ads:20]
For more helpful tips to prepare your kids for school, learn from this family life and child development specialist. Here she talks about three ways moms can guide preschoolers during this big change in their lives:
Remember to give your kids healthy and nutritious meals and snacks to keep them energized throughout the day. And to fully support their growing-up years, provide them with growing-up milk as well.
NIDO 3+ is formulated for the growth of toddlers and preschoolers ages 3 to 5. It contains nutrients for the brain and digestion. It's the only growing-up milk that contains Lactobacillus Protectus with L. Rhamnosus, which is scientifically proven to help support your child's respiratory defenses. Partnered with three balanced meals and an active lifestyle, NIDO 3+ also helps protect them against pathogens in the upper respiratory tract, which causes frequent coughs and colds.
Follow Nido Advanced Protectus 3+ on Facebook to find out more.
ASC REFERENCE CODE: N083P092619N