This Year, Try 'Prime Time' Parenting to Strengthen Your Family's Happiness and Well-Being

It's about establishing evening routines, and it can help strengthen your bond as a family.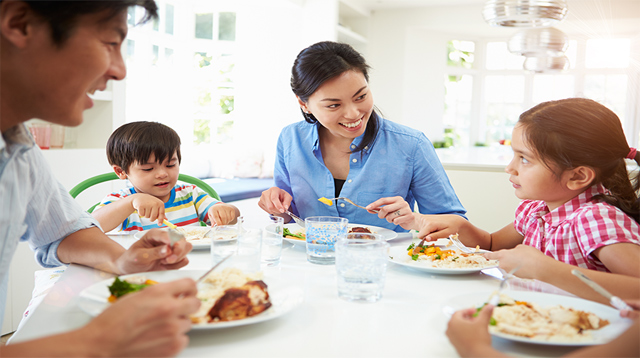 Routines are commonly associated with rigid structures, which for some may feel a bit too constricting. However, several studies show routines are good, especially when it comes to raising children. In a recent article for the Harvard Graduate School of Education, Heather Miller, the director of New York-based education firm LePage-Miller, argues how routines are beneficial.

How routines benefit kids

"It turns out that everyone benefits from a certain amount of daily structure, so long as that structure is pleasant, productive, and meaningful," Miller writes. "Whether it's the most inventive minds in history, or those who live in good health past 100, a daily routine or set of micro-routines is correlated with productivity, health, and longevity."

Routines help children feel safe

Miller proposes that there is a plethora of advantages that children can gain from routines that have been established inside the home. One is that routines can make children feel safe. She argues, "A positive, predictable home routine helps children feel safe and secure. And doing the same things the same way at pretty much the same time each day facilitates the acquisition of skills and knowledge bit by bit, day after day."

Human beings in general commonly have a fear of the unknown, or at the very least, fear of change. This fear is especially prevalent in children. What routines do is make life more predictable for them, as well as help them approach life with a sense of know-how, so that when certain unpredictable changes—like family tragedies and even puberty—occur, children are able to handle them more in stride.

ADVERTISEMENT - CONTINUE READING BELOW

What other parents are reading

Routines help instill responsibility and good habits

One good thing to include in home routines is having children help out with basic household chores, such as washing the dishes or cleaning the table after a meal. Including these tasks in a child's routine can help encourage in him or her a sense of responsibility, which he or she can use even later in life. Eventually, this can also teach a child to become more independent, so that they will be able to handle their tasks even with minimal or no supervision of their parent or guardian.

Aside from a sense of responsibility, routines can also help incorporate healthy habits in them. Simple hygienic practices like brushing the teeth or taking the necessary medicine and vitamins are other great additions to any home routine.

Routines are good for the health

One advantage of having routines is that it can reduce stress levels. Again, since children usually feel fearful of or threatened by change, if they have a routine that they hold on to, the stress that changes can present is significantly lowered—and this can translate to positive effects for a child's immune system.

Parents can also benefit greatly from home routines. Since life can usually get very stressful and overwhelming, following certain everyday routines can help parents feel more in control over their lives, leading to lower stress.

Routines help strengthen family relationships

With parents at work and children at school during the day, finding the time to bond together as a family can pose a challenge. One simple way to help keep those family ties strong is by using routines that revolve around the concept of simply spending time with one another.

ADVERTISEMENT - CONTINUE READING BELOW

Recommended Videos

From reading a story to your kids before they go to sleep to going on quick getaways during the weekends, having traditions as a family is a good way not only to deepen relationships, but also to create joyful memories that will provide you and your kids respite from the stress of everyday life.

What other parents are reading

How you can start a routine at home

In her article, Miller, who authored a book entitled Prime Time Parenting which focuses on developing evening routines that can work for families, shared a two-hour routine that can serve as a good model for any parent who wants to establish a healthy evening routine at home. Here's how Miller's "prime-time parenting" routine goes:

6 P.M.

Spend time talking with your children. Ask them how their day was, and tell them how yours went. Have them start on their homework, and while they're working, begin preparing for your family dinner.

6:30 P.M.

Have dinner as a family. While eating, take the time to chat amongst one another, using conversation starters, such as questions like "If you were free to do anything you want all day, what would you do?"

7 P.M.

After finishing dinner, sit down with your children as they finish whatever homework they still have left. You don't necessarily need to teach them or correct their answers; just be there and encourage them.

7:30 or 8 P.M.

There are children who have to do certain things to help them get ready to sleep, such as taking a bath or reading a bedtime story. Once they feel sleepy, tuck them into bed — this is another great way to let your children feel loved and safe.

ADVERTISEMENT - CONTINUE READING BELOW

Other things you can include in your routine

Of course, Miller's "prime-time parenting" may not work for all families. Here are other activities you can try incorporating in your nightly routine:

Have your kids help out with household chores

Pray with them
Sing them a lullaby
Brush their hair
Cuddle with them before bed

What other parents are reading




Celebrate your pregnancy milestones!


Enter your details below and receive weekly email guides on your baby's weight and height in cute illustration of Filipino fruits. PLUS get helpful tips from experts, freebies and more!

You're almost there! Check your inbox.


We sent a verification email. Can't find it? Check your spam, junk, and promotions folder.

Trending in Summit Network