7 Age-Appropriate Responsibilities That Will Make Your Child Feel Good About Himself

As young as they are, children can be encouraged to help out in the house!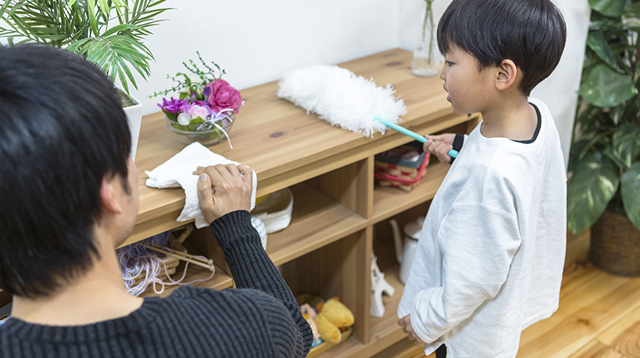 Like adults, children feel special and needed when they are allowed to take on responsibilities. They may be young, but they get excited to help out in small ways at home because they often want to emulate mom and dad. Take advantage of this stage when they are more than willing to lend a helping hand!

Experts encourage parents to assign responsibilities for their kids, so they feel that they have a positive input in the household. In an article on Romper, Dr. Sarah Hornack, a clinical psychologist at the Children's National Health System, says, "Taking on new or helpful tasks presents an opportunity for praise and helps children to feel appreciated as they contribute to the household."

Dr. Hornack continues, "Additionally, learning new chores and being given responsibility builds greater self-efficacy as children get older. This feeling of competence has been linked to other positive outcomes in childhood and adolescence, like academic achievement and the ability to cope with stressors."

If you're not yet convinced, it is worth noting that research has proven how children benefit from being allowed to help out at home even when they are young. For instance, one study from the University of Minnesota found that kids who start doing chores when they are between the ages of 3 and 4 years grow up to have good relationships and successful careers and exhibit self-sufficiency. Then there is also the fact that when children are given a chance to help out, they experience a boost in their self-esteem and develop a sense of responsibility within themselves.

ADVERTISEMENT - CONTINUE READING BELOW

What other parents are reading

Age-appropriate responsibilities to help your child feel good about himself

Of course, you can't expect a preschooler to instantly perform complicated tasks like cleaning the house or run errands. Responsibilities that are appropriate for his age and skill set are most ideal so that he is most able to help out at home.

Let your child clean up after himself

When we accidentally spill our drinks or topple objects onto the floor, it is our responsibility to clean up after ourselves. This is a concept that children need to learn as well. This way, they not only develop a sense of accountability and responsibility for their actions, but they also feel much more reliable and mature when they finish the task. These responsibilities are also ones that even young kids will be able to manage by themselves.

"It is important for parents to consider development and the age of the child when assigning responsibilities; for instance, toddlers can assist with cleaning up their messes or picking up toys," Dr. Hornack tells Romper. So don't hesitate to encourage your child to wipe up his spills or return his toys to their proper storage area after playtime!

Give your child tasks when it comes to pet care

If you have a furry friend at home, simple tasks like feeding the pet or replenishing the water in its bowl can help teach kids, even early on, how to care for another living being. Still, the American Academy of Child & Adolescent Psychiatry (AACAP) reiterates that parents need to oversee their children when they are with the pets, especially because young kids may not yet have the ability to control their excitement or anger.

ADVERTISEMENT - CONTINUE READING BELOW

Recommended Videos

Let your child help tend the garden

Do you have a yard or even a couple of plants at home? It can be a great idea to involve your child in caring for the plants. According to Michigan State University, gardening is not only an excellent opportunity for parents to bond with their kids, but it also involves lots of ways to develop different kinds of skills that are crucial for healthy development. For instance, they practice their motor skills when watering the plants or picking up seeds, they develop their literacy by learning the names of different plants, and they get a lot of exercise and fresh air.

Bond with your child by cooking a meal together

Whether your child is interested in learning how to prepare meals or just wants to be able to contribute to the household, there's no question that cooking is a great way to allow your little one to help out at home. While he might not be able to work alone, including him in the process will let him practice basic math skills like counting and measuring, develop his listening skills as you both follow a recipe, and even enrich his vocabulary. Plus, as Kids Health notes, this activity can help boost a young child's confidence, mainly when their help and efforts are acknowledged.

Make it your child's chore to set and clean up the table

After the cooking is done, you might also want to enlist your child's help in setting the table. Try taking turns: Allow him to lay down the placemats, and once you've put the plate on top of it, he can prepare the utensils. Later, when the meal is done, you can encourage him to take his plate to the sink by himself. These tasks may seem simple, but they are ones he will be able to benefit from as he grows up.

ADVERTISEMENT - CONTINUE READING BELOW

Give your child a job when preparing for for special occasions

When special occasions such as birthdays come up, and you are preparing for a celebration, why not let your child tag along with you when you shop for presents or party favors, or even allow him to take the lead? This is a fun way for him to feel special and that he is making a positive contribution at home. "Kids feel special when they are given a unique age-appropriate responsibility for a special occasion, such as a birthday, wedding, or holiday," Dr. Gene Beresin, executive director of The Clay Center for Young Healthy Minds, tells Romper.

Kids can also be given opportunities on the day of the celebration itself, says Dr. Beresin. "And there are things they can do at special occasions. So making decorations for Mothers' Day or Fathers' Day, or putting the candles in a family member's birthday cake, are special things they can do. They may help clean up the house before guests are coming for a special occasion."

Show your child how he can help care for his younger sibling

When caring for babies, moms and dads need all the help they can get, including assistance from their older kids! For example, if the baby needs a change of clothes or diaper, Kuya can be the one to get a clean set of clothes or a fresh diaper. Afterward, he can also be instructed to throw away the dirty nappy. When the baby is being a bit fussy, Kuya can help in feeding her or giving her a toy. Aside from helping your older child feel special because he can help out, you are also encouraging him to form a deeper affection for and bond with the newest addition to the family.

ADVERTISEMENT - CONTINUE READING BELOW

What other parents are reading

Celebrate your pregnancy milestones!


Enter your details below and receive weekly email guides on your baby's weight and height in cute illustration of Filipino fruits. PLUS get helpful tips from experts, freebies and more!

You're almost there! Check your inbox.


We sent a verification email. Can't find it? Check your spam, junk, and promotions folder.

Trending in Summit Network