School Service Operators Hope Parents Will Teach Their Child These Safety Tips

Does your child's school service have a bus mother?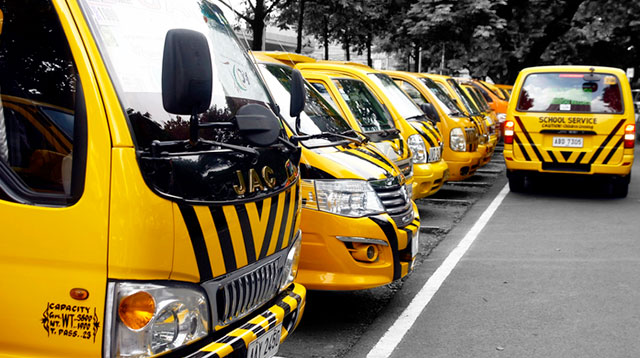 Yes, it is a milestone when your child starts taking the school bus on his own. While we are happy for this new step to independence, it takes a while to admit that, 'Yes, my kid's going to be okay.' 

The doubt stems from the endless 'what ifs' that pops out of nowhere, usually while you are in the middle of work at the office or running some errands for the house.  What if the school bus forgot to pick him up from school?  What if he gets on a different service?  What if there is a bully on the bus? What if the bus stalls in the middle of traffic? What if it turns dark and he's not yet home? What if I can't reach the bus driver? 

Believe it or not, bus operators have thought of the same 'what ifs' and, in fact, know that they have the parents, the school, and the Land Transportation Franchising and Regulatory Board (LFTRB) to answer to if they become complacent at any point in their service. Many bus operators are also parents themselves and know how much you value the safety of your child.

What other parents are reading

 

Talk to your child about school bus safety

It helps to talk to your child if it is his first time to ride without you or a companion. "My daughter was in Grade 1 when she first took the school bus. I told her to follow dismissal time, check her things, and only go with the conductor or driver of the service," recalls Leah Guevarra, mom of three. "Sometimes I would ask for feedback from parents who send their kids to the same school bus, or I would ask my daughter directly how her ride went," she adds. This way, she says, she can get substantial feedback about the bus service.

ADVERTISEMENT - CONTINUE READING BELOW

Patrique Salud, a mother of one, says that his son took the school service once he moved up to Grade 1 in an all-boys' school. "I would always tell him not to play too rough because they are all boys. I told him to tell the bus mother immediately if there are any problems," she says.

"While I trusted the service staff, I always monitored my son's arrivals. I would call the operator every time there was a major delay. But I always made sure that I would only follow up when it was really necessary."

Even with close monitoring, Salud still had a bad experience with their service on one occasion. "My son was made to sit on a stroller bag because the service was so full. He was asked to do so maybe because he was the first to get off and probably one of the smaller ones. As a result, my son got very dizzy. I told the driver not to allow that next time," she shares.

What other parents are reading

Government compliance

The children's safety is a top concern of not just parents but the school, government, and operators. Everyone plays an integral part in ensuring that measures are in place.

Monica Zamora, whose husband Wilfredo Zamora operates a school service that serves students in the Katipunan area, says the LTFRB regularly inspects the vehicles and conducts seminars for the drivers and bus mothers.

"We require our employees to attend said seminars," she says. She adds that LTFRB requires buses to have a dash cam, fire extinguisher, early warning device, medical kit, and standard tools that must be accessible at all times on the bus.  

ADVERTISEMENT - CONTINUE READING BELOW

Recommended Videos

"The schools of the students we serve also demand compliance with the basic LTFRB requirements. They require yearly submission of police clearance, chest X-rays of drivers, and inspection of vehicles. Throughout the school year, seminars are held for drivers and bus mothers."

What other parents are reading

Bus Mothers 

'We drive not fly,' is a slogan Zamora's school service business has adopted. Drivers are required to drive at a safe speed and are monitored by the bus mother.

Bus mothers, in general, play an essential role in checking the overall safety of children. Their tasks include making sure riders are inside the bus, assisting students with their bags and to their seats, ensuring that the child is met at the gate or door by a guardian before they leave, calling parents if the bus breaks down to assure them that another vehicle is on its way for the children.

Dealing with bullies

When it comes to dealing with bullies in the bus service, the operators also have a process in place. Zamora recalls one student-rider who was bullying everyone on the bus. "The parents were informed, but the bullying continued. We had to inform the school concerned. The parents were called to the school, and the bullying stopped. The child transferred to another school the following year."

What other parents are reading

School service safety tips you can teach your child

It helps that bus operators and parents are in sync when it comes to safety rules. "The driver, bus mother, operator, and parents are all partners in ensuring the safety of the child," says Zamora. Here, she shares what parents can teach their child so that bus operators and the home are always aligned.

ADVERTISEMENT - CONTINUE READING BELOW

1. Introduce the driver and bus mother to your child.

Parents should know the driver and bus mother's cellphone numbers as well as the landline of the operator. Tell your child that these are the only people allowed to pick him/her up from the house and the school. If someone else picks them up other than the driver and bus mother, they should be able to inform the nearest adult at their current location.

2. Be ready a few minutes before pick-up time from your house and the school.

A five-minute delay for each rider adds up. Don't be the cause of delay.

3. Observe respect and courtesy.

All students should be respectful to fellow riders and their property as well as to the adults in the vehicle.

What other parents are reading

4. Refrain from behavior that will compromise the safety of other riders.

Children should avoid making loud noises that will distract the driver. Follow the instructions of the driver and the bus mother regarding behavior, safety, and welfare matters.

5. Use the seatbelts/lap belts at all times.

6. Arrange for a responsible adult/guardian to receive your child when dropped off.

A guardian must also stay with the child until he/she is picked up.

7. Inform the driver/bus mother when you make other arrangements regarding the pick-up of your child to/from school.

This way, confusion on both sides is avoided, and more importantly, your child's safety is not compromised.

What other parents are reading

Celebrate your pregnancy milestones!


Enter your details below and receive weekly email guides on your baby's weight and height in cute illustration of Filipino fruits. PLUS get helpful tips from experts, freebies and more!

You're almost there! Check your inbox.


We sent a verification email. Can't find it? Check your spam, junk, and promotions folder.

Trending in Summit Network