5 Powerful Ways to Stop Nagging and Yelling at Your Child

Here are simple habits to practice to build a connection with your child, starting at a young age.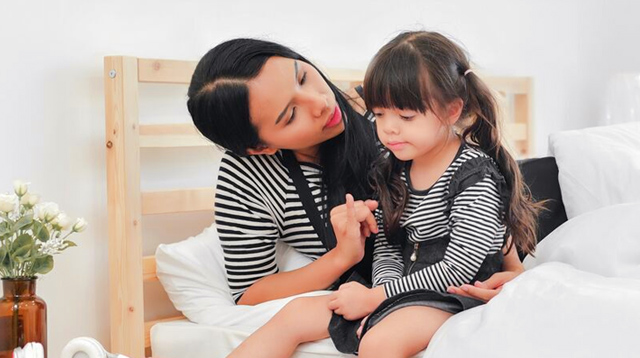 Here's a hard truth: building a strong parent-child relationship takes work. Bridging that gap to connect with your child doesn't come overnight. The good news? You only need to make simple changes when talking with your child every day to build a strong relationship.

It can seem like you're a broken record with the number of times you have to say something just to make your child listen. However, really talking with your child is a different matter. "We spend so much time guiding — a.k.a. correcting, reminding, scolding, criticizing, nagging, and yelling," Laura Markham Ph.D., a psychologist and parenting expert, in an article for Psychology Today.

Parenting cannot all be about making sure kids don't misbehave. You need time for long or quality conversations with your child. So, instead of relying on the weekends, incorporate ways to connect in everyday actions. "The only way to keep a strong bond with our children is to build in daily habits of connection," says Dr. Markham. Below are simple but powerful habits of connection to practice whenever you talk to your child.

What other parents are reading

How to talk to your child beyond nagging and correcting bad behavior

1. Don't just hear the words, listen.

Be consciously present — physically and emotionally, says Dan Mager, a psychotherapist and parenting book author, in an article for Psychology Today. Something that may seem trivial and small to you can already mean a lot to your child, so pay attention.

Make an effort to show your child that you're listening and giving her your undivided attention. "Specific actions — like making eye contact, kneeling down to your child's level and even tilting your head — show your child you are listening," says PBS Parents. "If you can't talk at that moment, you might say, 'Let's talk in a few minutes; I'm in the middle of something.'"

ADVERTISEMENT - CONTINUE READING BELOW

2. Respond — with sincerity!

Responding, either with words ("Oh!") or gestures (such as nodding your head) tells your child that you're not just listening, but you're acknowledging and understanding what she's saying. Moreover, "using verbal and nonverbal cues invites your children to continue speaking," says Mager. 

You can also try repeating back what your child has said or putting her feelings into words. For example, "Oh, a classmate cut in line at the swings? And that made you mad." 

What other parents are reading

3. Ask better questions.

The way parents ask questions can make a big difference, says Mager. Do away with overused and rubbed out questions like "How was school?" Also, avoid closed questions that are answered with "yes" or "no" and leading questions that make your child feel like you're expecting a particular answer ("Did you get a high grade on your science quiz?").  

Instead, aim for open-ended questions. Try, "What's your favorite thing you learned at school today?" or "Can you tell me more about what happened?" 

4. Regulate YOUR emotions — don't overreact.

Stay calm and non-judgmental. Have a conversation, not a sermon or a lecture. "The biggest hurdle to communication in most families is that when the topic is tense, we overreact. If you can regulate your own emotions, you'll find that your child is more willing to open up with you," says Dr. Markham for Aha! Parenting.

What other parents are reading

"Even with a subject that raises everyone's anxiety level, when we stay calm, our child is more likely to stay calm. Not only can we work together to come up with a solution that works for everyone, but our child is more likely to come to us next time there's a crisis," she adds. 

CONTINUE READING BELOW

Recommended Videos

5. Say "I love you" whenever you can

It's true, so why not say it out loud? "Tell children you love them every day, no matter their age," says Robin McClure, a school administrator and the author of several parenting books, for VeryWell. "Even on trying days or after disagreements, parents should make sure children know that although you did not like their behavior, you love them unconditionally."

Celebrate your pregnancy milestones!


Enter your details below and receive weekly email guides on your baby's weight and height in cute illustration of Filipino fruits. PLUS get helpful tips from experts, freebies and more!

You're almost there! Check your inbox.


We sent a verification email. Can't find it? Check your spam, junk, and promotions folder.

Trending in Summit Network