"I Think My Son May Be Gay"

So you've accepted the possibility. Here's how you can support your child (and encourage everyone to follow suit) no matter what.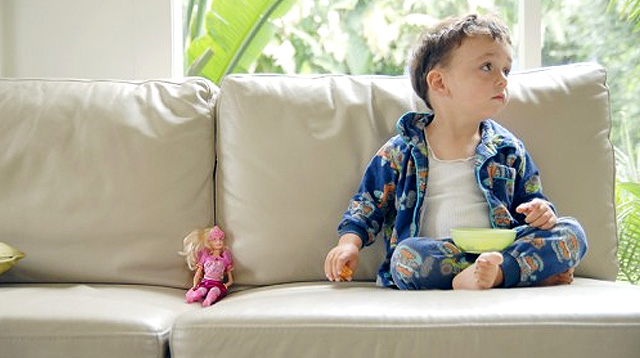 Photo from autostraddle.com

It's not easy being gay in the Philippines. Some parents become so anxious at this possibility that gender-bending behavior in kids becomes a cause for alarm. Blame our traditional society, where roles for men and women are prescribed from day one. Kids who don't play the parts that society has written for them (i.e., boys can't play with dolls, and girls can't do rough-and-tumble play) get admonished by elders or teased by peers.

At the stage when kids are aged six and below, experts are careful to distinguish between "sexual orientation" and "gender conformity" -- the former doesn't kick in until puberty, but the latter is extremely relevant from age zero onwards.

We talked to two experts on gender orientation and lesbian, gay, bisexual, and transgender (LGBT) issues: Maria Theresa "Tess" Ujano-Batangan, Ph.D., a developmental psychologist and professor at the Department of Psychology in University of the Philippines (UP) Diliman; and Eric Julian Manalastas, assistant professor at the UP Diliman Department of Psychology who is an authority on LGBT psychology in the country. Both Batangan and Manalastas believe that the subject of gender provides plenty of lessons -- not just for children, but also (and far more importantly) for their parents and relatives. They answer a few of the most commonly-asked questions by readers:

"I think my six-year-old son is gay. I want to ask him about it. How do I go about it?"
He is much too young for you to be worried about his sexual orientation, which, as Manalastas explains, is "about who you are attracted to, romantically and sexually. This usually manifests only around puberty."

ADVERTISEMENT - CONTINUE READING BELOW

What other parents are reading

Gender conformity, though, starts even before birth; thanks to sonograms, parents can find out their baby's sex long before he is born. "Gender gives structure to the way we live," explains Manalastas. "We have notions about how boys and girls should (act) in society. We send boys to the playground, and we give girls dolls. Anything that challenges this notion may seem disturbing for many. And since most kids who grow up to be LGBT don't necessarily conform to these ideas, it becomes a cause for concern among parents."

If a child shows such signs, should he be pressured to come out? No, says Manalastas. "As psychologists, we don't pressure people to come out. We make the context friendly, so they will want to come out when they are ready."

Instead of pressuring the child, parents should set the stage, "so that when their child decides to come out, he is ready, and it's not going to be a big shock to anyone," says Manalastas. "It might happen, or it might not. It depends on the kind of relationship you want (to have) with your child. If you want to have a close relationship, make it comfortable for your child to express himself in the future."


"My five-year-old boy seems too effeminate. Can he undergo a form of therapy so he can be more masculine?"
No, says Dr. Batangan -- any such therapies do not work as advertised. "'Conversion therapy' doesn't work. It violates the rights of the child," she says. "What do you achieve in the process? You convey to your child that your relationship is conditional. This would lead the child -- if he realizes later on that he's gay -- to become closeted."

CONTINUE READING BELOW

Recommended Videos

She continues, "Being 'in the closet' has a lot of implications when it comes to one's well-being. Those who are closeted would have problems in terms of self-acceptance or their relationships with their parents. It's important that parents are there to provide support."

Children -- whatever their gender -- need input from their parents to sort out the sometimes confusing messages they get from the outside world. "Children want others to provide them with insights that they could consider and reframe in the process of understanding themselves," says Dr. Batangan. "Kung medyo maliit pa ang bata, I would not be that worried."

Dr. Batangan explains that, where the child's gender identity is concerned, jumping the gun has greater risks. "I have met some kids whose parents worry that they might be gay, pero hindi naman sila gay," she recalls. "They're just effeminate. When the parent starts pushing them to confront [their gender,] they get disturbed because that's not their real identity. But because of the stereotypes some parents have, [they are] forced to accept that kind of identity."


"My son's classmates call him 'bakla,' and it makes him sad. What should we do?"
"I think that's a perfectly legitimate sentiment; we don't want our children to be victims of anything," says Manalastas. "Many parents would say, 'I'd rather my child not turn out to be LGBT because he'd bear the stigma once he goes out of the house.' But we can't really decide who becomes LGBT or not. Not even LGBT people themselves can decide."

ADVERTISEMENT - CONTINUE READING BELOW

What other parents are reading

Manalastas brings up a case study: "Ever since the boy could speak and use gender concepts, he's always identified himself as a girl. People started to react negatively and correct him; playmates taunted him, saying, 'Bakla ka talaga,' so he felt that his gender identity was not something that should be shared."

Manalastas says that a serious talk with a loved one proved pivotal for that child. "People outside might not necessarily understand what the child is going through. But when he is at home with his parents, it should be a safe space for him to explore; he shouldn't have to worry about his gender identity. Creating a safe space at home for that kind of exploration is very important."

With the home as a safe place, your child has the freedom "to build on the personal strengths and resources he needs to face that kind of stigma outside," explains Manalastas.

The idea of a "safe space" originated from educators trying to make schools safer for LGBT students. "Safe spaces mean that people are free to explore without judgment," explains Manalastas. "For example, when talking to children about friendship and relationships, remind them that what is important is not the person's gender but your feelings -- and what you do with your feelings."

What other parents are reading

Manalastas adds, "It's also important to highlight the diversity of people. Let them know that family life has many configurations, and they're faced with not just heterosexuality."


"My husband is having a hard time coming to terms with the possibility that our son may be gay. What should I tell him?"
"I've had cases of parents coming to me, bringing their grade 2 and 3 kids for counseling because they were perceived to be gay," recalls Dr. Batangan. "I'd tell them, 'I don't think it is your child who needs counseling; it is you who need counseling.' Why? Because at that very young age, a child is still in the process of defining who he is. And it is the role of the parent to provide opportunities for the child to process all these experiences and to be more open to these roles."

In the end, a change in attitude and values needs to come from the parents, not from the child.
"Sometimes, parents have different values, but as adults, it is important for you to educate yourselves," explains Dr. Batangan. "If you need other people to provide you with information, you could always seek them.

"Based on scientific literature, there's nothing wrong with having a gay or lesbian child. If your values conflict with your child's sexuality, it's time for you, as a parent, to test your values. Those values do change," explains Dr. Batangan.

ADVERTISEMENT - CONTINUE READING BELOW

What other parents are reading

In any case, it's too early to stress over a five-year-old child's sexuality. "It's possible that your child is just mimicking what he sees," says Dr. Batangan. "He's just exploring an element or aspect of his personality." The bottom line for Dr. Batangan? "Whether your child is male, female, gay, or lesbian, it should never be the basis for your acceptance. Anak mo 'yan e."


Growing up gay in the Philippines: A gay man and his mom speak up
If you ask him when he realized he was gay, Pao Soliven, an events sales and licensing representative, would say he has been that way for as far back as he can remember. "I don't recall not ever feeling this way," Pao reveals. "I'm really not inclined to doing guy stuff like basketball. My earliest recollection of life, ganito na talaga ako."

When Pao was about five or six years old, his mom Violeta was already aware that her son was different from other boys. "I already noticed that he had more fun playing with girls, and he loved to dance," recalls Mrs. Soliven.

Violeta tried to separate Pao from his childhood peer group, which had a fair number of boys "who were quite effeminate in their ways," as she puts it -- but to no avail. "Iyon nang iyon ang group niya. So nagsimula na akong makaramdam."

ikaw dapat ang unang makatanggap ng sitwasyon. Kung matanggap mo na, mas madali." Violeta's brother encouraged her to stick to Pao's schedule.

He assured her that Pao would tell her when he was ready. "He told me, 'You don't have to force him to say it. Just let him open up on his own,'" remembers Violeta. The wait was excruciating. "Kailan pa? Naiinip na ako kasi gusto kong makita na masaya siya!"

ADVERTISEMENT - CONTINUE READING BELOW

What other parents are reading

Thankfully, Pao's father was just as accepting of Pao's orientation as was his mother -- although it took a while to convince him. "I asked him, 'Are you ready?' just in case I was right. He said, 'Anak ko 'yan. Mahal ko 'yan. Kahit ano pa 'yan, tatanggapin ko,'" she recalls. "Of course I was emotional. I cried."

Their actions all made sense in light of the Solivens' parenting philosophy: "Our happiness is not a priority, but the happiness of our children. Ayokong kami ang pinasasaya. All out ang support namin hanggang ngayon."

Pao concurs, "My parents made us kids the center of the family; all their attention is focused on us.Titigil ang mundo nila para sa amin." For Violeta, home was always intended to be a safe space for Pao, whatever his gender identity. "Maski anong mangyari sa labas, pagpasok nila sa bahay, secure sila. They know they can be who they are," she explains. "Let them grow as normal people. Because that's what they need: to be comforted; to be engulfed in your arms and in your love, and to know that, anytime, they can come to you."

This article originally appeared in the March 2013 issue of Smart Parenting magazine

Celebrate your pregnancy milestones!


Enter your details below and receive weekly email guides on your baby's weight and height in cute illustration of Filipino fruits. PLUS get helpful tips from experts, freebies and more!

You're almost there! Check your inbox.


We sent a verification email. Can't find it? Check your spam, junk, and promotions folder.

Trending in Summit Network