6 Situations Only Women Caring for Someone Else's Child Would Know

Caring for someone else's child? Here's how to deal with sticky situations without ruining relationships.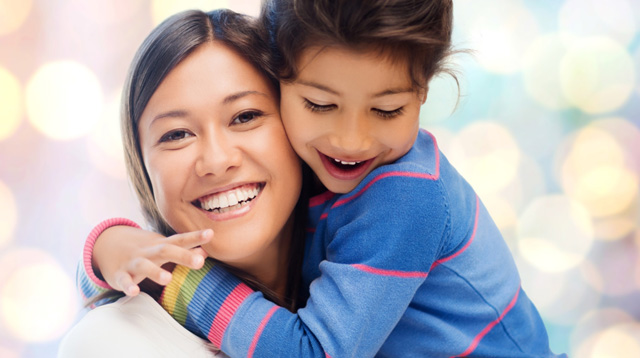 No one will dare contest the fact that being a mother is a tough job. The responsibility of caring for and forming an entire person rests on your shoulders. But what if the child doesn't belong to you -- you're just taking on the job for your daughter, sister, or best friend? Or what if you've found yourself in the role of stepmom? Problems are sure to come up. Learn how you can address them.

Q: "I discipline my stepchild the best way I can, but when her biological mom shows up, everything flies out the window. Help!"

Academic counselor Cathy Soriano is stepmom to 10-year-old Johnny, and she always encounters this problem when Johnny spends school breaks with his biological mother. "Every time he comes back, he's a different kid," she says. "He is disrespectful -- his mom allows him to answer back and yell at her -- and lazy, and says weird words like 'hadded' and 'brung.'

ADVERTISEMENT - CONTINUE READING BELOW

Because Soriano's husband refuses to deal with his ex-wife, she talks to Johnny instead. "I tell him he has to follow my rules when he is under our roof. He can follow his mom's rules when he is with her," she says. "It is not the best solution, but he understands that his mom and I have different sets of rules."

Family therapist and child psychotherapist Bec Yao, Ph. D., says Soriano is on the right track. "No two families are alike, nor are two mothers alike. However, to maintain your sanity, take stock of where you need to be firm and where you can compromise and be a little flexible," Dr. Yao says. You can explain to the child that, in your house, some rules will need to be followed, and show him that it's what's best for him in the long run."

What other parents are reading


Q: "As a stepmom, how do I deal if the biological mom hates me?"

"Sometimes, I cry and think of how much easier it would be had I married a man with no child," says Soriano. "When feelings like these arise, I always go back to the reason why I am in this predicament: my husband. I married my husband knowing he has a son, and I promised to do my best as a wife and mother."

According to Dr. Yao, there really isn't anything you can do about this. "You simply grin and bear it," she says. "You can never replace his mom, not ever." You just have to accept that she is part of the situation you signed up for.

"Remember the children are the collateral damage when couples decide to break up," stresses Dr. Yao. "Studies have shown that a child would be forever scarred by his parents' breakup especially if it occurs during a child's pre-teen years. He will always blame himself, thinking that perhaps if he had been a good child, they would not have broken up."

ADVERTISEMENT - CONTINUE READING BELOW

So if the biological child hates you, just remember that you were given the role of stepmom for a reason. "I feel bad that Johnny has to deal with all this back and forth," says Soriano. "Sometimes I find myself playing an emotional tug of war with his mother. It is unfair that a child has to go through that. It was not his fault his parents' marriage didn't work out."

What other parents are reading


Q: "I am the honorary mom of one child, but I also have a child of my own. What do I do if the rules for my son are different from the rules the parents have for the child I'm caring for?"

College professor Arsenia T. Lozano, Ph. D., is the honorary mom of her youngest sister's daughter. Although she and her sister agree on how to discipline the little girl, problems arise when the daughter turns to her father when she doesn't agree with her mom or aunt. "This is mainly about things that she would like to purchase, which we both feel are not important," says Lozano. "As a mother, I am very particular with priorities in terms of material purchases. I consider the urgency, need, and age of the child. This is the kind of discipline we've instilled in my son, but it is somehow thwarted because of what he sees in his cousin."

ADVERTISEMENT - CONTINUE READING BELOW

Lozano spoke with her brother-in-law and explained that it is best if they present a united front. "My sister, brother-in-law, and I have agreed to discuss matters among ourselves first and come up with a unified stand on concerns or issues about discipline before we communicate it with their daughter," she says.

Dr. Yao admits that you must keep this in mind when dealing with the child who has just joined your home: "You need consistency, firmness tempered with love and understanding, and patience. For example, you may say no to television or computer use during weekdays. However, you can bend the rules a little especially if the child came from a family where rules were nonexistent. This way, you can establish your rules slowly and determine what are negotiable and nonnegotiable for you."

What other parents are reading


Q: "During school affairs that call for mom-and-daughter pairings, I feel left out. How can I as an 'honorary mom' be part of these events?"

ADVERTISEMENT - CONTINUE READING BELOW

You have to convince yourself that you are Mom at that moment. Although you accept that no one can truly replace the child's biological mom, you have been tasked to play that role, so Dr. Yao says it's important to accept and take on the responsibility confidently.

When it comes to mother-and-daughter events, Lozano tries her best to document everything for her sister. "I really feel sad that they cannot be together during these momentous events," she says. "To address this, I make it a point to discuss things with my sister and niece, and get a full coverage of the occasion so it's like she is with us."


Q: "I am single yet I am taking care of sister's kid. How do I set parameters so that I don't neglect my own personal life?"

It will be difficult, but Dr. Yao says you must learn to find time for yourself. "Even a married woman needs time for herself. How much more a single woman thrown into motherhood all of a sudden!"

ADVERTISEMENT - CONTINUE READING BELOW

Dr. Yao's advice is to be very consistent at the start. "The first year is always the hardest because you have to set your rules and be consistent and firm about them. At the same time, you have to show love, patience and understanding." She explains that if you are not consistent about finding time for yourself or setting parameters, boundaries would never be set. "In fact, even when the child is no longer with you, or when he gets into trouble in his adult years, you'll still be part of the situation," she warns.

What other parents are reading


Q: "How do I deal if the child's biological mom does not want him to call me 'Mama,' 'Mom,' or anything that would give the impression that I am also taking on the role of his mother?"

"My husband wants Johnny to call me 'Mom' to show respect, but when his ex-wife found out, she went ballistic," relates Soriano. "She says she is Johnny's only mother and he is not allowed to call me 'mom,' 'mama,' or anything of that sort. Johnny, to this day, calls me Cathy, much to the disdain of Filipino moms I meet in the U.S. His mom always refers to me as 'your dad's wife.'"

ADVERTISEMENT - CONTINUE READING BELOW

Though difficult, Dr. Yao advises that it's not really about what the biological mom wants, but about your relationship with the child. "You have to earn the title from the child. That means you have to be a mother to him -- and more often than not, more than the biological mother ever was. It will be hard and there will be many heartaches and tears. You simply have to brace yourself for those times," she says.

This is an excerpt from the article "Playing mom," which originally appeared in the May 2014 issue of Smart Parenting magazine.

Trending in Summit Network