9 Ways to Get Your Kids to Do Household Chores

Hint: Shouting isn't one of them.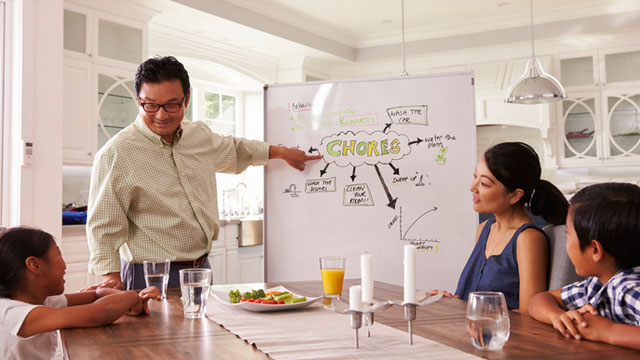 "How many times do I have to remind you to do this?"

"I'm not the only one who should be doing this, you know!"

"Can't you be a bit more helpful here at home?"

I don't know about you, but I have certainly said the phrases above at one point or another in my life as a mom. (Sometimes out loud, sometimes in my head.) 

Being a work-at-home, homeschooling mom of four kids and one baby, with no yaya or helper, can be quite challenging, and adding chores to my seemingly endless to-do list can result in super stressful moments every day.

Thankfully, though, our four older kids (ages 12, 9, 6, and 3) have learned—and are still learning—to be more responsible when it comes to helping out at home—yes, even the three-year-old! So I thought I'd share some tips to help other parents out there, when it comes to kids and chores.

What other parents are reading

How to encourage kids to do chores

1. Set your family's rules and family members' roles when it comes to chores.

It may sound corny but it's true: If you want your kids to help out more, I suggest you have a "family meeting" to discuss your rules when it comes to doing household chores. These may vary per family, but in our home the rules include the following: Remember that when you help with the chores, you are blessing our family. No one is too small to help (except maybe the baby). No complaining when asked to help. Big kids can and should help the little kids if needed.

ADVERTISEMENT - CONTINUE READING BELOW

2. Believe in your child's capability.

Related to number 1, I'd like to borrow this quote from Dr. Maria Montessori, one of the most respected educators of the 20th century: "Children are human beings to whom respect is due, superior to us by reason of their innocence and of the greater possibilities of their future." In other words, children are capable of so much more than we adults usually give them credit for. 

Admittedly, when my three older kids were much younger, I used to think that I shouldn't expect much from them when it came to helping out with chores. But when their two younger siblings came along, you could say I was "forced" to change my beliefs. Now, we let the smaller ones help out as much as they can. Because they certainly can do it!

What other parents are reading

3. Show them how it's done.

It would be unfair for us parents to expect our kids to help with chores if we didn't do them, too. It would also be unfair for us to expect them to do chores properly without us teaching them how to do them. 

Another quote, one attributed to Chinese philosopher Xun Kuang, drives home this point: "Tell me and I forget, teach me and I may remember, involve me and I learn." Let's not just tell our kids to do chores; let's teach them and involve them in helping around the house.

4. Establish a routine or rhythm.

Having a routine or rhythm will help eliminate—or at least lessen—the need for nagging or endlessly reminding the kids to help out. 

ADVERTISEMENT - CONTINUE READING BELOW

Recommended Videos

For example, our older kids already know that once dinner is done, one kid has to babysit their baby brother while the other kid has to help me clean up. Meanwhile, the two younger kids (ages 6 and 3) either help their sibling who is babysitting or help clean up, too. This is because it's already part of our daily routine or rhythm.

What other parents are reading

5. Use chore charts (or something similar).

I must confess that this is something that we have not done consistently, but mean to. I got this tip from Dr. Clarissa Mariano-Ligon, a family life and child development specialist, a few years ago. 

"Chore charts will allow children to remember what they need to do for the day without having to ask you," Dr. Mariano-Ligon shares. "They also get instant feedback and recognition once a check mark or a star is posted on the chart. This then helps boost their confidence and self-esteem, knowing that they were able to accomplish something."

We don't use chore charts (yet) but do use lists sometimes. You can discuss with your kids what would work best for your family.

6. Prepare the environment and provide access.

This is something I learned a few years ago from my mom friends who are followers of Dr. Maria Montessori: It's easier for kids to help out (and be more independent) if you help prepare the environment and set your kids up for success. 

For example: Because we helped prepare the environment for him and gave him access to whatever he needs to help out, our three-year-old can do simple chores like wiping the table, mopping the floor, throwing trash into the trash can, washing clothes using our automatic washing machine, sorting out clean folded laundry, and so on.

ADVERTISEMENT - CONTINUE READING BELOW

What other parents are reading

7. Consistency is key.

Kids will be kids, and there are certainly times when they would rather be playing or reading books than hanging laundry or doing some other chore (especially when it's super hot outside!). In moments like these, we just remind them about our family rules and roles, and our usual routine or rhythm. Dr. Mariano-Ligon emphasizes consistency, too: "When the children know that you expect them to do a specific chore at a certain time of the day, it will become part of their routine / system, and eventually it will not feel like a chore anymore."

8. Allow margin for errors.

Don't stress too much if the kids make mistakes, especially when they are learning to do new chores. Remember and review tips 2, 3, 4, 6, and 7 mentioned in this article. And believe it: Your kids will eventually get better at doing their tasks. (Ask me how I know!)

9. Affirm your child.

This is another helpful tip I got from Dr. Mariano-Ligon: "When your child helps with chores, recognize the effort they put in, no matter how small it is. Knowing that you appreciate what they did will motivate them to do the chore again the next day." My husband and I try to do this with each child daily. At night, before or after our bedtime prayers, we thank them for helping out during the day. 

Do your kids help with the household chores, too? Or maybe you have your own tips to share with us. Let us know in the comments.

ADVERTISEMENT - CONTINUE READING BELOW

What other parents are reading

Celebrate your pregnancy milestones!


Enter your details below and receive weekly email guides on your baby's weight and height in cute illustration of Filipino fruits. PLUS get helpful tips from experts, freebies and more!

You're almost there! Check your inbox.


We sent a verification email. Can't find it? Check your spam, junk, and promotions folder.

Trending in Summit Network