8 Essential Abilities a Child Needs to Build Good Character

A developmental psychologists identifies the key skills and traits in order for our kids to be good, productive, and successful citizens of the globe.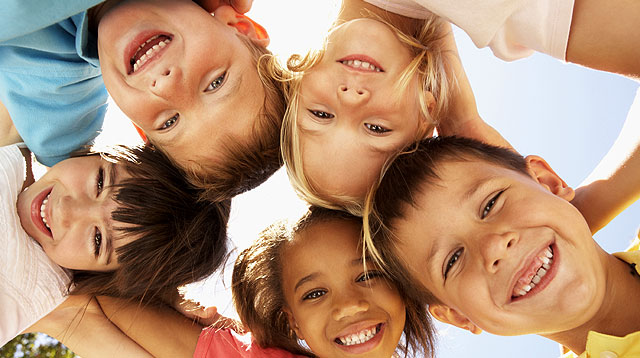 It seems that life today is more complicated than it was when we were kids. Over the years, we've seen social problems grow into issues that shape how the youth thinks. Shifts in beliefs, ideologies and principles are not bad -- in fact, change is constant. But, in order for our kids to successfully navigate those changes, they need to have a set of life skills and core values. And the responsibility to raise a generation who cares for the world lies within all of us. (Just to add, according to psychologist and healing therapist Peter Levine, parenting can also be seen as a shared responsibility with schools, political institutions, the press, and communities.) 

Marilyn Price-Mitchell Ph.D., developmental psychologist and author of Tomorrow's Change Makers: Reclaiming the Power of Citizenship for a New Generation, details what she calls the compass advantage or the eight core abilities that will give our children an advantage in life to make a difference in the world and future generations.

Empathy
Empathy is our ability to recognize and respond to the needs and suffering of others. In order to do that, we need to instill compassion and kindness, two traits that seem hard to come by nowadays even in grown-ups.

"Children learn compassion through many experiences, including caring for the family pet. But children who participate in programs that teach kindness, respect, empathy, and compassion and who have families that reinforce those strengths at home develop the muscles they need to become civically-engaged adolescents and adults," writes Dr. Price-Mitchell.

In order to provide learning opportunities, you and your child have to go out there and expose him to different experiences and people so it's not all "me" attitude. There is no shortcut. 

ADVERTISEMENT - CONTINUE READING BELOW

What other parents are reading

Creativity
The short answer to how you can instill creativity in your child is to let him or her play and have fun. It sounds simple, and yet some parents find it hard to do (or have a different idea of fun). Research has already proven the many benefits of play to a child. It's their way of learning and coping with their new environment: the world.

"Children are likely to share and talk when their imaginations are active and when they are engaged in fun, playful experiences. Toys are their words, and play is their first language," writes Brenna M. Hicks, Ph.D., a licensed mental health counselor who specializes in play therapy.

Playing with kids also helps them develop an emotional vocabulary, as you help them identify their feelings and put them into words. "The more freely children are encouraged to play, the better they are able to access their imagination and immerse themselves in the fantasy and fun of play time," Dr. Hicks adds.

What other parents are reading

Curiosity
Intellectual curiosity and lifelong learning is not about school, grades, or test scores. It is wanting to learn and acquire new knowledge or skills and ways of understanding the world. "Because they sense a gap between what they know and what they want to know — not because they are motivated by grades," Dr. Price-Mitchell says.

How can do stimulate your child's curiosity? Encourage your child to ask questions; don't shoot them down. You can offer to help, but you should let your child do his own homework. Each child learns differently so work with his learning style, even if it's different from your own. Reward curiosity and let your child know you value not just his school work but also, for example, the way he explores an interactive museum. Discuss current events, help him discover his heritage, and engage your child and listen to how he or she views the world around him.

CONTINUE READING BELOW

Recommended Videos

What other parents are reading

Resourcefulness
Being entitled can be roadblock to learning this ability. Teach your child that everything cannot be perfect all the time. Sometimes, they have to work hard for it, and make do with what's available to them. Having less should not stop them from achieving their goal. Put premium on the process, not the result. Help your child focus on learning from his or her mistakes than the failure. It's but only another opportunity to get up and do better. Help them manage their expectations. This should apply to parents, too, for the desire to give our kids the best can sometimes be detrimental to their overall healthy development.

What other parents are reading

Sociability
This is the effort one exerts to interact and work well with others, understanding and expressing feelings and behaviors. It involves developing skills such as self-regulation, active listening, cooperation, and effective communication. Research has proven that positive social interactions is what helps children "make the invisible visible, cross boundaries into new spheres of learning, and initiate thoughts and feelings that help them chart pathways through life," Dr. Price-Mitchell writes.

How can you do this: Love and respect your child and use positive discipline strategies. Model emotional intelligence, which includes managing your anger and having a good relationship with your spouse. Create family social traditions and limit screen time for the whole family. These efforts give your child the opportunities to create relationships with other grown-ups and kids.

What other parents are reading

Integrity
This cannot be taught by spoon-feeding your child. Steve Reifman, a teacher and author of Changing Kids' Lives One Quote At A Time: 121 Inspirational Sayings To Build Character In Children, has developed a simple way to build character integrity in kids. His book's quotes and talking points can be a guide for parents when engaging their kids in conversation. He recommends that parents choose a quote once a week and discuss it as part of their daily or weekly family routine, whether during a family dinner, on the way to school or before bedtime. "Begin by having children read the quote aloud and then provide the child with 30-60 seconds to think about the quote's meaning and relevance. Then, they should ask the child to share his or her thoughts," Reifman suggests, adding that it works for children of all ages.

ADVERTISEMENT - CONTINUE READING BELOW

What other parents are reading

Resilience
Life is full of ups and downs, and it is a hard concept to teach to our kids. During troublesome times, "the best way to [have patience]... is by using parenting strategies that bring out the best in your child," writes Ann Douglas, author of numerous parenting books, including Parenting Through the Storm: Find Help, Hope, and Strength When Your Child Has Psychological Problems.

Ask yourself, "What does my child need from me right now?" and focus on the things you can do to help rather than dwelling on the emotions. An issue of no consequence to you may be a big deal for your little one, so let him express his feelings and help him figure out for himself what he can do something about the situation. 

What other parents are reading

Self-awareness
The busy world is full of distractions, but it's important to share with your child a habit of looking into oneself: to reflect on their thoughts or actions and having a positive outlook.

Dr. Price-Mitchell explains, "Self-awareness is the capacity to see ourselves as uniquely different from other people. It involves knowing our own minds, feelings, bodies, and sensations enough to promote and sustain our physical, social, and emotional health. Through reflection, we gain self-awareness and make meaning from our experiences."

However, for renowned psychologist John Dewey, it's not enough to experience; you also have to process it. Ask your child what he thinks about a particular experience and observe any change in attitude, ask how it made him feel, and why does he think he felt that way. Be open to the kids' own thoughts and suspend any judgement when they open up to you, and listen to what they have to say. Discuss responsibility and how their actions affect the bigger picture.

ADVERTISEMENT - CONTINUE READING BELOW

All these abilities work hand-in-hand to honing your child's success in making a difference in this world -- and it is possible. How you interact, talk, or deal with your child every day is key. It's the little things that count. 

What other parents are reading

Celebrate your pregnancy milestones!


Enter your details below and receive weekly email guides on your baby's weight and height in cute illustration of Filipino fruits. PLUS get helpful tips from experts, freebies and more!

You're almost there! Check your inbox.


We sent a verification email. Can't find it? Check your spam, junk, and promotions folder.

Trending in Summit Network