How I Make It Through a School Year With 2 Kids and Zero Help

This mom's advice: the superpower lies in having a system.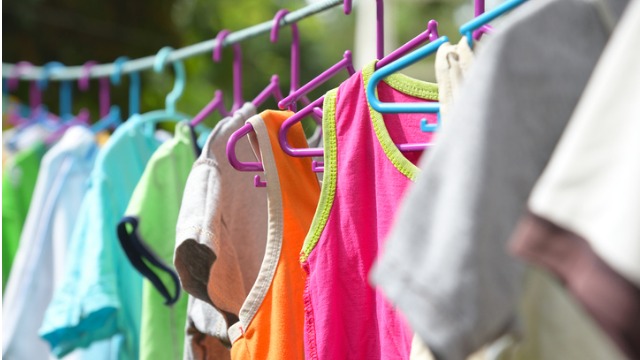 How do you survive the school madness when you don't have a maid? The short answer: coffee. But seriously, it hasn't been easy. I wake up to make baon at 4 a.m., then cram housework, errands, and work deadlines before the kids come home from school. Every day, there's a new challenge: stains on their white uniforms, last-minute costumes.

If you're in the same position — no maid, no time, no energy — I have this advice: don't be a supermom, have a system.

What other parents are reading

How to survive without a yaya or maid

It is impossible to do everything yourself. You'll just get burnt out and irritable, and you deprive your kids a chance to realize that running a house is a family's job, and not only yours. Below is the system that worked for me, but go ahead and make your own! Add your personal tips in the comments section – they may be precisely what another mom needs to hear this back-to-school season.

The Hamper Rule

I got tired of picking up dirty clothes scattered all over the house. Laundry day shouldn't be a scavenger hunt. If it's not in the laundry hamper, I don't wash it. They can explain to their teacher that they didn't come in uniform because they couldn't remember what that big, bright neon pink plastic thing was for. 

The 2 p.m. cutoff

No more last-minute trips to the bookstore! If my kids don't tell me what they need before 2 p.m. the day before, I don't buy it. They have to buy it or figure out a way to get it before the next class. 

ADVERTISEMENT - CONTINUE READING BELOW

Someone asked me, "What if they say the teacher only said it right before dismissal?"  Most teachers won't do this unless it's something readily available – the usual bond paper, Oslo paper, art paper, illustration board, markers. I usually have these stocked at home. Otherwise, they can get it from the school bookstore after dismissal. (Give them emergency money to keep in their bag.)

What other parents are reading

The Messaging System

I hate it when my kids blurt out random shopping lists or school announcements in the middle of dinner, and then expect me to remember it. My mom brain can only handle so much. So I require them to write it on the kitchen whiteboard or message me on our family group chat. Then I can take note of it when I'm not distracted or dead-tired, and pencil it into my own calendar. 

The Homework Rule

I used to be super involved in my kids' homework but realized that they were getting too used to someone rushing in and simplifying things for them. So I've stepped back. If they don't understand something, they can research it themselves – Youtube and Google are full of tutorials and worksheets.

Sometimes their homework is wrong, and I think it's okay. Our kids are growing up in the Internet Age, so learning how to find information and double-check the facts are fundamental skills. Doing homework alone is the best way for them to practice that.

What other parents are reading

The Baon System

Most of the time, I make a lot of dinners and pack them the leftovers for their lunch. But if I don't have leftovers, I have a Plan B.

CONTINUE READING BELOW

Recommended Videos

On weekends, I pre-cook about 2 kilos of ground meat: saute with garlic, onions, and a little bit of cooking wine to get rid of the gamey smell and taste. I divide that into baon-sized portions and freeze. That can now become the base for a lot of easy baon recipes — tacos, quesadillas, picadillo, torta, bolognese, baked macaroni, etc. I always have chicken thigh and breast fillets that I can make into tonkatsu, bake in the turbo broiler, or turn into a hearty chicken sandwich.

But when things are really crazy, and I have nothing in the refrigerator, I pass by the convenience store on the way to school. They always have chicken meals or other lunch sets, and they're open even at 5 or 6 a.m.

What other parents are reading

The Costume Rule

Any costume that needs a concept, sewing, and ironing needs at least 1-week notice. If they don't tell me, then they're stuck with whatever I can find in their closet.

Technically, I have a suki modista who can do the job in three days if I beg her, but I don't tell my kids that. I think this teaches them about timelines, working with suppliers, and troubleshooting. 

Once, my daughter complained that her group mates chose the costume (very complicated and hard to find) and decided in the last minute. I told her that she should've spoken up or taken the lead, or helped them think of a costume that was easy to assemble within the timeframe. It's an excellent way to develop leadership and negotiation skills that they'll need later on in upper grades and at work.

ADVERTISEMENT - CONTINUE READING BELOW

The Chore System

The kids help out at home – no ifs, buts, or maybes. They can't say they're tired because so is everyone else. In the States and other countries, only the wealthiest families can afford a full-time maid. Even in the Philippines, there are millions of kids who sell Sampaguita or help their parents on the farm or fishing boat because that's the only way to survive. They can't feel sorry for themselves just because they have to wash dishes.

On school days, they have specific tasks: setting the table, doing the dishes, feeding the pets, taking out the trash. They know how to cook rice and make their own sandwiches, noodles, and eggs. When I'm really busy with work (or I am down with a migraine) and can't cook, they will boil spaghetti and heat instant sauce. Voila, dinner is served.

What other parents are reading

The Reward System

As an incentive, I do pay them for their chores, and they get bonuses for taking on other jobs like mopping or giving the dog a bath. Technically I spend what I would have on a maid's salary, but I am giving it to my kids along with a valuable lesson on independence and responsibility.

Life 101

I started my system a year ago. It's not easy or perfect, but it's been working really well. I don't feel overwhelmed, and my kids are noticeably more mature and responsible. Even their teachers have commented that they speak up more in discussions and take more prominent roles in group work. They also seem more confident when they speak. I think when you start treating your kids like little adults-in-training instead of babies, they surprise you with what they can really do.

ADVERTISEMENT - CONTINUE READING BELOW

Dedet Reyes Panabi was editor-in-chief of a parenting magazine for seven years, then quit to work from home and spend quality time with family and Netflix. She now works from home as a digital communications and social media manager for a multinational. (Or has her son described it on Career Day, "My mom's on Facebook the whole day.")

What other parents are reading

Celebrate your pregnancy milestones!


Enter your details below and receive weekly email guides on your baby's weight and height in cute illustration of Filipino fruits. PLUS get helpful tips from experts, freebies and more!

You're almost there! Check your inbox.


We sent a verification email. Can't find it? Check your spam, junk, and promotions folder.

Trending in Summit Network