5 Books That Show Lolos and Lolas Are the Best at Giving Love

On September 9, and everyday, let's not forget to remind our grandparents how much we appreciate them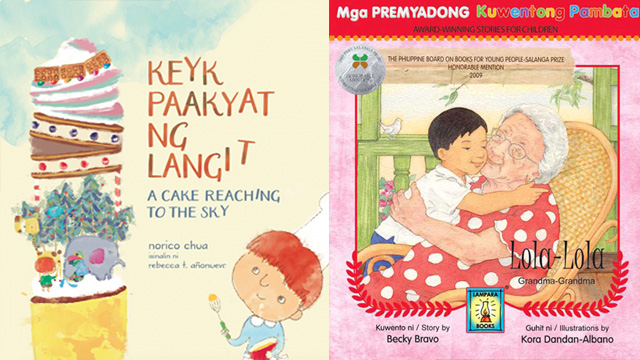 It is said that grandparents have the best of both worlds because they can enjoy the company of their grandkids without being the ones primarily responsible for them. Some say being one is another shot at getting parenting right. Whichever the case may be, one thing is for sure: lolos and lolas only have infinite love for their apos.

On Sunday, September 9, we celebrate Grandparents' Day in the Philippines. How about reading a book or two with our young kids that will make them appreciate their lolos and lolas more? Start with these:

Lola-Lola 

Becky Bravo / Kora Dandan-Albano, Php84.75, Lampara Books

The book teaches young kids to look for ways to be helpful to their gradparents who, in their old age, are unable to do things like talk and see clearly or keep up with their young grandkids when walking. Lolos and Lolas may lose their sense of sight and hearing, but their love for their grandchildren never ceases.

ADVERTISEMENT - CONTINUE READING BELOW

Keyk Paakyat ng Langit 

Norico Chua / Rebecca T. Añonuevo, Php175, Tahanan Books

A young boy who loved to eat cake with his grandma finds himself confused when she dies. His young mind does not understand why his Lola suddenly disappeared and is puzzled by people's explanation. "Nakaturo ang mga tao sa langit at ang sabi ay naroon siya." So he could see his Lola again, he makes a ladder out of cakes and sweets in the hopes that it will reach high up in the sky.     

This picture book, designed to be read from the bottom up, could be helpful when talking to young kids about the inevitable passing of their grandparents.

 

CONTINUE READING BELOW

Recommended Videos

Si Lola Apura at Si Lolo Un Momento, Adarna House

I.S.A. Lopez / Vanessa Tamayo, Adarna House

This heartwarming short story talks about an elderly couple — Lola Apura and Lolo Un Momento — who are exact opposites yet complement each other perfectly. Where she is fast and accurate, he likes to take things slow. He's big and burly, while she's small and lithe. But their strengths match each other's weaknesses, and that is why they've loved each other unconditionally all these years. 

Watch the story come alive in the video below:

What other parents are reading

Muling Magbabalik Ang Perya

Eugene Y. Evasco / Jonathan Rañola, 84.75, Lampara Books

The young boy in the story grew up spending idyllic summers in his grandparents' home in the province where he would frolic in the river and listen to his Lolo's endless stories of adventure. But the one thing he looks forward to the most each year is going to the neighborhood fair with his grandfather and their dog Bruno. This summer, however, his Lolo was gone, and so are his hopes of ever returning to see the circus.   

ADVERTISEMENT - CONTINUE READING BELOW

May Mga Lihim Kami ni Ingkong

Luis P. Gatmaitan, M.D. / Beth Parrocha-Doctolero

Peping has always had a special relationship with his lolo, him being the favorite grandson, but when Lolo started to live with them, he began noticing that his grandfather seemed to behave like a different person.
Because he loved his lolo, he didn't have the heart to tell him whenever he would forget to turn off the faucet, or when he accidentally peed on his pants. Peping kept it a secret, because he knew his Lolo would get chided by his mom if she learned about it. As time went by, Lolo also could not recognize him anymore. He thought it was unfair that "Lolo had already left without saying goodbye." Though it ends on a sad note, this story tackles dementia in old people in an endearing manner. 

 

ADVERTISEMENT - CONTINUE READING BELOW

I Love You, Mamita

Maan del Rosario / Darwin Alcazar, P150 

Every child has a special name for his grandparents. Yet no matter what you call them, nothing sounds as nice to them as when their grandchildren tell them "I Love You". This book is a great reminder of how we should always tell the people we love how much they mean to us.

Trending in Summit Network