Dad and Proud: 7 Real Men Who Are Their Family's Superheroes!

Fathers will do anything to be the best dads for their kids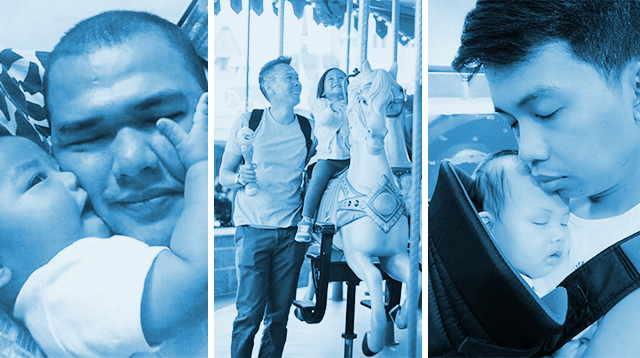 Dads sometimes get a bad rap when it comes to parenting because people tend to think that their main responsibility is to be the provider and be their child's playmate while mom takes care of all the other tasks (who then get exhausted in the process). But guess what, more and more men are stepping in to take over child care and they actually enjoy it!

We asked our readers and members of our Facebook group Smart Parenting Village to send reasons why they think their husbands are #SuperheroDads, and unsurprisingly, many wanted to share their stories. From doing their share of parenting duties, setting aside their pride, and doing odd jobs just to provide for the family, wives (and even their children!) spoke with pride about the lengths that the men in their lives go just to be the best father for their children. Truly, a dad's role is just as essential as mom's.

Here are seven of those inspiring stories in their wives' and children's own words:

What other parents are reading

1. Dads don't hesitate to take over parenting duties even when they're exhausted from work.




ADVERTISEMENT - CONTINUE READING BELOW

I took this photo while we were out for dinner. My husband, Dennis Bacarisas, was carrying our 5-month-old son, Luke, and was resting his eyes while we waited for our food. He was tired because he was on the graveyard shift the night before.

My husband is a superhero because he's selfless, caring, and thoughtful. He cooks breakfast for us and prepares warm water for my bath. He even makes packed lunch for me! He does all of these these, so I can have more time to sleep since I breastfeed our baby. After I am off to work, he's the one who takes care of Luke. He will bathe him and play with him. My husband also makes sure that Luke's milk is ready before he goes to sleep. — Sky Bacarisas

What other parents are reading




We are currently here in Germany because Daddy is working here as a nurse. He always takes good care of me, my sister Sepphora, and my mom, Joy. He bakes and cooks for us. He bathes us and styles our hair. He cuts our nails and even puts on nail polish! He does all these even if he is already tired from work. Life is so much easier in the Philippines, but we chose to stay here to be with Daddy. He made a lot of sacrifices for us so we should be able to spend our childhood with him. That's why he is our superhero! — Sapphira Audree Cepriaso

ADVERTISEMENT - CONTINUE READING BELOW

Recommended Videos

What other parents are reading

2. Fathers know when to put family first.




Last August 2017, our youngest son's left eye was accidentally hit by a classmate. After several tests and laboratories, our son, Rav, was scheduled for an operation. I emailed my husband, Randy Alarcon, an OFW, and told him the current situation. Though I knew he couldn't be with us physically, his emotional support was enough to make me feel less worried.

My son's surgery happened on October 24. I was in constant communication with my husband until the operation was over. Midnight came and someone knocked on my son's hospital room. It was my husband! He told me he made an emergency leave but did not tell me because he wasn't sure if it would be approved. His company was kind enough to send him home. He flew for a total of 18 hours, restless and with little sleep just so he could be with our son.

This candid shot was taken in the morning — our little boy couldn't contain his happiness upon seeing his dad. Truly parents love their children unconditionally. — Vennice Alarcon

ADVERTISEMENT - CONTINUE READING BELOW

What other parents are reading

3. Daddies set their pride aside for their kids.




This picture was taken two years ago in Doha, Qatar, when we were still residing there. My spouse, Carlo Magno Batin, was a house husband for almost three years while I was working as a nurse. It wasn't an easy task for a man to stay at home and look after the kids. But somehow, he managed it with a smile on his face every single day. My daughters Chelsea and Caelin adore him so much. — Jennelyn Batin




ADVERTISEMENT - CONTINUE READING BELOW

I just want to share one of the most beautiful pictures of my husband, Michael Mc Murray, and son, Matthew. He's a superhero dad for me because right after my son was born I just stayed for a month and left to work as an OFW here in Saudi Arabia. I just want to honor him for all the sacrifices he makes, and I want to let him know that I am proud and grateful that he is taking care of our baby full-time. —Hazel Mc Murray

What other parents are reading

4. Fathers will do anything to provide for the family.




I can count from my fingers the number of Sundays that we are able to spend together as a family. Right after we attend church, my husband, Roy Capulso, will go to work because Sundays are when most men will have their haircut. My husband is a barber, and we are proud of him because his work is not only a 10-hour job; it's also about building a sincere relationship with his clients. Since we do not have Sundays as family day, Roy makes sure every Tuesday, his day off, is bonding time with our kids, Ury and Riona. — Rona Capulso

ADVERTISEMENT - CONTINUE READING BELOW

What other parents are reading

5. Dads step up and take charge.




This picture was taken in March during our first out of the country trip as a family in Hong Kong. It was just the four of us. We didn't bring our yayas so my husband Justin Jimenez really helped me with our two daughters, Sophia and Natalie. He helped me feed them and even gave them a bath. He read them bedtime stories and put them to bed. For this trip, he did all the planning and painstakingly researched our itinerary. He did these all because he wanted to make them the happiest girls in the world. To us, he is the best dad. —Richlyn Jimenez

What other parents are reading

Celebrate your pregnancy milestones!


Enter your details below and receive weekly email guides on your baby's weight and height in cute illustration of Filipino fruits. PLUS get helpful tips from experts, freebies and more!

You're almost there! Check your inbox.


We sent a verification email. Can't find it? Check your spam, junk, and promotions folder.

Trending in Summit Network