A 'Dad' Opens Up About Miscarriage: Husbands Feel the Loss, Too

"A miscarriage is not just a woman's affair. It is both the husband and the wife who lost the child."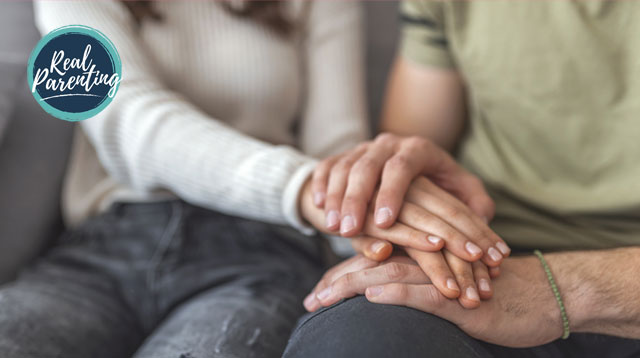 Happy Father's Day to me.

Technically, though, I'm not yet a dad. Or technically, I am a dad. It's all a bit confusing, so let me explain.

We had a miscarriage, see. Twice. In less than a year.

My attitude before was I would use the pronoun "she" when referring to a miscarriage. It was, after all, only the woman who miscarried. What does the male have to do with a miscarriage, anyway? Turns out, everything.

I married my wife in the tail end of 2016. A year later, she was pregnant. But we lost the child in December 2017. He (although the fetus was technically still genderless, I don't like calling it an "it," so I like to imagine it would have been a little baby boy, so I say "he") was 10 weeks old.

My wife is a very sensitive woman. Her sensitivity borders on something like an X-Man mutant superpower. She can read me like no other person can – my body language, my facial expressions, my voice – and these things she can read with great accuracy. She knows if I'm hiding something, she knows if there's something I'm not telling her.

That said, when we got married, it wasn't exactly unicorns and rainbows for us. We've been together a very long time, so the so-called "honeymoon stage" didn't really apply to us. We still have fights, and these fights are mostly my fault because I tend to cause her a lot of stress.

What other parents are reading

I've encountered a lot of articles about cancer and sickness, and I've read more than one doctor state that the number one cause of sickness is – drumroll – stress. So after the first pregnancy test we took, which turned out to be positive, the stress should have ended there, right? But it didn't. I still got my wife worried, I still got her angry, I still got her mad, and all these caused stress. Because of her hypersensitivity, what I thought was just a little stress was actually a lot. It was enough to kill my unborn baby boy.

ADVERTISEMENT - CONTINUE READING BELOW

A miscarriage will either make your marriage stronger — or tear it apart.

So that's that. It's a sad event in a person's life, losing an unborn child. I got the random condolences and pats on the back from people who cared. I even got some great advice from my boss who has three sons but lost all her would-be daughters to miscarriages.

"A miscarriage," she told me, "will either make your marriage stronger, or tear it apart. So be careful what happens from this point on."

Fast-forward to six months later. June 2018. We took a pregnancy, which again turned out to be positive. And same as before, the stress I gave my wife didn't stop there. And so after 11 weeks, we once again lost this fetus. This unborn one I'd like to think would have been a daughter.

So there you have it. Two miscarriages six months apart. If it is only the woman who miscarries, then why am I so devastated?

This made me question everything in my life then. So many possibilities and scenarios played in my head. Are my genes inferior? Is my DNA actually still worthy of being passed down? Is this my karma?

When I married my wife, she was a single mother. I've known her son Dylan ever since he was 3 years old, and I've been his father figure for most of his life. He is technically my stepson, yet I call him my son. He still calls me Tito GP, though, only because he finds it awkward to change what he calls me at this point in our relationship, although when talking to his friends in school, he calls me his dad.

ADVERTISEMENT - CONTINUE READING BELOW

Recommended Videos

Even before I got married, I've already thought that Dylan and the two miscarriages were my karma. But now, I'm starting to think that Dylan is actually a blessing, I don't really know the inner workings of the Universe, and though I spend a lot of time contemplating these things, it can get really depressing just thinking about it.

A miscarriage is not just a woman's affair. It is both the husband and the wife who lose the child.

My entire point really is this: a miscarriage is not just a woman's affair. It is both the husband and the wife who lose the child. Although it is the woman who goes through the physical side of it, it is the husband's duty to share in the emotional and spiritual side of it. Both husband and wife go through with it, both of us endure it, and both of us get past it.

What I've always wanted is to have Sagittarius twins born in December. Sometimes I like to imagine the miscarriages as the Universe's way of telling me, "Not yet. It's not yet time. You still lack the emotional maturity for one child, let alone twins." But maybe now, after everything I've written, the Universe considers this my catharsis, and hopefully gives us the twins I've been praying for.

Am I a father? Technically no, but technically yes. To everyone out there with a similar or the same story as mine, even if they choose it to remain untold, I greet you all a Happy Father's Day.

What other parents are reading

Celebrate your pregnancy milestones!


Enter your details below and receive weekly email guides on your baby's weight and height in cute illustration of Filipino fruits. PLUS get helpful tips from experts, freebies and more!

You're almost there! Check your inbox.


We sent a verification email. Can't find it? Check your spam, junk, and promotions folder.

Trending in Summit Network