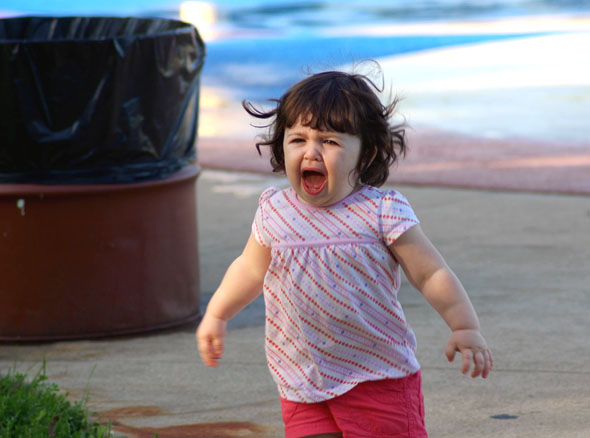 Photo: flickr/Matthew Hale. Color edited.

Temper tantrums are one of the most troublesome and frustrating aspects of parenting. To get what they want, like that new remote-controlled robot or ice cream before dinner, toddlers will be inconsolable, inconsiderate, screaming and sprawled out on the floor. No doubt, it's difficult to be a parent during situations like this.

"The easiest thing is to give in, to do anything to stop the insanity. Intellectually, we know that's not good, because it reinforces bad behavior. Practically speaking, it's much harder to stand your ground. Harder, but not impossible," Dr. Mehmet Oz, bestselling parenting book author and vice chairman of surgery at New York Presbyterian-Columbia University, said in a PopSugar article.

He shares five strategies to overcome that titan of a tantrum:

1. Be a good role model.
Children are big mimickers. When they see you lashing out, whether it's at him, at your spouse or at other people, he's most likely to think that this kind of behavior is acceptable. Stay calm and collected whenever possible, even during those temper tantrums. "His mirror neurons will kick in, and over the long run, you'll likely have far fewer public displays of destruction," said Dr. Oz.

2. Stop it before it starts.
"The truth is that tantrums are surprisingly predictable: they often happen when kids are overtired, overstimulated, or hungry," said Dr. Oz. Take cues from your child and learn to predict his tantrums. Nip them at the bud when they're easier to handle.

3. Set boundaries.
During a tantrum, it can be difficult to say no to your child. Parents just want to get tantrums over with and saying yes is the easiest route out.  However, "kids need boundaries for many reasons, and they need to know 'no'", said Dr. Oz. He also advises parents not to say the N word directly. Your child might lash out even more. Find your way around it. Try using logic: "It's not healthy to eat chocolates before dinner."

Related: Positive Disciplining: How to Say No Without Saying "No"

 


Source:
July 11, 2015. "Dr. Oz on How to Deal With Temper Tantrums". popsugar.com