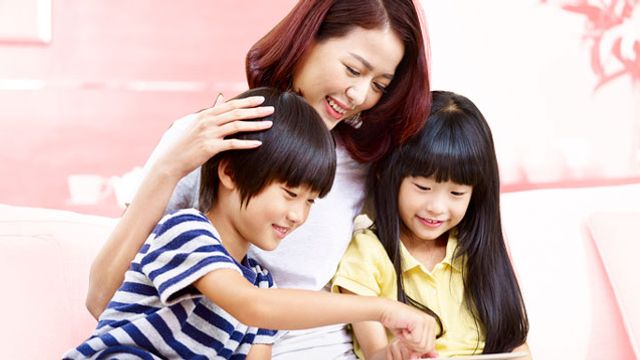 A passionate mom to three children, Janice Crisostomo-Villanueva is an advocate of parenting and mom-entrepreneurship in the Philippines. She is the founder of MommyMundo.com, a resource portal and community of moms, as well as its lifestyle event, Expo Mom, which goes all over the country. Janice is also half of the management team behind Creative Juice, an events management and communications agency which she runs with her husband Gary. Below is a letter she wrote for her three kids.
Dear Coby, Zach, and Reese,
By now you guys must know how much your dad and I love the three of you, how you are the center of our lives, and how being your mom and dad is our favorite roles to play. Now that you are 19, 17, and 10 respectively, no longer babies or toddlers needing our full attention and care, we're able to enjoy your company more as individual personalities. So far, you never fail to amaze us, entertain us, make us laugh, make us proud, and bring us joy.
Time really has flown by. Even if we had the privilege of being ever present in your lives due to our flexible schedules as entrepreneurs, you guys just grew from adorable infants to the tween, teen, and grown-up you are today in the blink of an eye. Looking back on your formative years, I can't help but think of all the memories we've made together. Some stand out more than others such as...
How I found out you were growing in my tummy
With Coby, our honeymoon baby, the whole family (clan) rejoiced with the news. With Zach, I was made to stay home from the second trimester onward because you wanted to come out early. Finally with Reese, Dad thought I was gifting him with an iPod shuffle only to realize it was a pregnancy test kit with two red lines that I was flashing in front of his face
Breastfeeding each of you as babies
How it was always challenging at the start, but almost automatic after a few weeks. I think those will always be my favorite moments with you, worth all the time and effort. How we breastfed in the car, fitting rooms, dark corners — all before there were breastfeeding rooms in malls. How, years after, with the concept of breastfeeding rooms being new to everyone, Reese and I excitedly tried out one only to find people's faces pressed against the glass walls, as if we were fish in an aquarium.
Play time through the years
Jumping on beds, goofy dancing, shooting balls, reading and singing together, painting with Baby Mozart playing in the background, swimming in the inflatable pool, pretend playing with Reese's dolls, playing card and board games — we just never seem to run out of things to do. Now I may look devastated when I lose, but there's actually a sense of fulfillment seeing you guys beat us all on your own.
How being your mom sparked my creative spirit
Being passionate about being a mom to you guys made me realize what was lacking out there, that there were better ways of doing things and helping moms just like me. Did you know that along the course of your childhood, I had wanted to be a breastfeeding counselor, kids' party planner, baby shop owner, nursing wear designer, publisher, columnist, writer, scrapbook artist, and website developer?
With the pure inspiration you constantly provided me with, I was able to pursue most of these, and I am sure there are even more fulfilled dreams ahead for us.
How you teach me what's truly important
Of all people, you know firsthand how I've always been involved in a lot of diff erent things, sometimes all at the same time. I hope that the sometimes crazy, usually busy ride you've been on has been more like that awesome Harry Potter roller coaster in Florida than a bad horror booth. We've always tried our best to put you guys at the top of our priorities, and that accounts for why you would always come along to our events, the office, and how we've tried to make you think packing loot bags is one of the most fun experiences in life. We've fun, and a strong purpose behind whatever we do for your future.
Sometimes, I wish I could turn back time and have more moments with you just by my side, holding my hand. But come to think of it, I'm also having the time of my life experiencing new things with you in these more progressive times...
Taking each other's #OOTDs and laughing at how posing does not come naturally to us most of the time. Waiting for your Mother's Day and birthday greetings and feeling your love through either a status post or a handmade card. Having engaging conversations at the dinner table about how your days went, current events, or new jokes from 9GAG. Seeing the three of you looking at each other in amusement whenever Dad and I share our "during our time" stories. Comparing Spotify playlists and laughing aloud to old episodes of FRIENDS. Knowing how you secretly love it when I burst into your room with my extemporaneous dancing and you guys would say, "Get loose!" Hanging out in Starbucks together, with each of us just doing our own thing and still being happy. Visiting the Blessed Sacrament after Sunday mass and finding peace in that extra set of prayers to start off a new week.
Life did not only change when I became a mom. It totally transformed my life into something wonderful, beautiful, and truly blessed. Thank you for always inspiring me and enriching my life. I pray that no matter what happens in our lives and in the world around us, that you all just stay the way you have always been — my sweet, thoughtful, funny, caring, God-fearing sons and daughter.
I love you,
Mom
This letter was originally published in the book Letters to My Children, a compilation of heartwarming notes penned by public figures and celebrities for their kids. The book is published by Summit Books.
Experts say it's better to raise a child to be an entrepreneur, not an employee. Click here for their tips.