For This Mom, Eating Sunday Lunch As A Family Keeps Her Husband's Memory Alive

Sunday lunch was when her husband cooked the family's favorite dishes.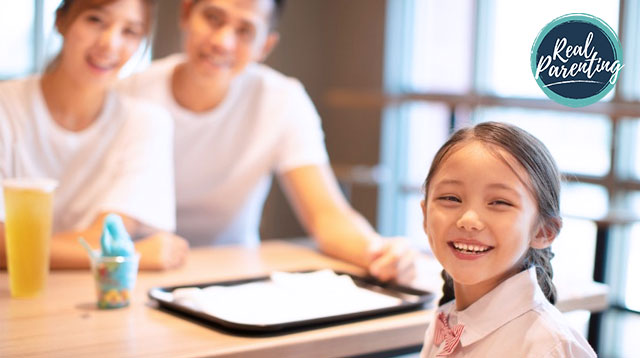 Berna Romulo-Puyat is the current Department of Tourism Secretary, but she is also a mom of two wonderful children. She loves to eat and work for those who produce food. Below is a letter she wrote for her daughter and son.

To my dearest Maia and Vito,

It has been six years since your dad passed away. I still remember what our conversation was about and what he was cooking a few hours before he died. While he was cooking Kielbasa pasta, we were talking about our upcoming trip to Japan and what food we both wanted you to try for the first time. Your dad and I always believed that understanding the culture of a country not only meant going on tours or visiting museums, but eating the local cuisine as well.

Food has always been an important part of our lives. Trying out new dishes was how we bonded while traveling. Sunday lunch was when Dad cooked our favorite dishes.

"Instead of being sad that he is gone, it has become a way for us to remember the good times that we had while he was alive."

Maia, you know how frustrated your dad was when the only thing you wanted to eat when you were a kid was mac and cheese! But when he found out you started to like katsudon, he read so many cookbooks and made so many variations of it just so he could make you a decent version of that dish. Remember how thrilled he was when you announced (after so many tries) that he had made the best katsudon ever? Since he passed away, we have been to so many katsudon restaurants here and in Japan, and you still tell me that nobody makes it like Dad.

ADVERTISEMENT - CONTINUE READING BELOW

Vito, Dad loved cooking and fattening you up. He knew you were overweight but it gave him so much joy seeing you finish everything he would cook for you. He was so proud when he taught you how to make this chicken dish for a school project and when you made it for us one Sunday lunch. I am pretty sure that he is smiling up in heaven, seeing you cook your own meals while you are studying abroad.

I am glad that we have continued our tradition of having Sunday lunches together even if it's just me and Maia while Vito is away for school. Though Dad is no longer with us to cook our favorite dishes (instead we eat out or order takeout from our favorite restaurant), it still feels like he is present. We still pretty much do the same things. It is still our time to catch up and tell each other stories about how our week went. It has also become the time when I tell you both funny stories about your dad. Even though I tell you the same stories over and over again, you still both crack up as if you were hearing it for the very first time. Sunday lunch has become a way for us to keep your dad's memory alive. But instead of being sad that he is gone, it has become a way for us to remember the good times that we had while he was alive.

ADVERTISEMENT - CONTINUE READING BELOW

Recommended Videos

Aside from Sunday lunches, I am happy that we still take the time to travel and try out the local dishes of the countries we visit. In fact, our itinerary seems to always center around the food that we have to try. Museum tours always come second. I guess this is how your dad would have wanted to plan our trips. Both of you are growing up so fast. That's why I treasure each time I spend with you. I am so proud of what you have both accomplished.

Maia, I love reading your articles in the newspaper and I love seeing your posts on Instagram. It's not a surprise to me that food has become the main subject of majority of your articles and posts because that's the environment you grew up in. I love it when you accompany me to some of my trips where you get to meet the farmers and see the produce that they grow. I have never been so proud as when you started the slow food youth movement and even started an urban gardening project in an orphanage. While I am amazed at how hard you work, I also worry that you are losing too much weight and that you are pushing yourself too hard. Please take it slow.

Vito, I miss you so much. It was hard for me to allow you to study abroad, but I know that it would have been selfish of me to let you miss this opportunity. I also know that I have to slowly let you go. I appreciate the fact that you never fail to call me up on Sundays. Hearing your voice and finding out how you are is something I look forward to every week. I am happy that you are now conscious of what you eat (I remember back when you were a kid, you used to tell us that brown rice was your nemesis!), but I am also worried that you are not eating as much as you should since you have given yourself such a small budget for food every day. You are also pushing yourself too hard when it comes to your studies.

ADVERTISEMENT - CONTINUE READING BELOW

Maia and Vits, I know you are both responsible adults, but I am your mom and I will always worry about you. You are both still young and have a lot of time to accomplish all your dreams. In my eyes, Maia is still the little girl who only ate mac and cheese while Vito will always be that chubby little boy who ate everything.

Pretty soon, I know that you will have your own lives and may not have the time to have Sunday lunches or travel every year with me. But for now, I treasure each moment spent with you as we talk about what new dishes we want to try and what food we want to eat for Sunday lunch.

I love you both very much!

Mom

This letter was originally published in the book Letters to My Children, a compilation of heartwarming notes penned by public figures and celebrities for their kids. The book is published by Summit Books.

What other parents are reading

Celebrate your pregnancy milestones!


Enter your details below and receive weekly email guides on your baby's weight and height in cute illustration of Filipino fruits. PLUS get helpful tips from experts, freebies and more!

You're almost there! Check your inbox.


We sent a verification email. Can't find it? Check your spam, junk, and promotions folder.

Trending in Summit Network