'She Is My Me-Time': 3 Dads Share How Raising a Daughter Changed Their Lives

Three men open up about the joys — and fears — of fatherhood.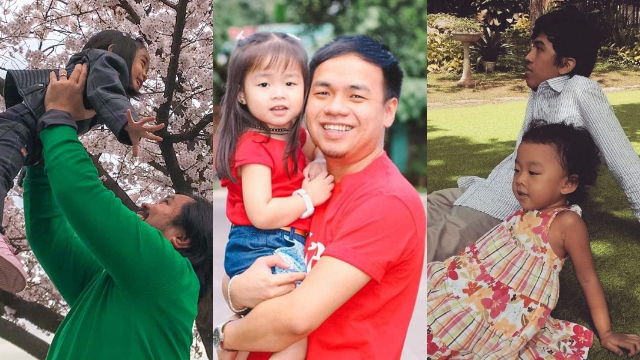 It takes a certain kind of man to embrace fatherhood and an even more special one to gratefully and eagerly welcome it. After all, raising a child is challenging even for the toughest of men. But all dads will agree fatherhood is a gift they will never exchange for anything.

His little girl gave his life direction

"The moment I knew that we were having a baby girl, nagtaka ako kasi hindi naman ako pogi at babaero (laughs). Pero I was happy and grateful because I really wanted to have a daughter."

PHOTO BY

courtesy of Nic Loyola

A senior web designer, Nic Loyola was 30 when he and his wife welcomed daughter Liana "Yana" into their lives. Nic shares how Yana, now 5, helped him become more responsible and selfless.

My first reaction when I found out I was going to be a dad

Naiisip ko ang mga gastos — haha, kidding! I used to be a happy-go-lucky type of person, but it all changed when my daughter arrived. Nagkaroon ako ng motivation [to do more for my family's] future. I became more responsible, and I focused more on my'  child's needs.

ADVERTISEMENT - CONTINUE READING BELOW

What other parents are reading

I am teaching her the value of sharing

Dati sa mga friends niya,'  I've noticed na hirap siya mag-share, so I always talk to her and explain na mas marami siyang magiging friends if she shares. Eventually, she adopted it. 

I'm also glad my daughter is good in art, so ginawa-gawa kong bonding moment namin ang drawing and coloring.

As a Dad, [I am proud] that we always say "I love you," and gusto [namin] hanggang sa paglaki niya, we'll still do the same.

At the moment, here's what I am scared the most about my daughter

I fear that my child [will be] bullied in school, so I make sure she will be open to sharing everything with me.

My dream for my daughter

I want her to become a K-pop star kasi mukha siyang Korean (laughs). Seriously, I want her to become the best she can be, and I promise that I will always be here to love and support her.

What other parents are reading

His daughter is his 'me-time'

"I'm more responsible now and I view social issues with newfound lenses because I see them as to how they can affect my daughter's life."

PHOTO BY

courtesy of Francis TJ Ochoa

ADVERTISEMENT - CONTINUE READING BELOW

Recommended Videos

Journalist Francis TJ Ochoa, 44, said having a daughter was a dream come true. He considers his little girl, Anika Isabelle "Isay," 3, as the highlight of his every day. Francis says he enjoys his daddy duties, even the messy parts like potty time.

Since I was in college, I've always daydreamed about being a dad to a baby girl.

Even when I wasn't in a relationship, I'd daydream that I was a single father. So imagine the joy of your dream coming true after two decades and multiply that exponentially. There's just no word for it right now.

Driving around the city with my daughter is a perfect getaway already.

When you go on "me time," or you decide that this nice little bonus from work should be used purchasing a gift for yourself or you want to fly somewhere to get away from life, that's indulging your selfish side. And it's a healthy thing to do. 

Maybe the biggest change in me is that Isay has taken up a considerable part of that selfish me. Isay is my "me time." After a long, hard day at work, going home always feels like a reward knowing I can hug her soon. And there's no place I've been to that matches the feeling of being with her.

What other parents are reading

 

I'm basically my daughter's yaya/driver!

At 3 a.m., I rouse her from sleep to make her pee because she doesn't do diapers anymore. Then breakfast at around 8:30 a.m., and then playtime until lunch. And then I help her poop, give her a bath, give her vitamins, and ready her for her afternoon nap until it's time for me to leave for work. When she wakes up, her mom arrives from work, and that's where the magic of learning and growing up mostly happens. 

ADVERTISEMENT - CONTINUE READING BELOW

I'm glad that she's growing up with her parents

No yayas for her. Somehow, we have survived making sure that as much as possible, Isay is never without a parent around. 

I'm also proud of is Isay learned to read at 22 months. Her first words that she read were "apple," "pay," and "family." By the time she turned 2, she could read the children's books we had bought for her.

What other parents are reading

At the moment, here's what I am scared the most about my daughter 

What I fear most is she will be treated by society as inferior because of her gender. That's why we empower her as much as we can in little ways. If she wants to sing her lungs out in public, as long as she isn't disturbing anyone, we let her be. We don't shush her. 

If we have family days, we make her a part of the discussion as to where we would go, where to eat, what we'd do. We let her speak up if she wants something and make sure she understands if there are things that she can't get. We want her to feel she has as much right to live her life as any other person. 

Of course, as a dad, I tend to be a little overprotective of her, but I try to explain why. I tell her that people get hurt, that sometimes, people hurt others. But it's always a delicate balancing act. We want her to be able to take care of herself, but we don't want her to fear the world so much that she'll hide from it.

ADVERTISEMENT - CONTINUE READING BELOW

What other parents are reading

His kids changed him for the better

"I had to learn how to be more patient and vocal of my thoughts and feelings, not just to my wife, but also to our daughters. Trust me when I say [kids] can understand [us] even at a seemingly clueless age."

PHOTO BY

courtesy of Jullian Zosimus Carranza

Jullian Zosimus Carranza, a 28-year-old teacher, had to quickly adjust his life plans when he found out he was going to be a dad. Now, three years and two daughters later — N, 3 years old, and 1-year-old L (names withheld by request) — he has embraced the role of a patient papa who makes sure his kids are growing up independent and self-aware even at a young age.

I was, quite frankly, afraid upon discovering my impending fatherhood

My then girlfriend and I had plans and having a kid threw those off. By the time we knew we had a daughter, I was still nervous. Having talked to people made me more expectant, even excited about having a baby. More so with a daughter, which is what we both wanted then.

ADVERTISEMENT - CONTINUE READING BELOW

Fatherhood "required' me to be more reliable

Sacrifices have to be made to raise a daughter. Parenthood also requires A LOT of time. Although we can opt for quick solutions, these can sometimes have lasting effects on our children.

People always note they are nice kids

N always asks permission but is quite assertive when she wants something. She remembers her "po," "opo," and "please." She also respects it when she could not get what she wants. 
L is a very happy baby who readily approaches adults. She is a fast learner and can absorb the stimuli from the world around her. She excitedly explores the sounds and sights she experiences.

My wish for my daughters when they grow up

I want nothing more for my daughters than to live happily, achieve their dreams, and serve the country and its citizens.

Online interviews were edited and condensed for clarity.

What other parents are reading

Celebrate your pregnancy milestones!


Enter your details below and receive weekly email guides on your baby's weight and height in cute illustration of Filipino fruits. PLUS get helpful tips from experts, freebies and more!

You're almost there! Check your inbox.


We sent a verification email. Can't find it? Check your spam, junk, and promotions folder.

Trending in Summit Network